How to Make an Outdoor Bar + Planter for Less Than $100
Transform your backyard into a go-to summer party spot.
Every year when the weather begins to change from cold and dreary to warm and happy, the only thing I want to do is sit outside with friends and enjoy a drink or two in the summer sun. Usually we just drag a cooler out to the deck, limiting us to grab-and-go drink options. But sometimes the occasion calls for a cocktail. The solution? I built an easy-access outdoor bar stocked with glasses, snacks and all the essentials to make my favorite beverages. To make it extra-functional, the bar doubles as a gorgeous planter for summer blooms.
Whether you're hosting a garden party this summer or planning a relaxing poolside fete, a fully-stocked outdoor bar is essential to pulling off the perfect celebration. But instead of spending hundreds on a store-bought set up, make your own out of easy-to-source materials for less than the cost of a party outfit. Here's how:
We're sorry, there seems to be an issue playing this video. Please refresh the page or try again in a moment. If you continue to have issues, please contact us here.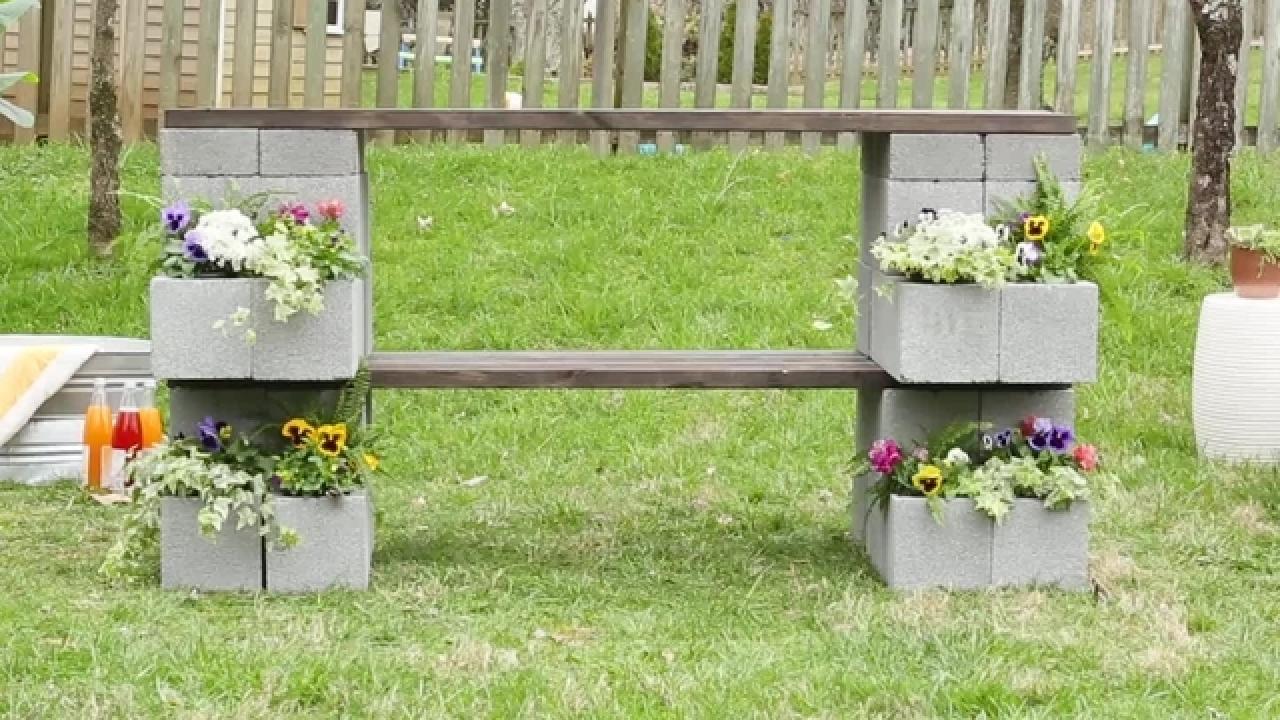 (8) 2" x 4" x 6' wood boards, stained and sealed for outdoor use
(20) 16" x 8" x 8" cinderblocks
(4) 16" x 8" x 4" cinderblock caps
(8) 6" plastic containers filled with seasonal plants
1. Scope Out Where to Build
Because the finished project weighs around 800 pounds and isn't movable, you'll want to find a build spot that can support the weight. A flat grassy area or concrete patio are great options.
Lay one of the 2" x 4" x 6' wood boards lengthwise in the build spot. This will act as a template for laying the first two cinderblocks. Place one cinderblock vertically at each end of the board. Once the blocks are in place, set the board aside for later.
Working toward the center on one side, snugly fit a second vertical cinderblock next to first block. Repeat the process on the other end of the bar. Add a horizontal block behind each set.
4. Apply Landscape Adhesive
Apply a generous amount of landscape adhesive to the posterior 2/3 of the block configurations.
Place two vertical cinderblocks on the glued posterior section, leaving the front two cinderblock squares open for plants. Repeat on the other cinderblock set.
Apply a generous amount of landscape adhesive to the top of both cinderblock sets, then place four 2" x 4" x 6' wood boards lengthwise to form the bottom shelf. Make sure the boards are evenly spaced front to back.
7. Build Third + Fourth Levels
For third and fourth levels, simply repeat the cinderblock configurations of the first and second levels, adding a layer of landscape adhesive between each level. Tip: Recruit a friend to help hold cinderblocks in place while building these sections.
8. Add Cinderblock Caps + Top Shelf
Top off the fourth level with four cinderblock caps. Apply a layer of landscape adhesive to the top of the caps and lay four more 2x4s to form the top shelf. Ensure board spacing is even from front to back.
Add a pop of color to the finished bar by filling empty cinderblock holes with colorful blooms. Plastic, 6-inch containers work best because they are flexible and fit snugly into the 6-inch openings. Because cinderblocks tend to absorb heat, the plants will likely need to be watered more often than normal.
Deck out your bar with all the fixings for a crowd. We used the bottom shelf to store extra beverages, towels and glasses, and turned the top shelf into a self-serve beverage and snack station.