How to Hang a Shade Sail Over a Patio
Add instant shade for not a lot of money and just a little bit of elbow grease by hanging a triangular shade cover over your patio or deck.
Pergolas, gazebos and awnings can be expensive to build and install. A triangular sun shade costs a lot less and can be installed in less than a weekend.
We're sorry, there seems to be an issue playing this video. Please refresh the page or try again in a moment. If you continue to have issues, please contact us here.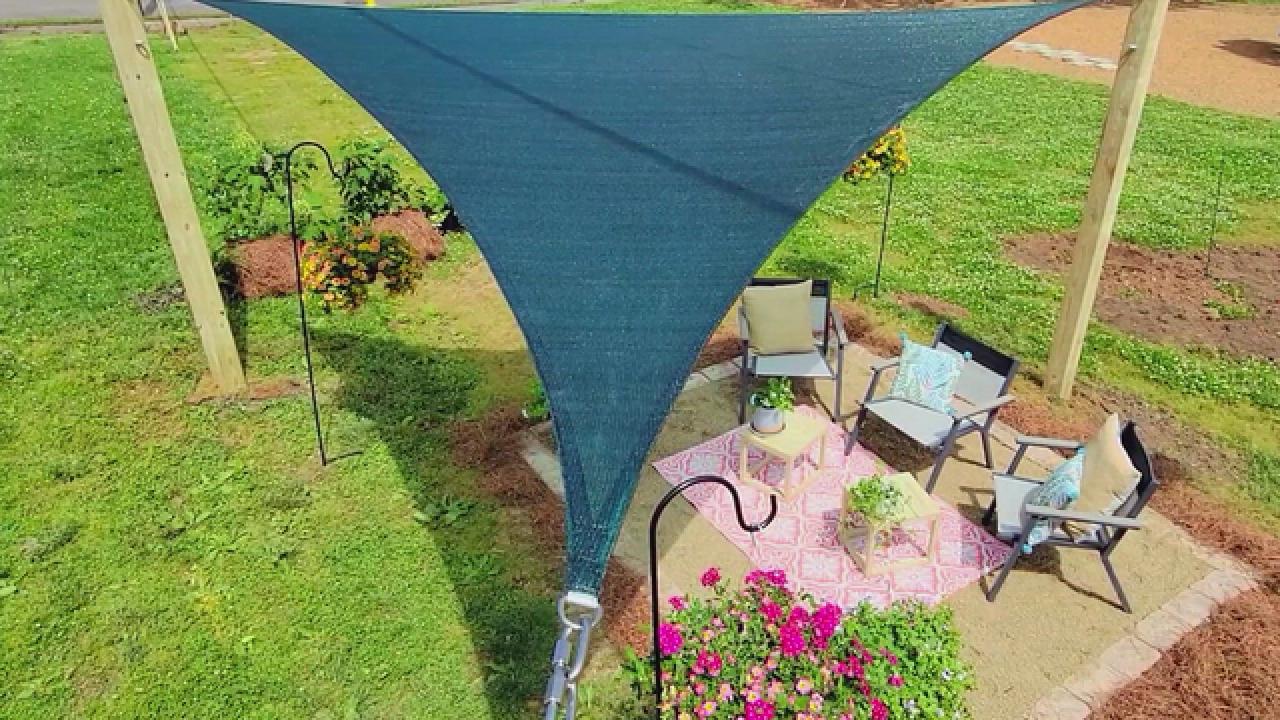 (3) 6x6 x 12' pressure-treated posts
(6) 2x4 x 8'
(3) bags of gravel
(1) 80lb. bag of concrete
concrete mixing tub or wheelbarrow
marking paint
post level
line level
post-hole digger
hoe
digging shovel
drill with 1/2" bit
Spread triangle shade sail out flat on the ground to determine the placement.
2. Mark Placement of Posts
Spray the ground with marking paint about 1 to 2 feet away from the corner of the shade sail. This is where your posts will go.
Use an orbital sander or a sanding block to sand the 6x6 posts until smooth.
Use a post-hole digger to create holes for the posts. Or you can rent an auger from a tool-rental company to save time and backache. Check local codes for required hole depth in your area — in most places it is around 2 to 3 feet deep.
Pour 2 inches of gravel into the holes. Tamp it down well using a piece of scrap wood.
Add long screws to the base of the posts at an angle (Image 1). This will provide a little more stability as the screws adhere to the concrete. Have a friend help you lift the posts and place them into the holes (Image 2). Use a post level to angle the post 2 degrees off center (Image 3). This will help counter the tension of the shade. Use 2x4s to support the posts from the ground and hold them in place (Image 4).
Mix high-strength concrete to fill the holes. Mixing in a tub is easy and convenient for smaller jobs like this (Image 1). Once the hole is full of concrete, work the mix with rebar or a piece of scrap wood to release any air bubbles (Image 2). Follow the manufacturer's instructions for cure time.
Cover the concrete with the dirt you dug out of the hole.
Use a 1/2" bit to drill a hole 6 inches down from the top of your first post. The hole needs to go all the way through the post. Use a line level and string tied to each post to determine how far down the initial hole should be on the other two posts. It will vary since the ground is probably not level. Once the top holes are made, drill a second hole on each post, 12 inches down from the first one. This will allow you to raise or lower the sail as needed.
Twist the eye bolts into both holes on each post. Secure with a washer and two nuts to the other side for a tight fit.
Add a carabiner and then a turnbuckle to each post so you'll be able to apply tension to the shade sail.
Attach the shade sail to each turnbuckle with another carabiner. Once it's up, adjust the turnbuckle as needed to tighten completely.
Whether you're looking for shade, protection from the rain or more privacy in your backyard, we've got ideas for covering your deck including umbrellas, DIY canopies, pergolas, awnings and gazebos.