How to Plant and Grow Anemone Flower
Looking for brilliant blooms to take your garden from spring to summer to fall? Easy-to-grow anemones are the answer.
Vibrant, versatile anemones brighten gardens from spring all the way into fall. There are about 200 species of these charming members of the buttercup family (Ranunculaceae) in many colors, heights and flower forms, and they bloom in different seasons.
Native to Asia, Europe and North America, anemones have had different meanings over time. Middle Age peasants wore them for protection. To Victorians, an anemone flower indicated frailty. Today, a white anemone flower symbolizes sincerity while a red anemone means forsaken love. These nearly carefree beauties take their name from anemos, the Greek word for "wind."
Also called windflowers, anemones are perennials that bloom in spring or fall, depending on the variety. Look for these nearly carefree members of the buttercup family in many colors.
Botanical Name: Anemone
Common Name: Windflower, Grecian windflower
Hardiness Zones: 3 to 10, depending on the species
Bloom Time: spring, summer, fall
Bloom Color: White, pink, red, purple, blue
Uses: Plant with other spring bulbs or to fill in gaps after summer flowers fade and before fall flowers open. Depending on the type, also use in cottage or cutting gardens, woodlands, beds, rock gardens or borders.
Most anemones grow from bare roots or corms that look like bulbs. Flowers can be single, double or semi-doubles. Some anemone plants are considered invasive or aggressive, so if you're unsure about the ones you want to grow, ask your local extension service agent for advice.
Japanese anemones (A. hupenhensis var. japonica, often shown simply as A. hupenhensis) and hybrids related to them bloom in late summer and fall and range from 12 to 24 inches tall. Most need four to six hours of daily sun and are hardy in USDA Gardening Zones 4 to 8. They come in pink, mauve or white; each flower has a ring of yellow stamens in the center. Japanese anemones are great for cutting.
Before you plant anemone corms, soak the corms for a few hours in lukewarm water to plump them up. Then plant them 2 to 3 inches deep and 3 to 4 inches apart, or as directed on their tags or labels. Place small corms closer together and in groups for a better show. It doesn't matter which end faces up.
Plant other types of anemones 3 to 6 inches deep. If you're planting anemones that came in nursery pots, plant them at the same depth they were already growing. Japanese anemones can reach 4 feet high, so space them 1 to 2 feet apart. Mix some bone meal into the soil when you backfill the holes and water gently.
How to Grow Anemones in Containers
Most anemones do best in the ground, but A. coronaria types like De Caen and St. Brigid can be grown indoors. Use large pots with drainage holes and well-draining potting soil. Plant corms four inches apart. Use one bare root plant per pot.
If you're growing a species that's hardy in your zone (and your pot is crack- and freeze-resistant), mulch the top of the soil and leave the pot outside to overwinter (some species require a period of winter chill to bloom). Otherwise, keep the pot in an unheated garage or another area where the temperature stays between 40 and 50 degrees. Move it outside after the temperatures are consistently above freezing. If shoots emerge while the pot is indoors, move it into a brightly lit spot.
How to Grow Anemone Flowers
Most anemones need at least six hours of full sun each day, while others can tolerate partial shade with at least four hours of direct sun each day. Research the type of anemone you're growing so you'll know where to plant it.
While anemones aren't picky about pH, they prefer acidic to neutral soils. Give them well-drained soil enriched with compost or organic matter.
Apply an inch of water each week if rainfall is insufficient. Aim for consistently moist soil that's never soggy. Avoid splashing the foliage to help prevent diseases.
If you added bone meal to the soil at planting, you don't need additional fertilizer.

Temperature
Most anemones prefer cool weather, but even plants that are winter hardy in your zone do better with some mulch for insulation.
Anemones are toxic to people and pets.
Pruning isn't necessary, but you can remove dead foliage after the first fall frost to tidy up your garden. Most foliage on spring bloomers dies back unobtrusively.
Anemone Pests and Diseases
Fungal diseases like powdery mildew don't usually kill anemones but can be managed with a horticultural oil labeled for your specific disease problem.
Japanese beetles and black blister beetles that attack anemones can be treated with horticultural oils or insecticidal soaps. For foliar nematode damage, which causes discolored blotches on leaves, remove and destroy infected plants. Pick off slugs and snails or set out small saucers of beer so they'll crawl in and drown. Commercial baits are available but may harm other garden wildlife. Deer and rodents usually leave anemones alone.
How to Propagate Anemones
The best way to propagate anemones is by division. In the fall, dig up corm-type anemones and break off the smaller attached corms. Replant the original and the small ones or store them in a cool, dry location until the following spring.
Dig up other types of anemones in the fall, shake off the dirt and cut their tuberous roots or rhizomes into 3- to 6-inch sections, leaving a nodule on each one. Replant them or store them in a cool, dry place for the winter.
A. blanda - Plant these daisy-like flowers in fall for spring blooms. They grow 6 to 8 inches tall and have ferny foliage that dies back after the flowers finish. Cultivars include 'Charmer' (rose-pink petals and white center halos), 'Blue Shades' (bluish-purple blooms) and 'White Spendour' (white flowers with yellow centers). Most are hardy in Zones 3-9.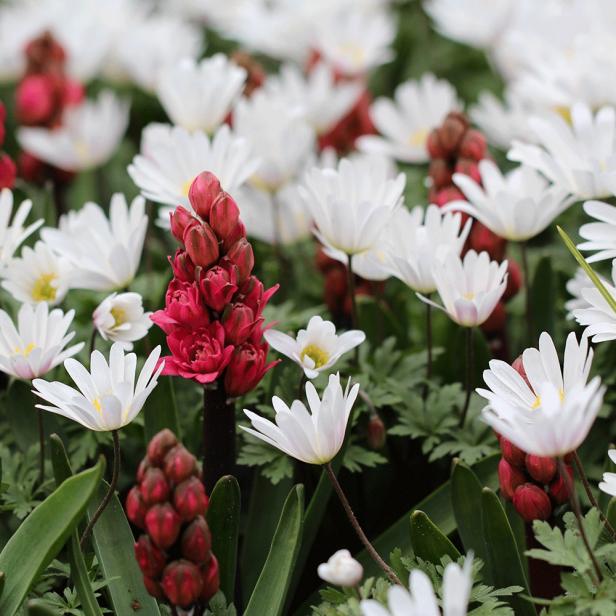 Anemone blanda 'White Splendour'
A coronaria – Also called poppy anemone, this species is great for cutting. Flowers last up to two weeks or more in vases and come in purple-blue, red, white and pink. There are two main cultivars: De Caen and St. Brigid. De Caen red anemones include 'The Governor', 'Bordeaux' and 'Hollandia'. For a white anemone, try De Caen 'The Bride'. 'Mr. Fokker' is periwinkle blue. Most are hardy in Zones 7 to 10.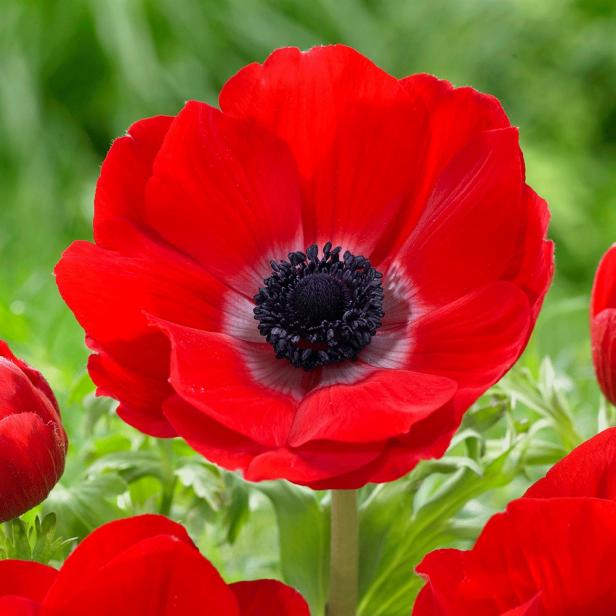 Anemone St. Bridgid 'The Governor'
A. canadensis - Hardy to Zone 3, this wildflower is also called Canadian anemone. It can grow 30 inches tall and bears single white flowers.
A sylvestris - Sometimes called the snowdrop windflower, this spring bloomer grows 12 to 18 inches tall and opens white blooms in spring. It spreads, so it's a good choice for naturalized areas. Hardy in Zones 4 to 8.
A. hupenhensis - Commonly called Japanese anemones, these plants flower from mid to late summer into fall. 'Whirlwind' is a semidouble white anemone; 'Pocahontas' and 'Pamina' are pink. 'Honorine Jobert' grows 3 to 4 feet tall with pink-tinted buds that open to semi-double white blooms. 'September Charm' is good for naturalizing and has pink flowers with a silvery sheen and purple-rose backs. Most are hardy in Zones 4 to 8.
PerennialResource.com
Pure white blooms of 'Whirlwind' Japanese anemone blend easily into any full sun to part shade spot in the garden. It's hardy in Zones 4-8.
A. nemerosa - Known as wood anemone, this is a dwarf plant with single white, lavender or pink blooms. They appear in spring and grow 5 to 8 inches tall. Hardy in Zones 5 to 8.
Companion plants for spring blooming anemones include tulips, daffodils, bleeding hearts (Dicentra), lilies of the valley and ferns.


Companion plants for fall-blooming anemones are goldenrod, asters, bugbane, monkshood, toad lilies, sedums, mums, hostas and black-eyed Susans.