10 Best Porch Swings for Every Style and Budget
Take a load off this summer by snagging the perfect seat for your space.
Keep in mind: Price and stock could change after publish date, and we may make money from these links.
I think we can all agree that porch swings are pretty magical. Not only do they add charm and curb appeal to a home, but they also tend to invite long conversations or afternoons spent getting lost in thought or in a good book. Plus, they quite literally sweep us off our feet.
If you're looking for a special place to perch this summer, a porch swing might be exactly what you need. Keep scrolling to see our top picks for every style and budget. We've even included a few no-installation-necessary options, too.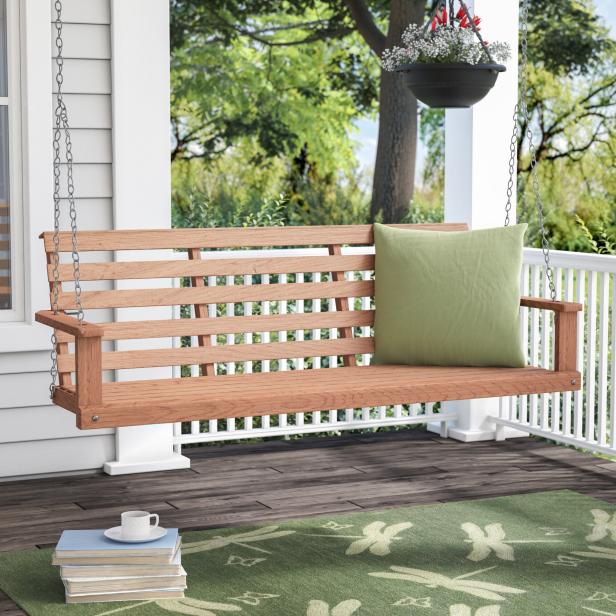 Simple yet stylish, this porch swing is perfect for anyone just looking for a place to hang this summer. And if you don't love the oak wood finish? No problem. The seat is ready for sanding and staining, so you can customize it to your space's need.
Buy It
If you're in the market for something modern, then you need to see this matte black porch swing. The frame might look delicate at first glance, but it's actually made from steel and capable of supporting up to 400 pounds. With its clean lines, chic hue and maybe a couple of patterned pillows, it'll update even the most historic porches. And for less than $150, it's a total steal.
Buy It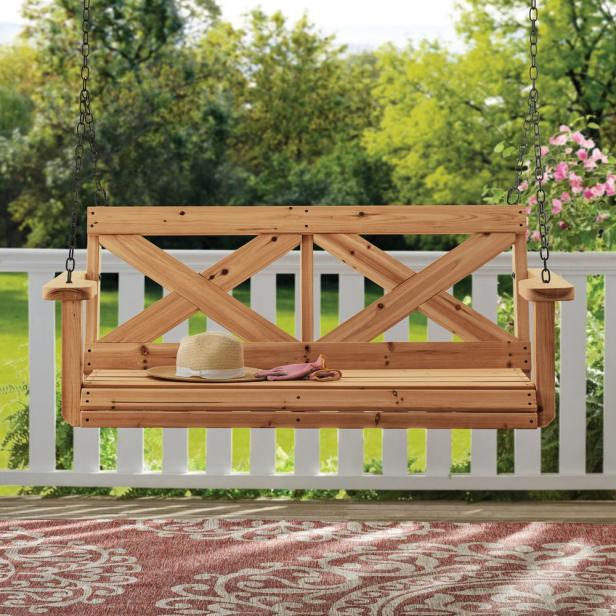 I'm pretty sure that this is one of the cutest farmhouse porch swings I've ever seen. And for $200, it's also one of the more affordable ones on the market. A light wood finish and crossed back dial up the country charm, while a sturdy seat makes room for two people.
Buy It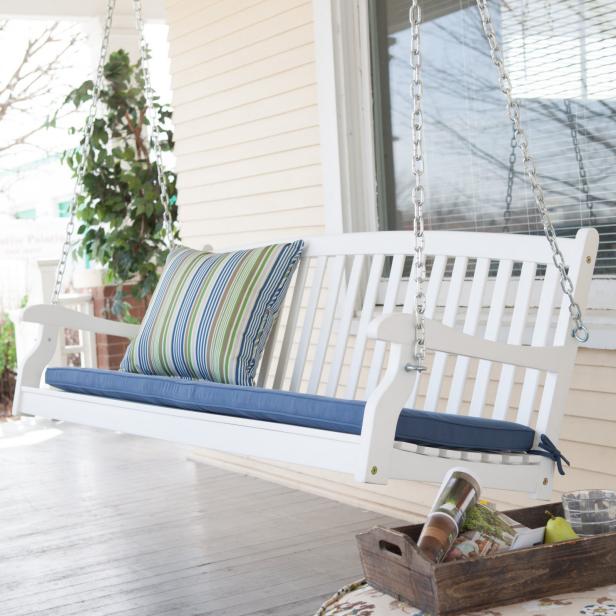 It's easy to see why this porch swing is so popular. With its crisp, white finish and gently curved back, it's utterly charming and looks exactly like something you'd find in front of a farmhouse. And, although it does not include the blue cushion pictured above, you can easily customize it with one of your choosing.
Buy It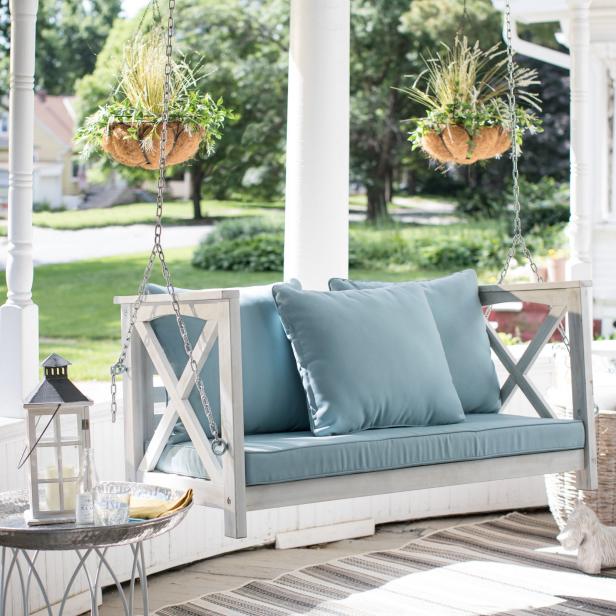 Cute and coastal? Yes, please! Crafted from sturdy acacia wood in a white finish and topped with breezy blue cushions, this petite seat is perfect for up to two people. Use it to bring a taste of the beach to your porch or to cool down your current design.
Buy It
Now, here's a porch swing that gives you the best of both worlds. Clean lines and a slatted back make for a contemporary silhouette, while the light wood finish evokes thoughts of rustic or country style. It comes with the neutral cushions pictured above but can be customized additionally with colorful pillows.
Buy It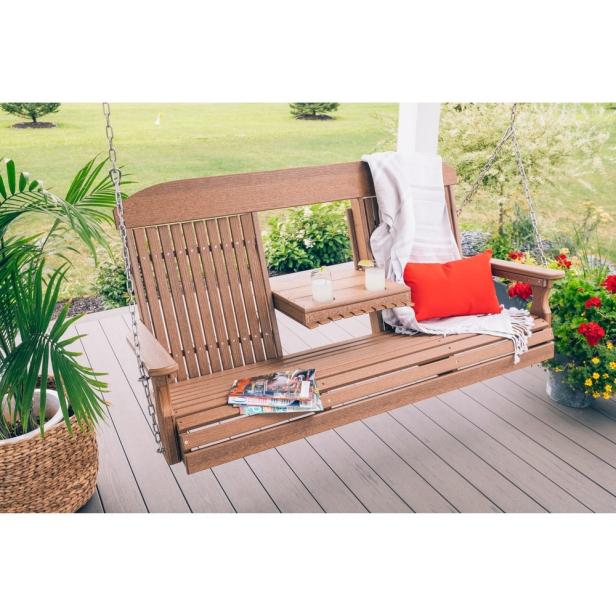 Looking for a more luxurious experience? Try this porch swing made from recycled plastic. Not only is the bench larger than most, but it also has a built-in table with cupholders. Choose from mahogany or black-topped finishes, and add a few cushions to make it more comfortable.
Buy It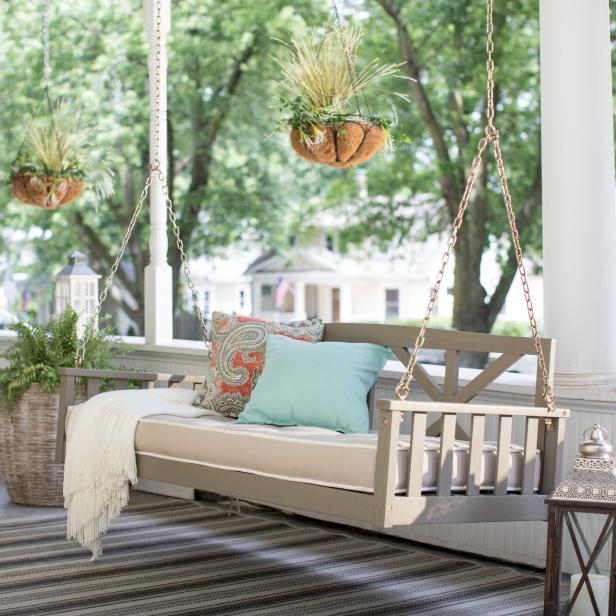 Tasteful and timeless are just two words that come to mind when one looks at this transitional porch swing. Though it's definitely on the pricier end at $900, the swing is a little longer than most and includes a tufted cushion, as well as a 48-inch chain for easy installation. Add a couple of pillows, a blanket and a book, and you'll be all set for porch-sitting season.
Buy It
Porch Swings You Don't Have to Install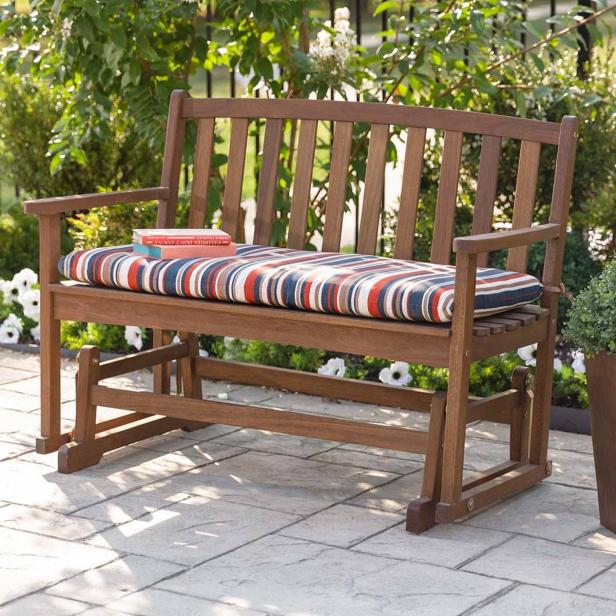 Don't want to drill holes? No problem. You can get your glide on with this cute eucalyptus-crafted loveseat. The bench can be set up on your front porch or your back patio, and it comfortably fits two people.
Buy It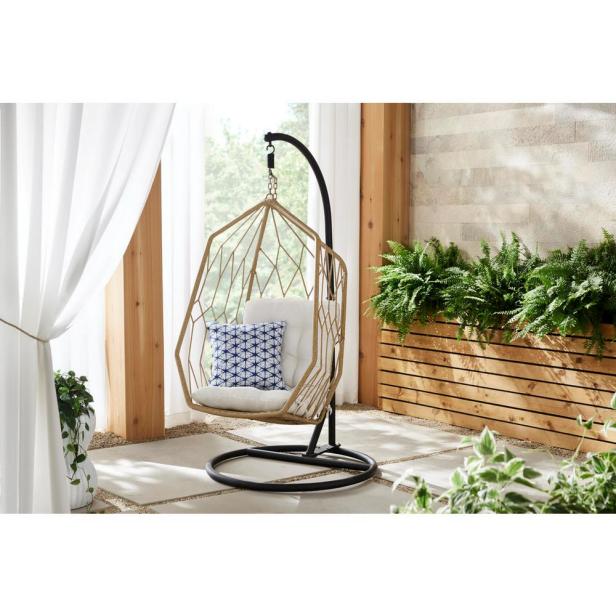 To paraphrase a certain hit from the '60s, it's your porch and you can swing if you want to, however you want to. For example, you can always opt for this adorable hanging chair. With its black metal stand, geometric seat and rattan-covered frame, it's the perfect mix of modern and boho — and will look in just about any setting. No installation required.
Buy It
More Ways to Dress Your Patio