How to Build a Mandala-Style In-Ground Fire Pit
We made an in-ground fire pit, then decorate it with colored river rocks and sand to give it a mandala-inspired look.
We made this unique fire pit using easily accessible materials in one afternoon. We suggest using rocks of varying sizes and colors to create your own one-of-a-kind creation.
We're sorry, there seems to be an issue playing this video. Please refresh the page or try again in a moment. If you continue to have issues, please contact us here.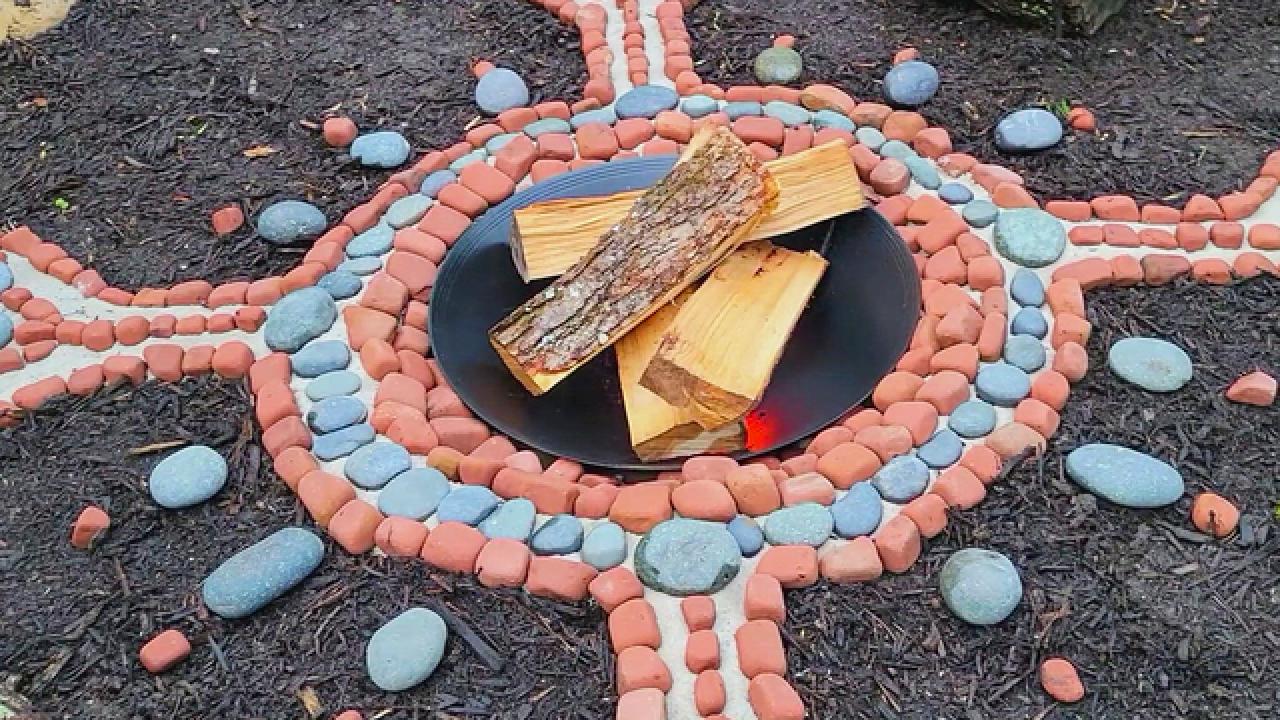 fire bowl
digging shovel
gloves
60 lb. bag all-purpose sand
large hand scoop
beach pebbles
Remove the fire basin from the stand. Flip it upside down on the ground and outline the shape using a shovel. Remove the basin. Dig a hole so that the fire basin fits in snug and just below ground level.
Line the entire hole with sand. This will help distribute the heat and keep the basin in place. When the basin is settled, add sand to the ground surrounding the basin as well. Give everything a mist with a water hose or spray bottle to set the sand.
Determine the design surrounding the fire pit. If needed, utilize a straight edge to help with the design; we simply used a rake and shovel to help create straight lines. String or a tape measure can also help when creating your outline. Add sand to your lines to create a pattern. The sand base will hold rocks in place.
Start your design around the fire bowl and work your way out. Starting around the bowl will also help hold it in place.
Anchor the four points of your design with larger rocks in a contrasting color. Use a rubber mallet to pound them into the sand.
Step 6: Connect the Patterns
Place smaller rocks in the same color to connect the larger ones together.
Outline the remaining design and fill in with rocks of varying sizes. Remember to leave space to access the fire bowl.
Looking to add some elemental excitement to your outdoor space? Consider these cozy, stylish blazes a warmup for your own toasty conversation starter.