7 of Our Favorite Outdoor Cooking and Dining Areas
A gourmet grill, cozy fireplace and seating for a crowd: these luxury outdoor kitchens and dining rooms make it hard to turn in for the night.
I have a pretty small house, so whenever I entertain I have to extend any gatherings into my backyard in order to accommodate a large crowd. All I've got at the moment is a patio and a grill, but a girl can dream about having an outdoor kitchen and dining setup, can't she?
This backyard designed by Pool Environments is the stuff that my dreams are made of: a pool, a fireplace and an outdoor kitchen, dining and lounge area. It transitions well from a hot day to a cool night, making it a great spot for an all-day gathering.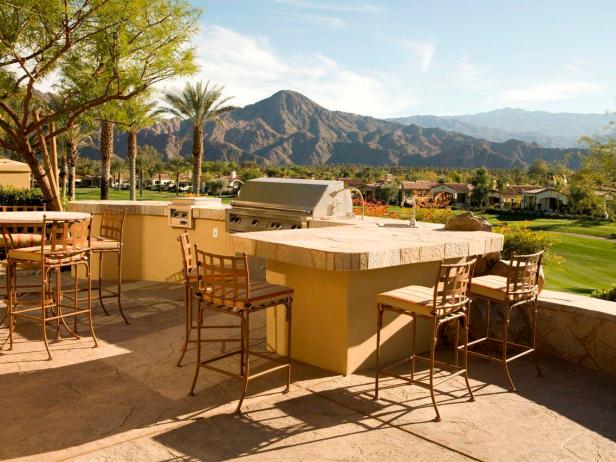 Mediterranean Style Patio with Built-in Grill
This luxury outdoor dining space is the perfect place for backyard entertaining, with ample seating and a large grilling station. The patio layout takes full advantage of the view.
This outdoor kitchen designed by Dorothy Willetts makes it easy for company to gather 'round while the chef does his or her thing, much like an indoor kitchens with island seating. And what a view you and your company get!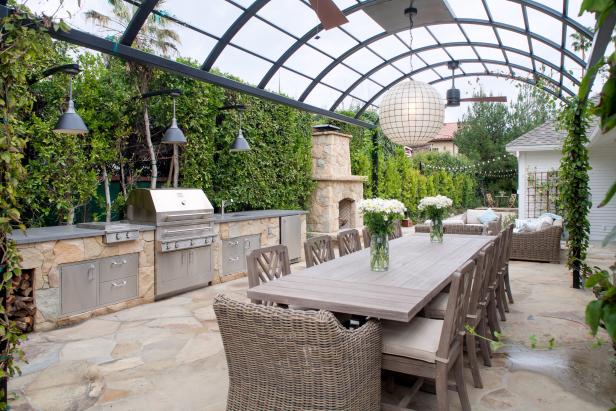 Neutral Outdoor Space with Stunning Kitchen and Dining Room
This spectacular backyard boasts a state-of-the-art outdoor kitchen with stone counters and a long, neutral dining table that makes it ideal for entertaining. Greenery surrounds the perimeter of the space and ivy hangs from a contemporary metal pergola that supports wood ceiling fans and a paper lantern, which offers a soft glow above the dining table.
A beautiful pergola defines the cooking and dining space in this gorgeous backyard by Jeff Troyer Associates. The cooking station includes storage and ample counterspace that can be transformed into a buffet for a big party.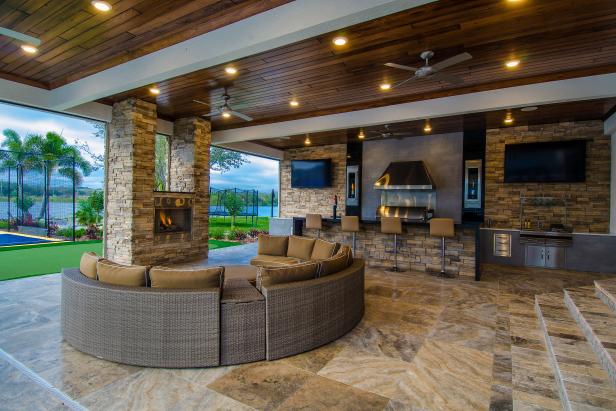 Covered Patio Boasts Cozy Seating Area & Outdoor Kitchen
This covered patio features a chic, cozy seating area with a curved sofa and stacked stone fireplace. The patio also boasts a complete outdoor kitchen with a high-end grill and barstool seating.
Are your dreams of doing more outdoor entertaining hampered by rain? This outdoor kitchen and gathering area by Lindross Remodeling is the perfect solution for less-than-ideal weather. Two large TVs and versatile seating mean no one will miss the big game(s).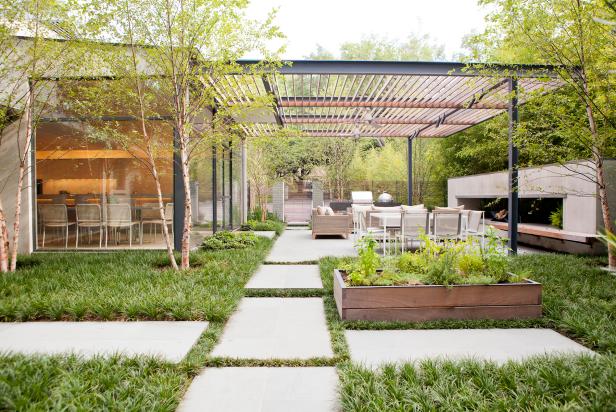 Modern Outdoor Terrace With Custom Pergola
This home features a detailed terrace that connects the indoor space to the outdoor space. Glass walls put the indoor dining room in view, creating symmetry between the spaces. The terrace includes a custom pergola, wood fire feature, grilling table and raised herb planter.
Mark McWilliams Photography
This open-air space created by MESA Design Group draws the dining experience from inside to the outdoors thanks to an inviting contemporary fireplace. There's even a small herb garden to make seasoning the steaks at the grill a cinch!
Patio: Extraordinary Queen Anne Home in Seattle
With stunning views of Seattle and an outdoor kitchen, the patio is ideal for entertaining and enjoying the scenery. A wooden pergola with bistro lights adds charming ambience to the space.
Windermere Real Estate, a member of Luxury Portfolio International
You don't need a backyard to have a great gathering. This Seattle home offered by Windermere Real Estate features a deck with an outdoor dining and kitchen area defined by a cozy pergola. A string of cafe lights adds to the ambiance without detracting from the amazing view.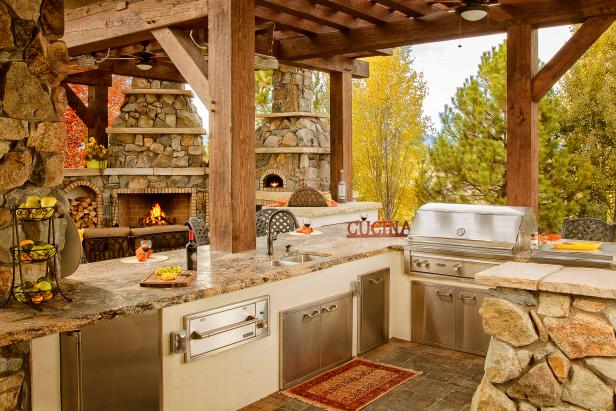 Pergola Offers Shade to Rustic Outdoor Kitchen
A full outdoor kitchen is nestled just behind the fireplace and pizza oven on this extensive patio. A substantial wood pergola covers part of the kitchen, offering the grill-master a bit of shade on those sizzling summer days.
This outdoor kitchen by Lindgren Landscape may be better equipped than my actual indoor kitchen! There is ample room for food prep and cooking, and the entire space is adjacent to a rustic sitting area with a cozy fireplace.