How to Design the Bedroom as a Couple
Here's how to show off both of your design styles without getting into a (pillow) fight.
We all know that relationships are about compromise. Some things are easy to agree on — he gets to choose the next restaurant for date night if he sits with you through your favorite chick flick. But, how exactly do you compromise when it comes to decorating your home — more specifically, your bedroom? You may not think your clashing styles can live in harmony, but by combining just the right amount of each style and incorporating elements you both love, it can work. Follow our tips below to help you get started.
You love blue hues and he loves warmer tones, so combine them. You'll be surprised at how many colors pair well together. And if you still can't stand your favorite colors in one space, go with a neutral you can agree on and add each color in small doses.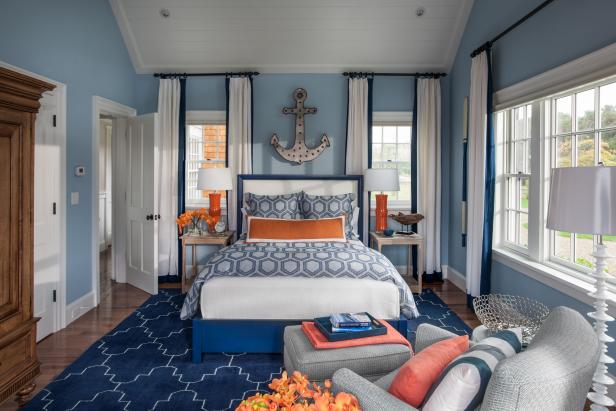 Nautical Inspired Guest Bedroom
Polished yet fun, the guest bedroom displays a classic nautical theme with a modern twist. Blue and orange hues, as well as geometric shapes, are repeated in the wool rug and bedding, while vaulted bead board ceilings and floor-to-ceiling drapery expand the space for an open and airy feel.
Combine Masculine + Feminine Patterns
Menswear fabric works well with many different patterns. Use floral patterns in an accent wall or window treatments, and add menswear accents through bed pillows and other furnishings so both of you are happy.
If you place a piece of art or image of your favorite vacation spot front and center, you'll both love spending time in the bedroom.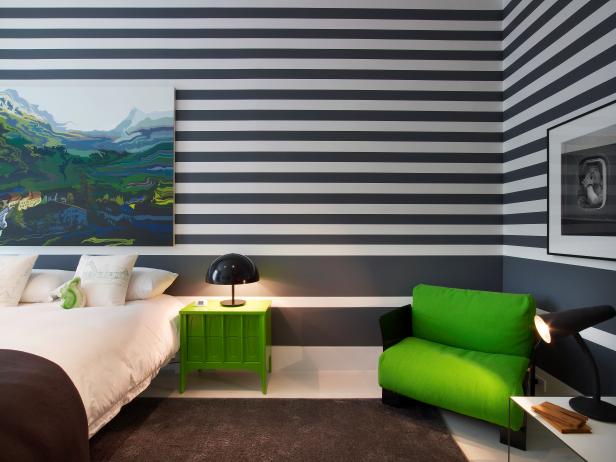 Modern Guest Room Features Striped Walls & Bold Green Accents
A lime green nightstand and chair add bold pops of color to this modern guest room. Navy and white striped walls set the backdrop for a colorful painting above the bed.
Who doesn't love a little romance? Bring in dreamy elements, such as a canopy bed with sheer curtains and ambient lighting.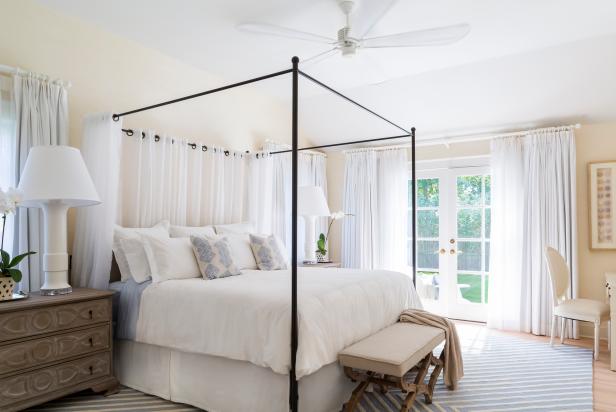 Neutral Transitional Bedroom With Canopy Bed
This charming bedroom features a neutral and pale blue palette creating a fresh, airy feel enhanced by lots of natural light. The black canopy bed including curtains with metal grommets is a crisper version of its romantic cousin.