6 Cool Custom Cork Boards for Your Dorm Room
Don't settle for a basic bulletin board. These easy DIYs will help you stay organized and double as wall art for your dorm.
A memo board of some sort is a must-have for a dorm room: It's the perfect way to display favorite photos, leave notes for roommates and dress up those boring white walls. Store-bought cork boards can be a little blah, though, so we've got six fun ways to customize them. Use removable adhesives to hang these so you don't damage your walls when it's time to move out.
Make a Geometric Memo Board
03:00
This geometric cork memo board is decorative AND functional in a dorm room.
This DIY memo board doubles as an art installation. Just paint hexagon-shaped cork tiles in your favorite colors, then hang them on the wall with removable adhesive strips.
Mark where you've been and where you're going with this colorful cork board. We've got printable world map and U.S. map templates to make this project a cinch.
Cover plain cork trivets with fabric and chalkboard paint to create this multifunctional message center. Hang them in a group above your desk and keep all of your notes and reminders in one convenient spot.
If shabby chic is more your style, pick up a picture frame for cheap from a thrift store and transform it into this cute message board. Cover the cork in colorful fabric to customize it for your space.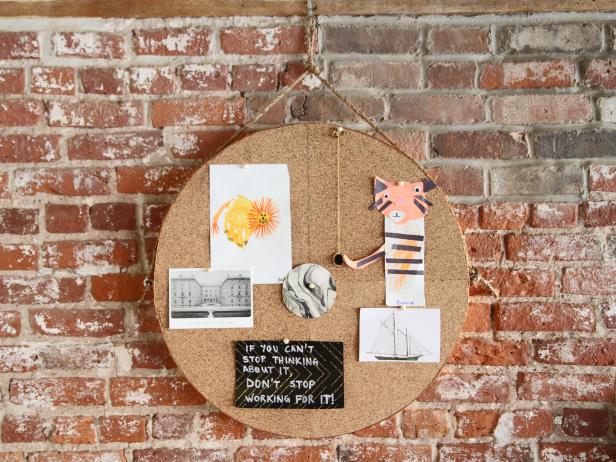 Hanging Round Bulletin
Hang a round bulletin board with copper edging detail to make a statement in any room.
In tight quarters like a dorm room, multipurpose items are a must for saving space. One side of this versatile bulletin board features cork for displaying photos and memos; flip it over, and you'll find a mirror — a handy thing to have when your roommate doesn't feel like sharing.
3 Cork Board Backdrops
03:39
Liven up your cubicle with a custom cork board.
If you just want to dress up a plain ol' sheet of cork, we've got three techniques using paint, paper and washi tape.