7 Trendy Headboards That Will Have You Dreamin'
Make one, buy one, or get inspired by these noteworthy headboards. 
I am a firm believer that a great headboard is the heart of bedroom design. They can set the tone for an entire space, so when I began decorating my own bedroom, I looked to my velvet plum headboard when making bedspread, wall art and throw pillow decisions. You know, all the essentials for a cozy room. Whether you're in the market to buy or make a headboard, use these seven dreamy headboards for ideas and inspiration.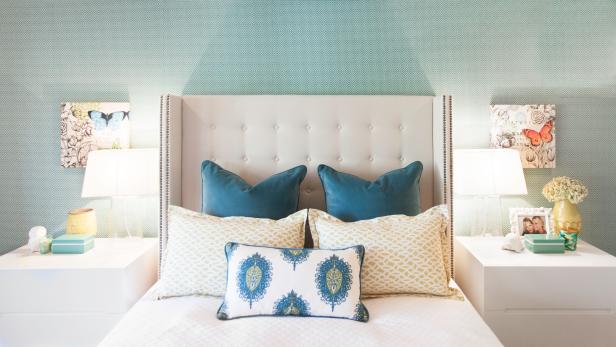 Transitional Blue Bedroom With Upholstered Headboard
A tall upholstered headboard with nailhead trim ups the elegance of this transitional bedroom. Matching white dressers serve as nightstands, and pops of blue throughout the decor tie in the soothing wall color.
This cream-colored headboard has all the classic qualities: It's tufted, has nailhead trim and a wingback shape. The neutral cream upholstery creates a blank canvas to build the room around, while the detailing adds a subtle charm. With a classic headboard like this, you can decorate with pops of color or continue with the muted color palette.
Maybe you want to break away from the traditional rectangular shape. Scalloped headboards are your answer! They add height to the room, and if you want a little extra flair, go bold with a pattern. You'll have yourself a statement-making piece for your bedroom and from there, you can decorate with colors found in the pattern or simple neutrals leaving all the attention to that fabulous headboard.
On a low budget? Me too. That's why wall tapestries are the perfect solution. Their beautiful patterns are visually appealing and they offer instant color palettes to work with. Plus, they're totally affordable and a great alternative to a headboard.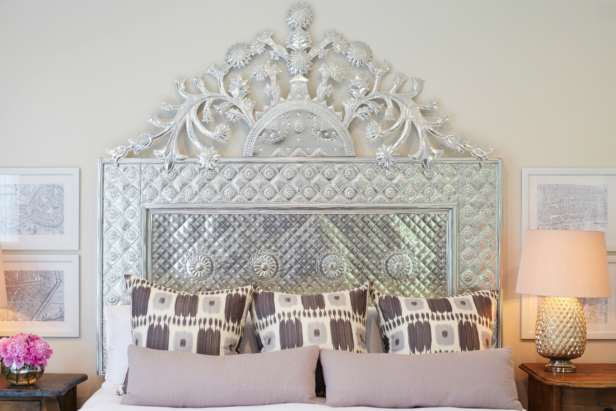 Ornate Headboard Serves as Bedroom Focal Point
An intricately detailed metallic headboard takes center stage in this creamy white bedroom. Chic patterned pillows add updated style and color to the classic space.
Calling all royalty: This headboard is for you. If you want that show-stopping, "wow" moment in your bedroom, let the headboard do the talking. The stunning ornate detailing of this metal headboard draws in all the attention. Pair it with subtle colors and patterns and you've got a bed made for a queen.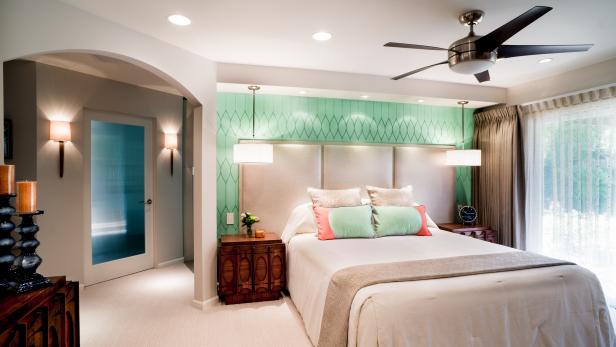 Blue Contemporary Multifunctional Master Suite
This aqua-blue contemporary master retreat needed to serve several functions for the homeowner. The design team created a cozy nook for the bed with an aqua accent wall and incorporated task lighting over the bed. Meanwhile, an arched doorway leads to an en-suite bath, laundry area and home office space.
Who says headboards have to fit the width of your bed? While this unique headboard is a fresh and modern option, it still maintains a simplicity that allows for great design. For instance: behind the elongated headboard is a mint-green wall. The headboard makes just enough of a statement but doesn't take away from other design aspects of this room.
When repurposed wood headboards showed up on the design scene, I was thrilled. There are so many options: old doors, windows, pallets... The possibilities are endless. They add a subtle rustic charm that's not overbearing so you can still play up different design aesthetics.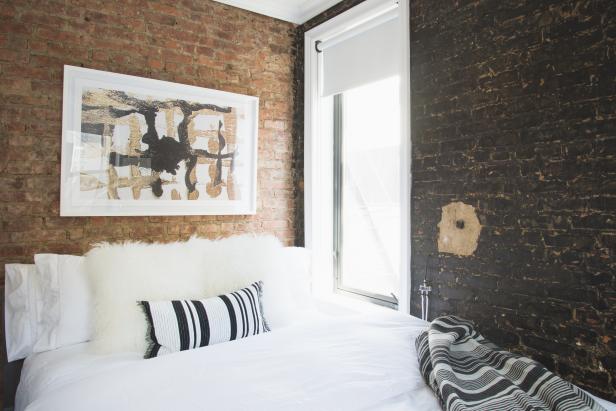 Urban Bedroom Features Varying Hues of Exposed Brick
The juxtaposition of red brick and dark brick creates striking architectural interest in this urban bedroom. The addition of white brightens the space, and the artwork above the bed ties the design together.
Claire Esparros for Homepolish
Another financially savvy solution for a headboard: wall art. It can be less expensive and more personal than a headboard. You can frame some of your favorite artwork and hang it directly over your bed bringing in visual interest and filling up that blank wall space.