Create Storage Under the Deck
It's a big, empty space — put it to good use with these smart under-the-deck storage ideas.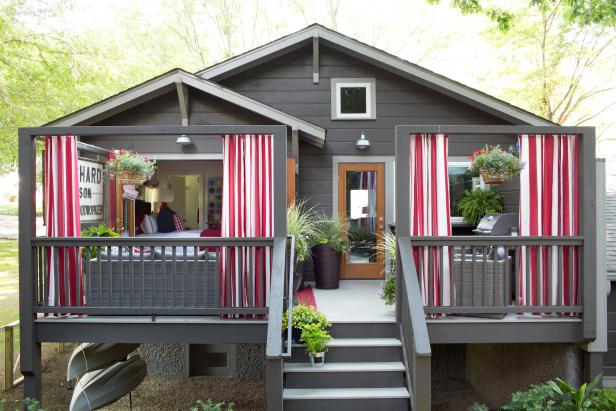 HGTV Urban Oasis 2015 Deck
With such a smooth indoor to outdoor transition, the deck easily functions as an extension of the home and allows the outdoors to be enjoyed while still maintaining a sense of privacy.
A deck that's 30 inches or more off the ground is a candidate for storage underneath. To use that space, you'll need to decide if the storage will be wet or dry.
Wet storage doesn't have to be protected from the elements, which means you'll be storing weatherproof items such as PVC pipe, plastic snow toys, garden hoses and kayaks. So all those gaps between your decking boards won't be a problem — let it rain!
You can store other items in your wet-storage space, too — firewood or lumber are also good candidates — but it should be elevated off the ground and loosely covered with a waterproof tarp. Smaller items that need to be protected can go in plastic bins with tight-fitting lids.
Creating dry storage means ensuring a waterproof barrier between the decking boards and the space below. Under-the-deck drainage systems are plastic channels you attach under or between the deck joists. The channels tilt toward the front or side of your deck where water drains either at the edge of your deck or into a gutter.
You can make your own system using corrugated plastic or fiberglass roofing panels that you attach under the joists. You'll need to slope the panels slightly, so first install spacers — thin strips of wood nailed or screwed at right angles to the bottom of the joists. Increase the thickness of the spacers to create a slope. Fasten the panels to the spacers with roofing screws. If you want to send runoff away from your deck, install a gutter.
Dry under-the-deck storage adds a lot of useful space, but you'll still want to keep stuff elevated to prevent direct contact with the ground. Covering the interior floor of your new storage area with plastic sheathing helps protect your belongings from dampness and mold.
Most home improvement centers carry a wealth of hooks, pulleys, storage racks and overhead bins to help you create solutions for your under-the-deck storage needs. Check out hardware aisles and the garage section for unique storage ideas.
For either aesthetic or security reasons — or both — you might want to screen off your storage space. The classic screening material is wood or plastic deck lattice. It comes in 4x8 sheets and is easy to cut. Pressure-treated lattice stands up to close contact with the ground and can be stained or painted to complement your deck or home's color scheme.
If you want a sturdier screen than deck lattice, siding boards are a good option. You can choose siding that matches or complements your house siding and creates a solid barrier. You'll probably have to add some framing material between deck posts to anchor the siding. Don't forget to frame up a door opening and add a padlock for security. Actually, add a couple of doors so that you can easily access your stored items from either end of your deck.