Sealers, Paints and Stains 101 for Wooden Decks
Protect your deck with the right sealant for the job. Below we describe the pros and cons of each option so you can make the best choice for your outdoor deck space.
Choosing the right sealant for your wood deck shouldn't be complicated, but with so many choices the decision can be overwhelming. This guide will steer you in the direction of when to use stain, sealer or paint to maintain and beautify your outdoor living space.
The type of deck coating you choose depends on the quality and age of the wood, environmental factors and your personal preference for color and long-term care. To start the process, inspect your deck. What you find will guide you in the direction of sealer, stain or paint.
Backyard at Contemporary Lakeside Home
A perfect green lawn put together with a three-tiered wood deck and gravel and concrete walkway echoes the contemporary design found in the home's exterior.
Is your deck brand new? At the very least, fresh deck construction can benefit from a coat of sealer, such as Thompson's WaterSeal, to enhance and bring out the wood's natural beauty. Sealers come in clear and tinted colors, but none hide the grain of the wood. While this may bring out the wood's beauty, keep in mind that sealers provide minimal UV protection, especially if the sealer is clear. This means your deck is vulnerable to degradation and graying quicker than if you chose a stain or paint.
Because sealers offer temporary protection from the elements, you should apply the sealer seasonally. If you prefer less maintenance, a stain or paint is a better choice.
Pros: Show natural beauty of the wood; provide water protection
Cons: Must apply every 1-2 years; minimal UV protection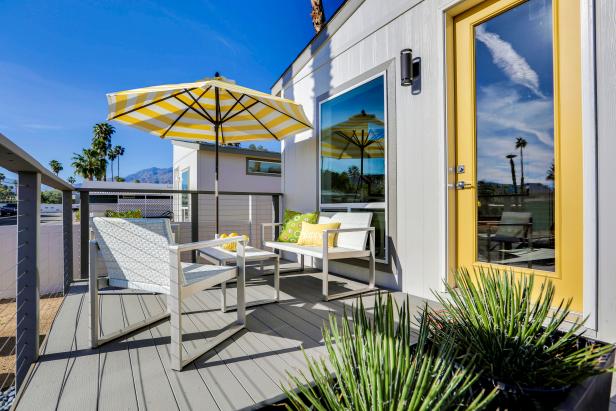 Bright and Colorful Contemporary Deck
The front porch of this micro house in Palm Springs is a welcoming outdoor escape. A bright yellow front door and striped yellow umbrella add a punch of color to the gray and white color palette.
Is there a deep grain in your deck's wood? Does it have a weathered look and color? If so, it's likely that UV ray exposure has led to your deck's deterioration. If your deck is weathered, paint might be a good option to restore the look.
Paints don't penetrate wood like a sealer, but rather create a protective film on top to provide excellent UV protection. This means no wood grain shows through — great for weathered, worn decks or if you prefer a uniform look. However, if you're prefer to see the wood, opt for a stain or sealer.
You might see some deck paints referred to as a "deck resurfacer," a thicker paint that fills in cracks and creates a durable surface that's resistant to future fading. These come in a variety of colors and can rescue an unsightly deck, however, these products tend to be more expensive.
Pros: Great for sprucing up old decks; provide excellent UV protection; variety of color choices
Cons: Cover up natural wood; can peel, especially on horizontal surfaces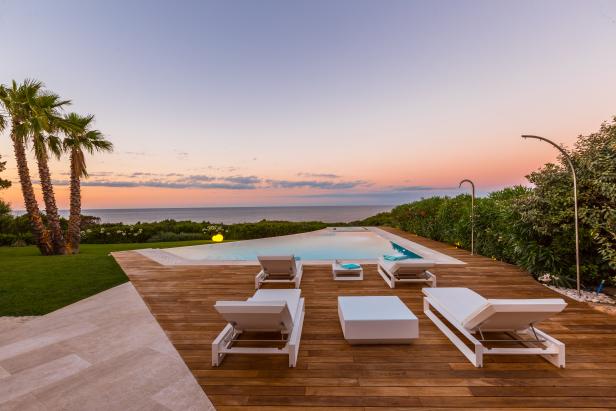 Ocean-View Deck and Pool at Sunset
Sunsets are at their most spectacular on this deck overlooking the pool, oh, and the Mediterranean Sea. Glass of rose optional.
Immobilsarda, a member of Luxury Portfolio International
Is your deck in good condition and you'd like longer-lasting protection with a more natural look than paint? Wood deck stain is for you. Available in a variety of tints and opacities — from semi-transparent to solid — stains provide UV protection, repel water and can resist mold and mildew growth.
Some stain products allow the wood grain to show through, while others come in natural colors that mask wood grain, desirable for older wood decks. In general, for the most UV protection choose a solid or opaque color because the increased pigment blocks the sun's harmful rays.
There are two main types of stain: water-based and oil-based. Oil-based stains traditionally are the go-to for decks due to their incredible ability to penetrate wood and provide a durable, long-lasting coating. When using these stains, you'll need to clean up your brushes with mineral spirits or paint thinner.
Unlike oil-based stains, water-based stains are faster drying and easy to clean up with soap and water. They've risen in popularity among environmentally-friendly consumers, and because VOC (Volatile Organic Compound) regulations in some states mandate the manufacture of more environmentally-friendly stain products.
Pros: Come in a variety of colors and opacities; oil-based are long-lasting and durable; water-based are eco-friendly and easy to clean up
Cons: Oil-based are less eco-friendly, have more odor and dry slower; water-based dry quicker so may be harder to apply