How to Stain a Wooden Deck
Enhance and protect your outdoor design by learning how to stain a deck with these simple steps using deck stain.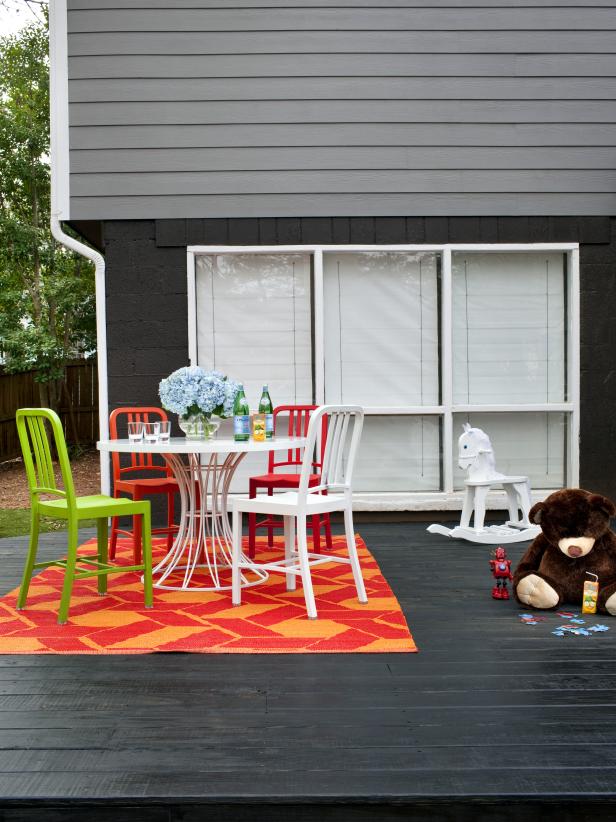 Black Deck With Red and Orange Patterned Rug
Bright-colored outdoor furniture brings life to this black-stained deck. An orange and red pattered area rug anchors the outdoor dining area and provides additional color in the space.
Staining a deck, whether with a clear coat or an on-trend color, is an essential part of properly maintaining and protecting your deck from the elements. Decks are exposed to harsh conditions, including rain and sunlight, that can quickly accelerate wear and tear. Staining your deck — and periodic refinishing — are essential steps you need to take to keep your deck looking good for years.
When staining your deck, first make sure it is clean and dry. That means staining as soon as possible after your deck is complete to prevent dust and dirt from accumulating on the surface.
For best results, apply stain when the temperatures are between 50 and 90 degrees, and avoid staining in direct sunlight if possible. Sun dries out stain quickly and can create uneven color or brush marks. Check the weather forecast to make sure you have several dry days ahead.
Even the best staining jobs require periodic refinishing, about every two or three years. To keep your deck looking great, it is best to refinish at the earliest signs of wear.
The biggest challenge for re-staining a deck is to make sure it's clean. Sweep it thoroughly and use a screwdriver to clean out debris from between decking boards and butt joints. Clean obvious grease spills with a TSP solution.
Apply a quality deck cleaner according to the manufacturer's directions. Thoroughly rinse the surface with a garden hose and high-pressure nozzle attachment. Pressure-washing isn't recommended — linger too long in one spot or use too high of a pressure setting and you're likely to damage boards. Once the deck is thoroughly dry, sand down any fuzzy spots with 80-grit sandpaper, and sweep up residual dust. Then apply fresh stain. You can change colors by going darker, but lightening up won't work.
gallon of high-quality deck stain
broom
drop cloth
paint pad
paint pole
paint-pad tray
3" paintbrush
painter's tape
paint stirrer
*pressure washer for old decks
You could damage your wooden deck if you pressure wash incorrectly. Find out how to do it right.
Step 1: Sweep the Surface
In order to successfully stain a deck, the surface must be completely dry and clear of debris. Working on a sunny day with no forecast for rain, start by sweeping deck with broom. TIP: New decks simply need sweeping prior to staining. Old, weathered decks require pressure washing. Just use caution, as a too intense pressure wash spray can damage deck wood. Use the lowest possible pressure setting when washing your deck.
Determine a starting and stopping point for easy entry onto and exit off of the deck. This will eliminate any possibilities of being trapped in a corner of the deck while your stain dries.
Step 3: Protect Exterior Walls
Add painter's tape along areas where exterior wall meets the top of your deck. The painter's tape will protect walls from application of stain to deck.
Step 4: Add Stain to Tray
Add a drop cloth to the area of your deck intended to be stained last. Place paint-pad tray and gallon of stain on drop cloth. Stir stain using paint stirrer to ensure it's properly mixed. Pour stain into paint-pad tray.
Step 5: Attach Pole to Paint Pad
Screw paint pole into back of paint pad. Ensure a tight fit for best application.
Step 6: Stain Deck With Paint Pad
Dip paint pad into your tray, and apply a solid coat of stain to the entire surface of your deck. Once the surface is complete, apply stain to the sides of your deck with paint pad. TIP: If the paint pad doesn't cover inside spaces between boards, use a 1" paintbrush for proper coverage. Allow 24 hours for stain to dry before placing furniture on deck.