How to Stain a Wooden Deck
Enrich a wooden deck in just a few simple steps using deck stain.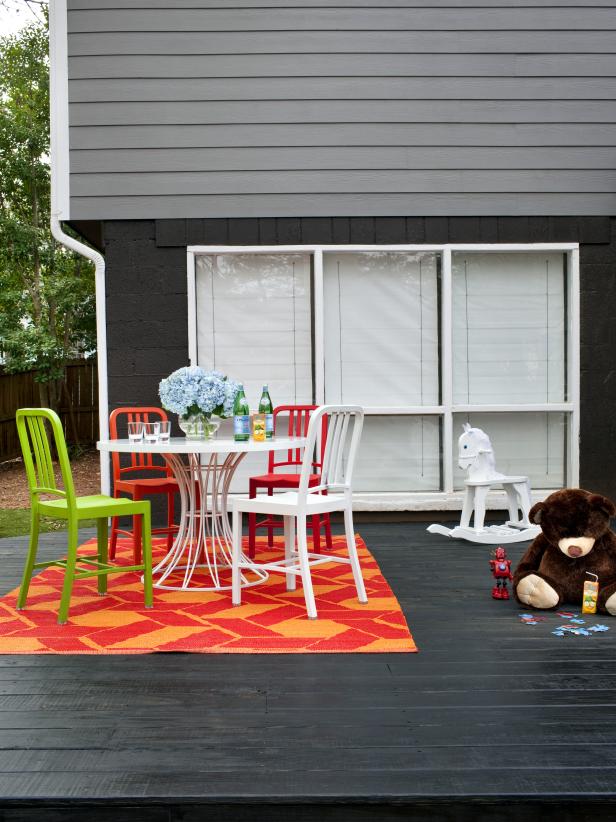 Black Deck With Red and Orange Patterned Rug
Bright-colored outdoor furniture brings life to this black-stained deck. An orange and red pattered area rug anchors the outdoor dining area and provides additional color in the space.
gallon of high-quality deck stain
broom
drop cloth
paint pad
paint pole
paint-pad tray
3" paintbrush
painter's tape
paint stirrer
*pressure washer for old decks
In order to successfully stain a deck, the surface must be completely dry and clear of debris. Working on a sunny day with no forecast for rain, start by sweeping deck with broom. TIP: New decks simply need sweeping prior to staining. Old, weathered decks require pressure washing.
Determine a starting and stopping point for easy entry onto and exit off of deck. This will eliminate any possibilities of being trapped in a corner of the deck while stain dries.
Step 3: Protect Exterior Walls
Add painter's tape along area to where exterior wall meets top of deck. The painter's tape will protect walls from application of stain to deck.
Step 4: Add Stain to Tray
Add drop cloth to area of deck intended to be stained last. Place paint-pad tray and gallon of stain on drop cloth. Stir stain using paint stirrer to ensure it's properly mixed. Pour stain into paint-pad tray.
Step 5: Attach Pole to Paint Pad
Screw paint pole into back of paint pad. Ensure tight fit for best application.
Step 6: Stain Deck With Paint Pad
Dip paint pad into tray, apply solid coat of stain to entire surface of deck. Once surface is complete, apply stain to sides of deck with paint pad. TIP: If paint pad doesn't cover inside spaces between boards, use a 1" paintbrush for proper coverage. Allow 24 hours for stain to dry before placing furniture on deck.
Deck and Driveway Design Ideas
01:04
John Giddding recommends using deck and driveway stains to improve your home's curb appeal. The added color can really complement the look of your home.