When it comes to painting your deck, thorough prep is key to good-looking results that will last for years.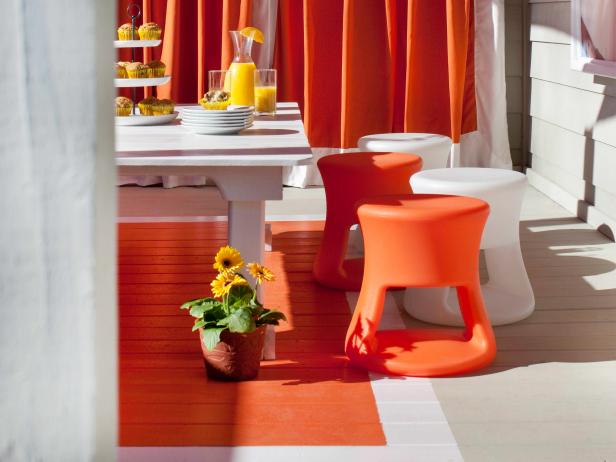 White and Orange Dining Area With Painted Rug
No need to use a fabric rug in this outdoor space, given the orange and white-bordered rug painted on the wood deck. The cheery bright color scheme continues with the outdoor dining table and orange and white stools.
Painting your deck is a great way to bring vibrant color to your outdoor living area. Typically, homeowners paint railings, stairs, and posts but stain the decking. That's because stain tends to hold up better to foot traffic than paint.
Nevertheless, painting decking boards is definitely possible. Although painting completely obscures the grain, you'll be able to give your decking surface unmatched personality and pizzazz. Deck painting ideas include patterns, such as checkerboards and stripes, or even faux rugs.
If you're planning a new deck and thinking of painting your decking boards, you'll want to apply a good quality primer to all sides of the boards before installation. It's a bit of a hassle to prime all sides of decking boards individually, but that'll go a long way toward fending off moisture from underneath your deck and helps keep decking boards stable. Otherwise, changes in soil moisture and humidity could cause expansion and contraction of decking boards, stressing out your paint job and causing the paint to peel and chip.
Deck paint can be either oil-based or acrylic — both are good products. Oil-based paint has the advantage of being slower-drying, which makes outdoor application easier and more mistake-free. Acrylic paints have less harsh-smelling VOCs and clean up easier.
Another option is solid color stains. They're close to paints in terms of performance, and they're made to withstand foot traffic. They're not as tough as paint and colors are somewhat limited.
Dramatic Deck and Patio Makeovers by Drew and Jonathan Scott
See All Photos
Deck paint is sold under various labels, such as "deck and concrete paint" and "porch paint." Deck paint is specially formulated to withstand harsh elements and constant foot traffic. It is thicker than regular exterior paints, and usually includes a mold and mildew inhibitor. Most products claim a high degree of slip-resistance.
Many products labeled as deck paint are designed to restore old decks. They penetrate and fill small cracks and cover up stains and other minor flaws. For proper adhesion, good preparation is a must, which includes completely removing any old finish. Steps include:
• Fixing any popped nail and screw heads.
• Filling any cracks larger than 1/4" wide with epoxy putty; stain to match the surrounding deck boards.
• Using a stain and sealer remover on any wood that's previously been finished with paint, stain, or a clear sealer.
• Applying a deck wash product to completely clean all wood surfaces. Allow to dry thoroughly, at least 48 hours.
• Sanding any ridges or lifted grain with 80-grit sandpaper; cleaning up any dust.
• Protecting adjacent surfaces, such as siding, with painter's tape and plastic sheeting.
• Covering nearby plants with plastic to prevent damage.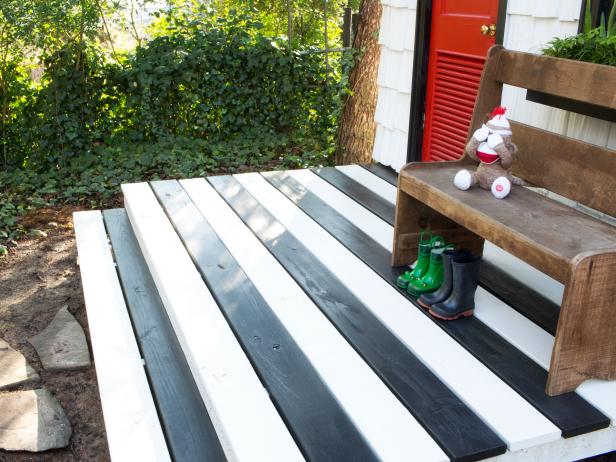 BPF_original_playhouse-exterior_entry-deck-horizontal_h
Add instant square footage to a teensy weensy play house with a child-sized entry deck. This is a time-consuming project which could easily take a full weekend to complete; however, it may ensure a child gets the most use from the play house as possible, allowing him or her to have more playmates over at the same time. Instead of staining the decking boards, use paint to carry on the color scheme of the play house directly to the deck.