Read This Before You Build a Ground-Level Deck
Ground-level decks that are floating (not attached to a structure) are easier to build and cost less than standard deck construction. Here's what you need to know before you begin.
A ground-level deck is a great way to add some livability to your backyard: it can be a place to barbecue, hang out and entertain, all on a nice flat, level surface that's clean and safe.
If you want to know how to build a ground-level deck, start with the reassuring fact that it's one of the easiest decks to build. There aren't any posts, and if it's free-standing — meaning it's not attached to your house or any other structure — you won't have to dig the footing holes that are required by building codes to prevent frost heave. Instead, you can build on inexpensive store-bought deck pier blocks that you set directly into the ground (check your local codes for proper installation of deck blocks).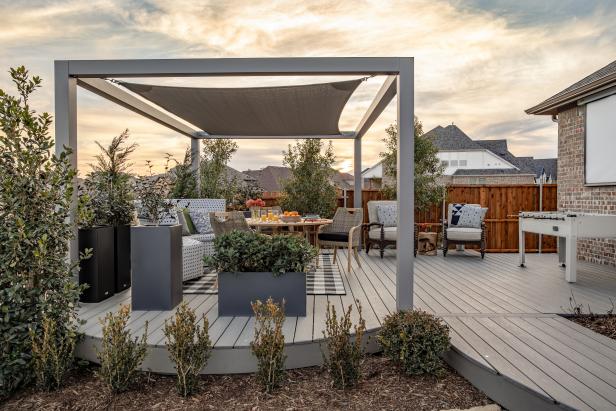 Graceful Greenery
Landscaping hugs the curves of the deck and creates a living frame with greenery just off the dining area. Using layers of plants in the landscaping and gives the space a lush, textured feel of an outdoor oasis.
Robert Peterson, Rustic White Photography
Place beams on your blocks, add joists, and bam! — your substructure is complete. Because a ground-level deck is so low, railings are optional (codes require railings on decks with walking surfaces that are more than 30 inches above grade). You can add railings if you want, for sure, along with built-in benches, planters, and arbors, depending on your budget and design.
Ground-level decks can be any shape or size, depending on your needs. Put them close to the house as a transition from inside to outside, or toward the edges of your property to create an island oasis. You can find free ground level deck plans and design tools at the websites of home improvement centers and manufacturers of decking and deck parts.
But because ground level decks are so low, with framing often only inches from dirt, structural members have to endure a damp, dark environment. Use only pressure-treated beams and joists to help prevent rot and insect attack. Give the cut ends of framing members a coating of wood preservative or finish to help seal the end grain against moisture. Use only stainless steel or galvanized steel fasteners.
Decking, too, is close to those often-damp conditions. Use either pressure-treated or synthetic decking boards. If you prefer cedar, redwood or some other wood, give the undersides a coat of finish or water sealer before installing them.
It's likely that your finished deck will be a few inches off the ground. It's good that there are openings to circulate air under your deck, but those openings can also be a problem. Leaves and other debris can blow under your deck and accumulate where you can't get at them to clean them out. Too much debris can even speed the deterioration of pressure-treated lumber, and it can create havens for critters and insects.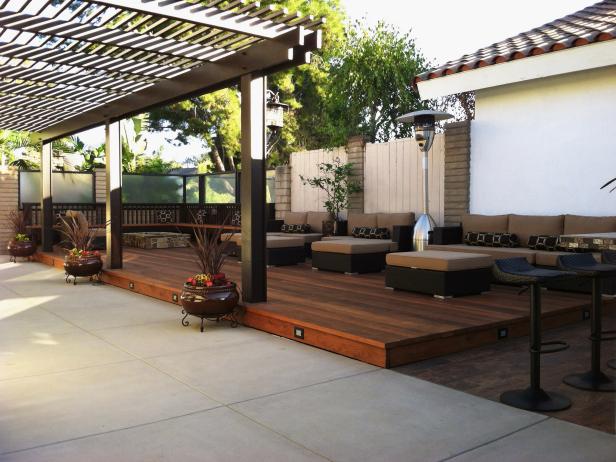 Neutral Contemporary Deck
This outdoor deck is ideal for entertaining with lots of seating, a bar area, and a pergola for shade.
To keep debris and animals from getting under your deck, add a wire screen along the perimeter just behind the rim joists. Galvanized wire mesh with 1/4-inch openings is a good choice. Bury 2 to 3 inches of wire mesh into the ground to deter burrowing animals.