DIY the Window Seat of Your Favorite Feline's Dreams
Sunbathing, bird watching and lazing about — need we say more?
We're sorry, there seems to be an issue playing this video. Please refresh the page or try again in a moment. If you continue to have issues, please contact us here.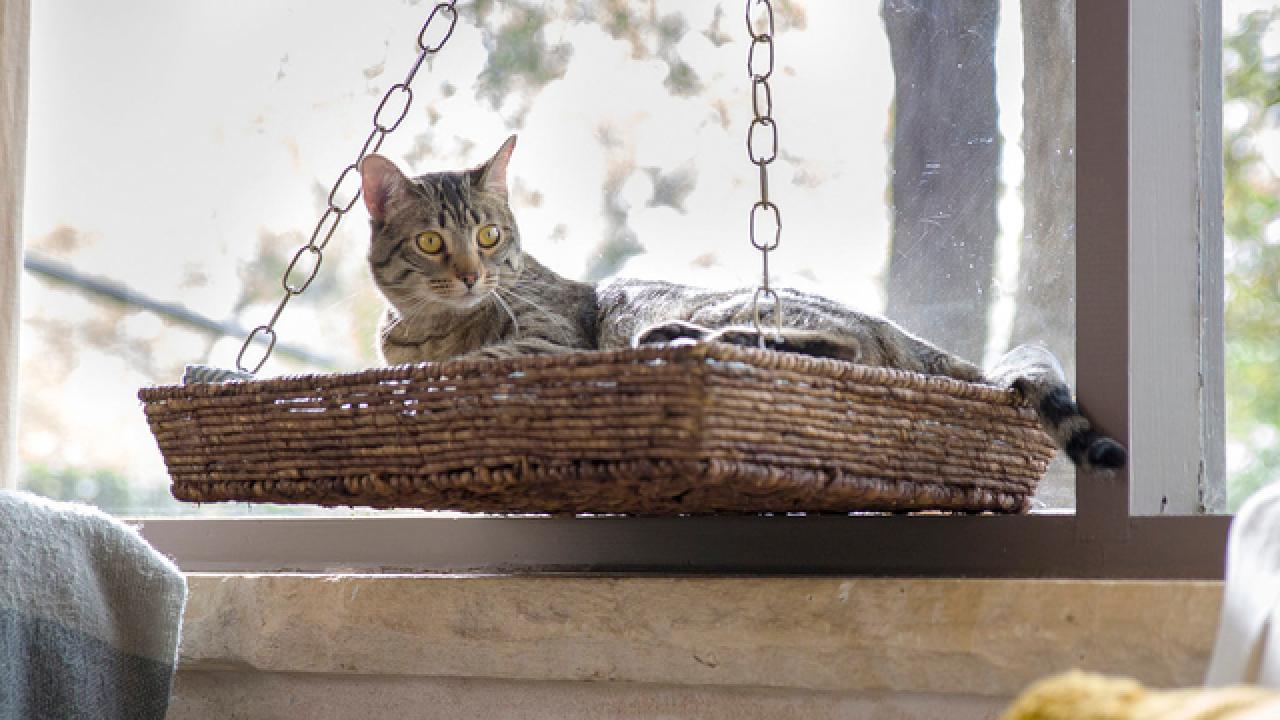 If you're a cat owner, you know all the things your cat loves. Like looking out windows for birds all day long and climbing all over everything, regardless of height. After all, why should they be afraid? They have nine lives. So, being the loving owner you are, you want to give you furry friend the best seat in the house, and we've got just the one!
basket
(3) heavy-duty suction cups
(2) S-hooks
chain
wire cutters
pillow
Pick Your Perch Materials
Start by choosing a sunny window with a view. Trust us, this is EXACTLY the spot your cat wants to be in. Next, pick the components for your perch. Try to repurpose things you already have like a shallow, firm basket and a fluffy pillow.
Make your basket window-ready by hooking a heavy-duty suction cup to each back corner and small, curved hook to each front corner, facing inward. Next, place a third heavy-duty suction cup on the window above where you plan to place the perch. Hook the center of the chain onto the suction cup and attach to each hook at the front of the basket. Use wire cutters to trim the chain if needed. Press the lower suction cups to the window and add some coziness with a plush pillow. Be sure the basket you choose is strong enough for the task and the area where the hooks connect is sturdy.
Introduce your cat to the perch using a treat so they feel right at home! To really boost your cat's experience, try placing a birdfeeder outside of the window. Your fur ball will have fun watching their "TV" all day long.