For pups who sleep belly up, curled up, sprawled out or on their side, these top-rated dog beds will ensure they get the best rest ever.
Sponsored: Our editors independently choose products they love from the sponsors' product lines. Price and availability could change after publish date, and we may make money from these sales.
Dogs can be just as picky as humans when it comes to where they sleep, and their unique sleep positions play a huge part in their bed needs and preferences. I know this from personal experience. My medium-sized dog, Beatrix, has made it very clear she prefers smaller beds with bolsters, so she can curl up in a ball but still keep her head propped up and supported. (And also to make sure she can see everything going on.)
There's a lot to keep in mind when buying the perfect snooze spot for your furry friend — size, shape, support, material, design and most importantly, your dog's age and health. For example, puppies need a bed with a durable exterior that can withstand some chewing, while aging dogs with mobility issues or arthritis need a low-profile, orthopedic bed for optimum comfort. And for dogs of all ages, an easy-to-clean bed or removable cover ensures you can keep their favorite spot clean and your house smelling fresh.
From cave-like hangouts to cooling loungers, take a look at these top-rated dog beds for every pup, and give your furry BFF the best sleep ever.
Best Elevated & Cooling Dog Bed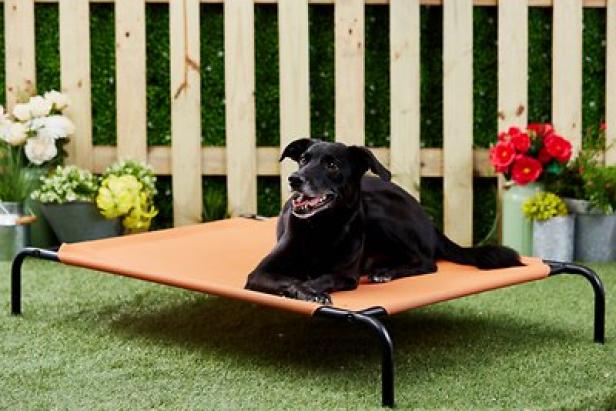 This sturdy, elevated bed is perfect for dogs who love lounging outside. The powder-coated steel frame and durable, PVC-coated fabric are made to last and withstand years of use. (You can even buy a replacement cover if it gets a lot of love.) The tight, breathable fabric also provides an added level of comfort and support that keeps your dog cool all year-round. Plus, every pet parent will love how easy it is to clean; just hose it down!
Buy It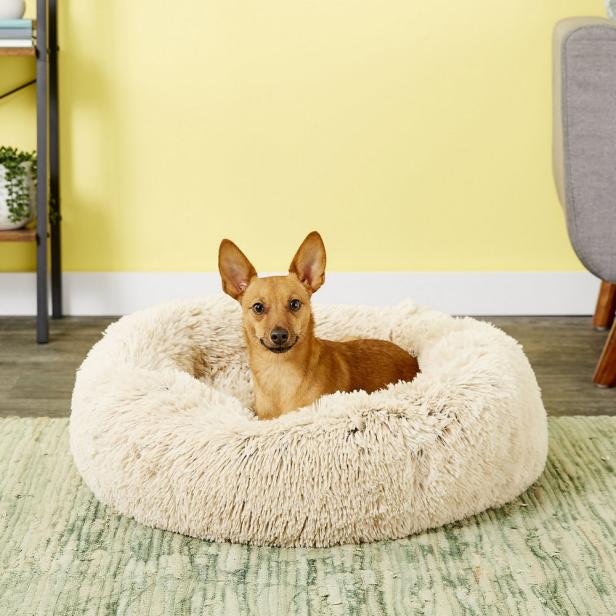 This soft, faux-shag donut bed will keep small pups warm, cozy and comforted. The round design provides a protective atmosphere, while the bolstered edge adds orthopedic support and a soft spot to lay their head. The bed's extra filling offers relief from joint and muscle pain and uses a unique insulation layer to radiate warmth from Fido's own body heat. And while there's no removable cover, it's machine washable and dryer-safe for quick cleaning.
Buy It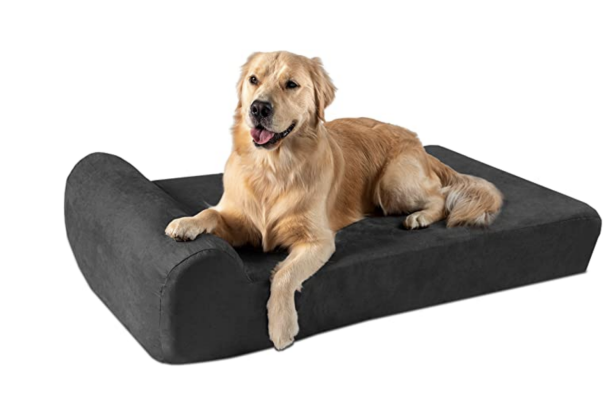 Considered "too powerful for small dogs," the Big Barker is created specifically for large-breed dogs and comes in three sizes: large, extra large and giant. The Big Barker is engineered to provide perfectly distributed weight support for comfort and durability. The mattress features seven inches of therapeutic foam that supports every curve of a big dog's body. Plus, it comes with a 10-year "Won't Flatten" promise, meaning if it doesn't retain at least 90 percent of its shape and support for a decade, you can get it replaced — for free. Dirty dog? No problem. The microfiber cover zips right off and can be tossed in the washer.
Buy It
Best Bed for Small Spaces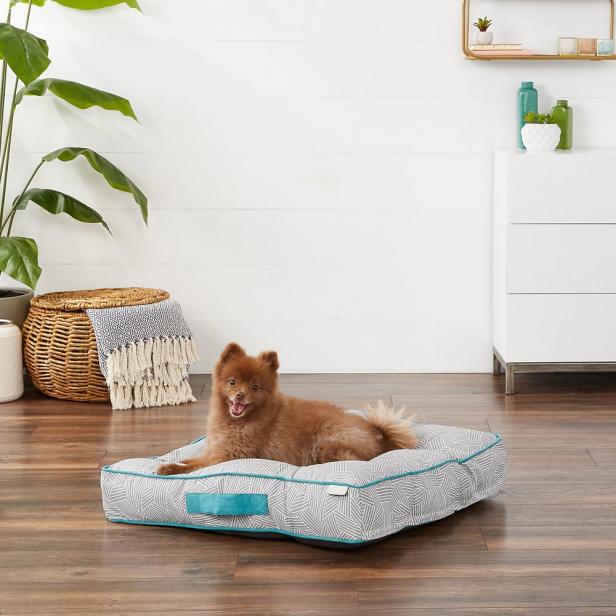 Not only is this tufted lounger stylish with its herringbone and basketweave prints, but it can be stowed in seconds. You may not need to hide your pet's bed often, but if you do, this bolster-free cushion can be tucked away in the corner, under furniture or in a closet with ease. Plus, the convenient side handle makes it easy to tote from room to room and on road trips. The bed's not just convenient for pet parents, though; the square, flat surface gives pups plenty of room to sprawl out and snooze.
Buy It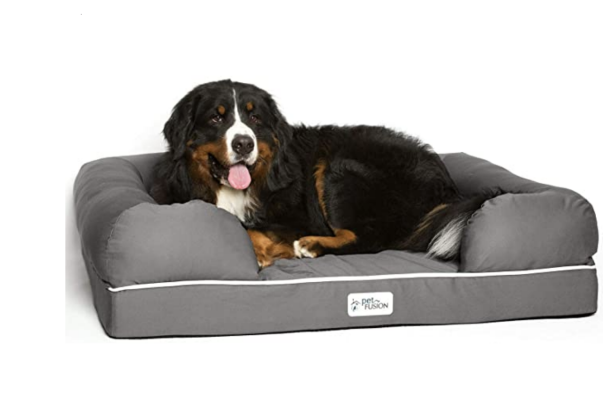 Take your dog to Cloud 9 with this top-rated memory foam bed. Each PetFusion bed comes with up to six inches of CertiPUR-US memory foam for overall comfort, reduced joint pain and improved health and mobility for dogs of all ages. Durable support bolsters provide additional support and security, as well as a comfy headrest. The water- and tear-resistant cover ensures this bed will last for years of daily use, and you can even toss it in the washer to keep it refreshed as often as needed. Plus, have peace of mind knowing the memory foam contains no mercury, lead, formaldehyde, phthalates or ozone depleters, keeping your pup and your home healthy.
Buy It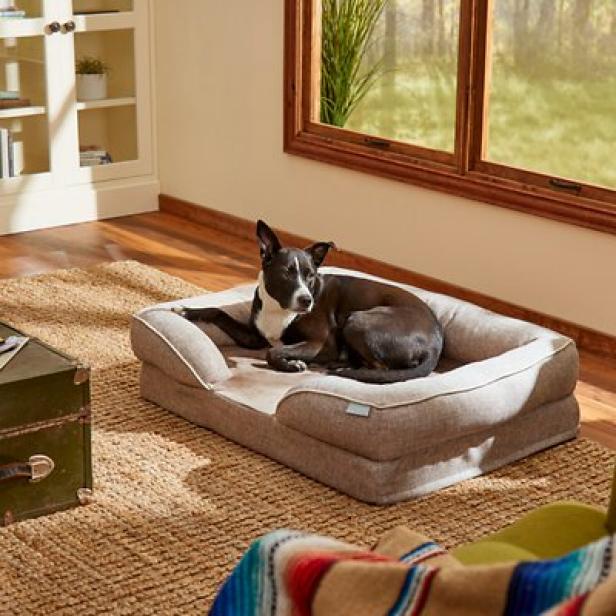 Does your pup think your sofa is their sofa? Gift them their own cozy couch with this chic lounger. This mini sofa combines style and comfort with a mobility-friendly design and built-in entry dip that's perfect for both puppies and seniors. The plush, poly-fill bolster provides wrap-around support and security, while a soft center, three-inch slab foam and one-inch memory foam will send them happily to Dreamland.
Buy It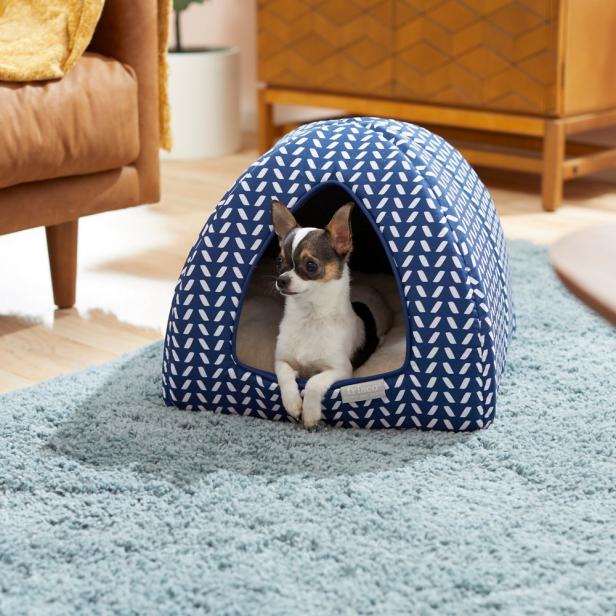 Give your furry friend a relaxing, secure place to lounge and snooze with this igloo pet bed. Ideal for small dogs, this cave-shaped bed is fully padded on all sides for a comforting, den-like hideout. The fluffy lounge cushion can be removed for quick cleanup, or you can toss the entire "cave" in the washer. The best part? It folds flat, so it's perfect to take on trips when your pup needs a secure, private and familiar spot that's all his own.
Buy It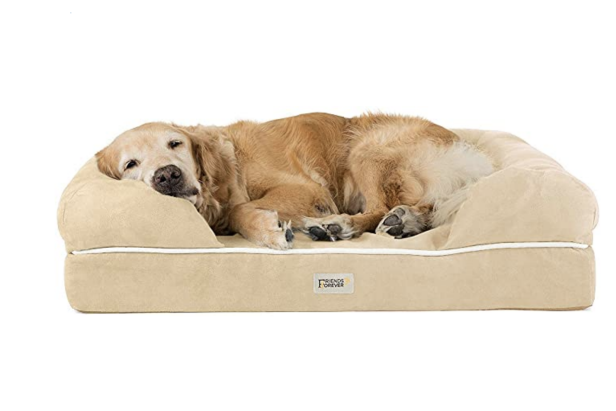 Aging dogs require a comfortable bed that allows them to regulate and maintain their body temperature, soothe their joints, repel moisture from accidents and are easy to get in and out of. Friends Forever's orthopedic memory foam dog bed delivers. Depending on the bed's size, your dog will get up to five inches of human-grade memory foam for maximum comfort and bone support. The cushioned, poly-fill bolsters create a safe place to rest their head and hip, making it ideal for older dogs with joint pain or arthritis. Plus, accidents are no problem! The water- and fur-resistant removable cover is machine-washable for easy care.
Buy It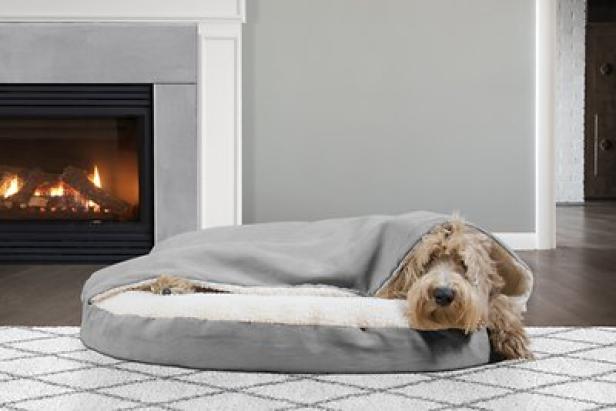 If your pup loves to burrow into blankets and cushions, then this snuggly bed is for her. Functioning as a soft, shapeable blanket, the top layer can be used with or without the flexible plastic hoop based on your pet's preferred sleep style. The hoop lets you fold the top layer back to help her get inside, or fold it down to make sure the blanket stays spread all the way to the edge. It's fully lined in faux sheepskin for warmth and comfort, while the solid orthopedic foam mattress supports posture and joint comfort for dogs of all ages.
Buy It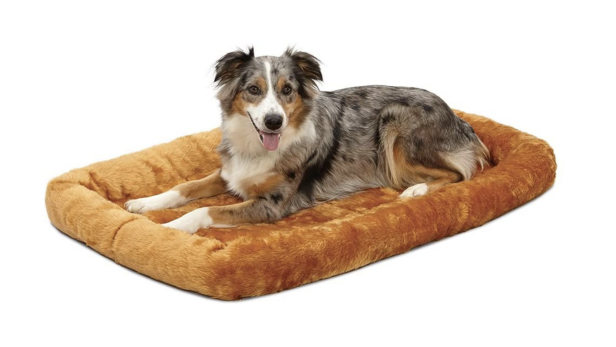 With prices starting at less than $10, this budget-friendly dog bed is perfect for inside crates and carriers, or it can operate as a standalone cushion. With eight sizes and five colors to choose from, there's a perfect size and hue for every pup (and home). The bed features ultra-soft faux fur and a padded bolster around the sides for added comfort and support. The easy-maintenance cushion can even be tossed in the washer and dryer when it needs a quick clean. With 4.3 stars and more than 21,000 reviews on Amazon, pet parents swear by this affordable lounger.
Buy It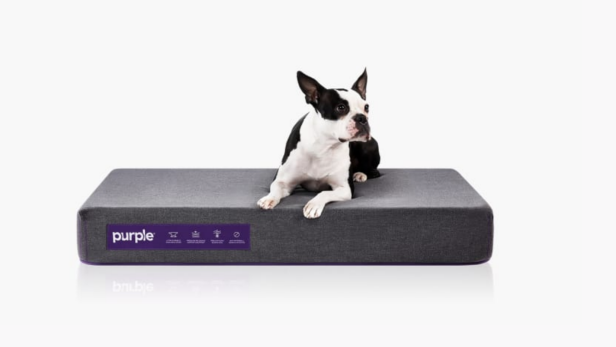 You know Purple for their internet-famous mattresses, but did you know they also have one for pets? With one inch of their Purple Grid technology, your dog will rest easy as the bed adapts to his body for deep pressure relief and support. Plus, it's durable, odor-neutralized, moisture-resistant, antimicrobial, easy to clean and stylish. And with any Purple product, you get a 100-night trial to let your pet test the waters. Beds start at $149 (small) and go up to $269 (large), so this is definitely an investment, but rave reviews say it's worth it.
Buy It
Best Travel & Packable Dog Bed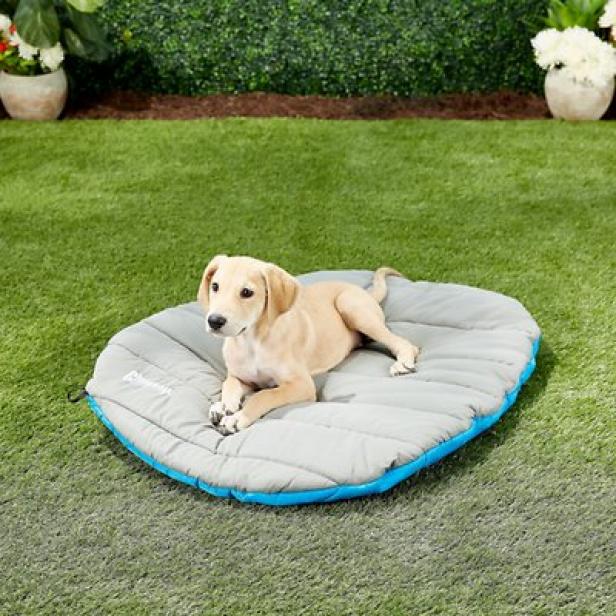 This one-size-fits-most dog bed is a must-have for on-the-go pups. The soft, breathable nylon material stuffs into a small sack to take up as little room as possible when not in use — kind of like a sleeping bag for pets. And at barely one pound, you won't even notice it's in your backpack or handbag.
Buy It