Artichoke and Black Truffle Dip Recipe
This savory artichoke and black truffle dip is an easy holiday appetizer and pairs perfectly with flatbreads and pitas.
1 can (14 ounces) artichoke hearts
8 ounces whipped cream cheese, at room temperature
1 large shallot, finely chopped
1/4 tablespoon salt
1 tablespoon olive oil
3 tablespoons black truffle paste (available from gourmetfoodstore.com)
1/2 cup fresh parmesan cheese, grated
2. Saute shallots in olive oil until soft. Remove from heat and transfer to a mixing bowl.
3. Add cream cheese, artichoke hearts, truffle paste and salt. Keep mix refrigerated until an hour before serving. (Can be made up to 2 days ahead.)
4. Transfer mixture to glass baking bowl. Sprinkle parmesan and bake for 40 minutes or internal temperature of 160°.
5. Serve with homemade flatbread sprinkled with Mediterranean herbs. Cut into triangles and top with dip.
Use cupcake wrappers to serve 2-3 pieces of flatbread.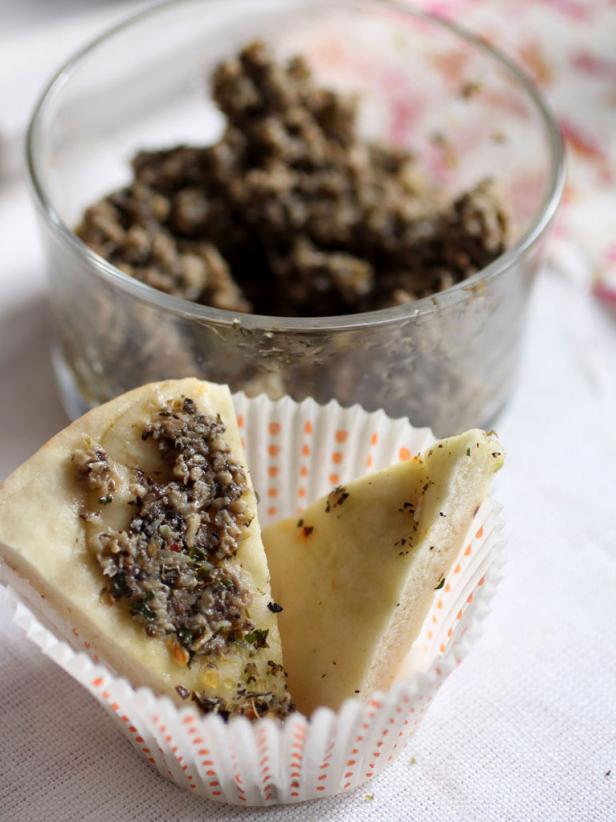 Black Truffle Artichoke Dip
Black truffle paste (available in gourmet stores or online) adds a decadent touch to a party favorite. Get the recipe.