Creamy Lump Crab and Corn Dip
This dip will leave you weak in the knees. The creamy mascarpone folded with large chunks of crabmeat and sweet corn is perfect when baked together until bubbly and hot. Served with toasted crostinis, this dip is perfect for any occasion.
1/4 cup extra virgin olive oil
1 sourdough baguette, thinly sliced on a bias
1 tablespoon extra virgin olive oil
1 shallot, minced
1 ear yellow corn, kernels and milk removed from cob
2 garlic cloves, minced
8 ounces lump crabmeat
1/4 cup mascarpone, softened
1/4 cup Monterey Jack, grated
1 teaspoon hot sauce
2 tablespoons chives, thinly sliced
1/4 cup plus 2 tablespoons panko breadcrumbs
2 tablespoons Parmesan, finely grated
2 tablespoons butter, softened
Salt and pepper to taste
1: Preheat oven to 375 degrees F.
2: Brush each slice of baguette with a small amount of oil and place onto a baking sheet. Lightly season with salt.
3: Bake crostini for 15 minutes and flip over. Bake for an additional 5 to 10 minutes. Place onto cooling racks and allow crostini to cool.
4: For dip: Place crab in a mixing bowl and set aside. Pour oil into a small sauté pan and place over medium-high heat. Add shallots and sauté for 2 minutes. Add corn and continue to sauté for 3 to 4 minutes. Add garlic and stir together. Cook for 1 minute and season with salt and pepper.
5: Pour corn mixture over crab and add mascarpone, Monterey Jack, hot sauce, chives and 1/4 cup panko breadcrumbs to the mixing bowl.
6: Gently fold ingredients together, until just combined. Season with salt and pepper. Pour mixture into a (1-1.25 quart) baking dish.
7: Place remaining panko and Parmesan into a small bowl and stir together. Sprinkle mixture evenly over dip and dot top with softened butter.
8: Bake for 20 to 25 minutes or until baked through and golden brown. Serve hot with crostini.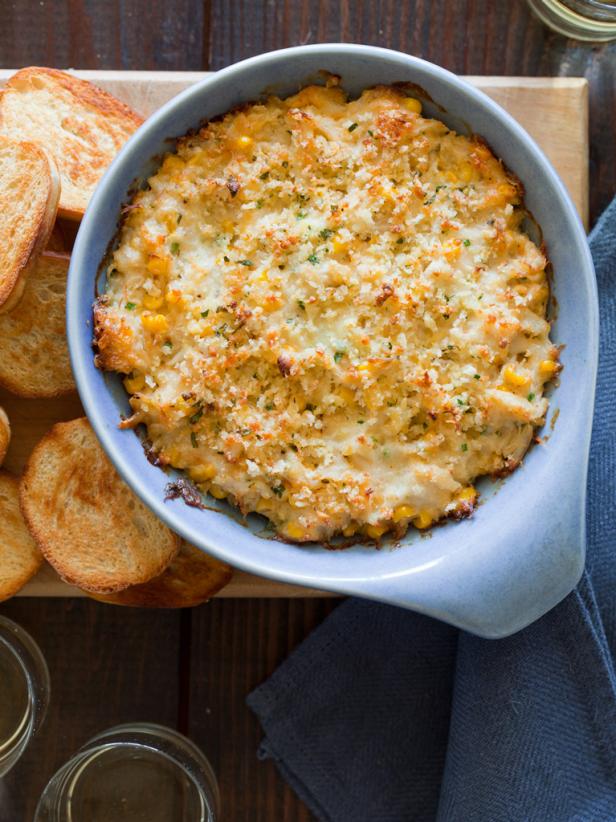 Creamy Lump Crab Dip
Fold creamy mascarpone cheese with large chunks of crabmeat and sweet corn, then bake together until bubbly and hot. Serve with toasted crostinis. Get the recipe.