This tangy and spicy cheese dip gets its kick from horseradish sauce. Serve it with pretzels or on toasted crostinis as an appetizer.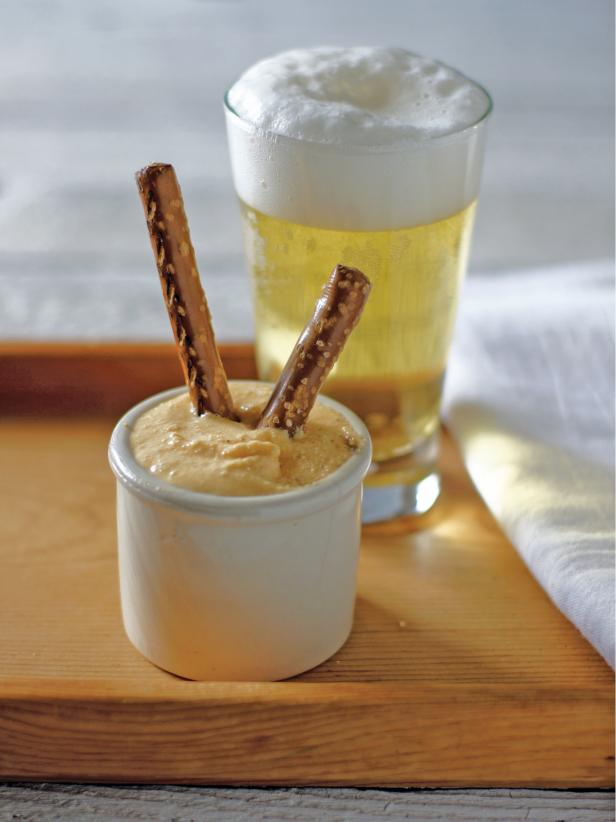 Beer Cheese Dip
Have a couple of savory options available at your Halloween party. Serve pretzels along with beer cheese dip to keep adults at the party happy.
You should allow the dip to rest in the refrigerator for at least one day, but two days is ideal. It will look loose when you finish blending, but it will harden back up after being refrigerated.
9 oz. flat beer
16 oz. sharp cheddar cheese, cut into 1-inch cubes (image 1)
1 garlic clove, minced
1/4 medium onion, minced
1/2 teaspoon hot sauce
1/4 teaspoon Worcestershire sauce
1/2 teaspoon horseradish sauce
1/4 teaspoon black pepper
1/8 teaspoon salt
1 teaspoon dry mustard
pinch cayenne
1. Pour beer into a glass and allow it to go flat for at least an hour (Image 1).
2. Place all ingredients except beer into food processor. Pulse a few times to completely mix ingredients (Image 2).
3. Pour flat beer through chute while processor is running. Blend for 2-3 minutes or until smooth and creamy.
4. Transfer to an airtight container and place in refrigerator for 1-2 days before eating.