Dark Chocolate Truffles With Champagne and Coconut Flakes Recipe
These dark chocolate truffles are a delicious indulgence and make a great gift to give to friends.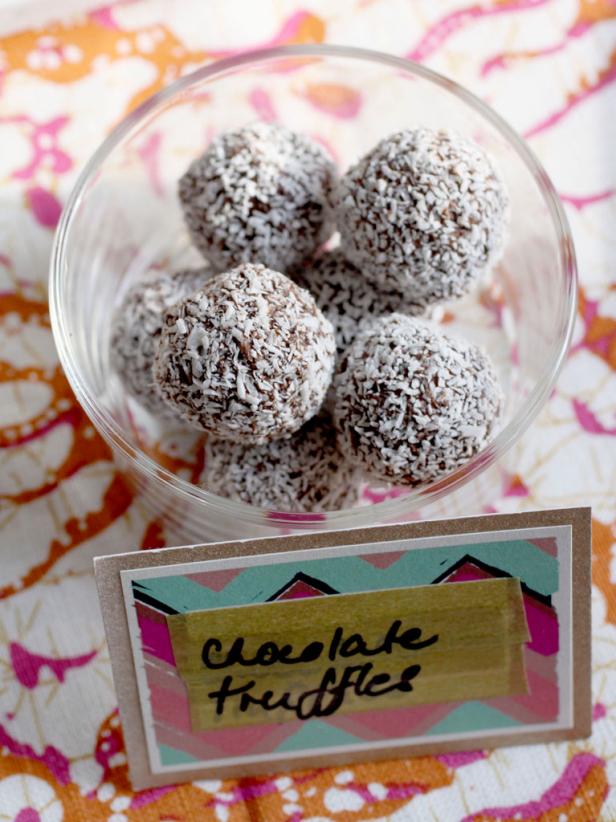 Dark Chocolate Truffles
These aren't just any truffles — the champagne and coconut flakes add an unexpected punch of flavor. Get the recipe.
8 ounces dark chocolate
1/2 cup heavy whipping cream
2 cups sweetened coconut flakes
1 tablespoon cognac
1/4 cup dry brut champagne
1. In a saucepan bring cream to a boil. Meanwhile, chop chocolate into coarse bits and transfer to glass bowl.
2. Pour cream over chocolate and stir until mix is smooth. Chocolate should have combined with cream.
3. Add in champagne and cognac.
4. Cover and refrigerate for 1.5 hours. The mix should be firm enough to roll into 1 inch balls.
5. Line a cookie sheet with parchment paper and sprinkle with coconut flakes. Divide and roll chocolate mix into balls and over coconut flakes.
6. Cover with plastic wrap and refrigerate for at least an hour or until just before serving.