How to Clean Velvet Upholstery
Fear not — high-end upholstery doesn't have to be challenging to clean. Follow these tips to keep your velvet furniture looking its best.
Velvet upholstery has a complex reputation. It's equal parts bold, classic and, for many, kind of intimidating. We get it. Brightly lit rooms can fade richly pigmented colors, pets can make it difficult to keep the cushions clean, and children — sigh — can always make it hard to own nice things. So, sure. There may be barriers to owning high-end upholstery, but if you choose to invest in velvet, just know that it isn't as daunting as it seems to keep it clean.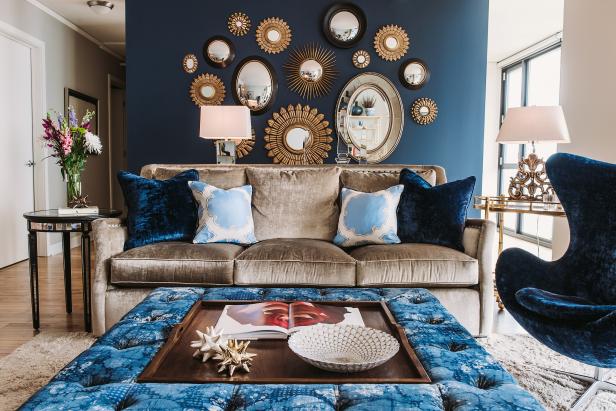 Eclectic Blue Living Room With Velvet Sofa and Chair
Designer SuzAnn Kletzien used striking and harmonious patterns throughout this eclectic blue living room, including neutral and dark navy velvets, subtle gold and blue stripes and a mineral-inspired pattern. A rich blue velvet fabric with a floral pattern was used to cover the custom-made ottoman, complete with a removable wood serving tray.
Whether you're sourcing a vintage piece of furniture or just looking to clean up a much-loved article that you already own, these easy cleaning tips for velvet upholstery make it possible to protect and maintain your investment.
vacuum with an upholstery cleaner attachment
absorbent white cloths
soft bristled brush
soap and water, or a gentle upholstery cleaner
Even if you're not doing deep cleans to protect against kids' PBJ fingers or pet dander, vacuuming your velvet upholstery is the easiest way to keep naturally occurring dust from settling into the fabric. A vacuum cleaner with an upholstery attachment is gentle and makes it easy to agitate the material to lift dust and dirt. Avoid high-suction vacuum attachments, though. They may pull at the velvet and cause irreparable damage (especially delicate vintage fibers).
If you don't have an upholstery attachment, use a soft-bristled brush to routinely "dust" your velvet to prevent build-up.
If you're cleaning a sofa or chair, remove the cushions and get the vacuum into the nooks and crevices where dirt and loose change collect. A buildup of dust and dirt will stain and wear on the fibers over time.
Always test cleaners on a discreet part of your velvet upholstery. You'll want to see if it affects saturated colors or the texture of the velvet. You'll also want to see how the velvet dries and how easily you can brush the pile to restore it to match the rest of the upholstery.
Warm, bubbly dish soap and water often works well for cleaning large areas of upholstery. Spot cleaners can also help tackle deeper stains, but you should still consider cleaning a broader area to prevent lifting dye from a single spot or agitating the fibers in one small area in an unforgivable way. If you clean a 10-inch radius around the spot you're targeting, it'll be less obvious when it dries.
Once any moisture has dried, you'll need to use a soft-bristled brush to smooth down the surface of the velvet to restore the direction of the fibers and refresh the pile. Brush in the direction of the pile to even out the texture.
If liquid gets spilled on the velvet upholstery, take steps immediately to absorb the stain. Paper towels work quickly to absorb moisture, but a rag can manage larger volumes. Press deep into the material — don't rub — and if it's a dark stain like red wine, consider applying an upholstery cleaner to the spot to help treat for potential stains.
Know When to Ask for Professional Help
You might consider hiring a professional if your upholstery has a big, deep stain, or is delicate and vintage. They may require you to bring in your upholstery for treatment or make recommendations for cleaning it at home based on its condition. With a little know-how, they can help make sure your investment remains in excellent condition.
Avoid these common cleaning blunders and help your fabric furnishings look their very best.
Use these tips and DIY cleaning solutions to keep your leather furniture and clothing in top shape.
Keep your suede shoes, clothing and accessories looking like new with these simple steps.