Kitchen Cabinet Door Styles
The design style you choose for your kitchen cabinets determines the tone and style for your entire kitchen.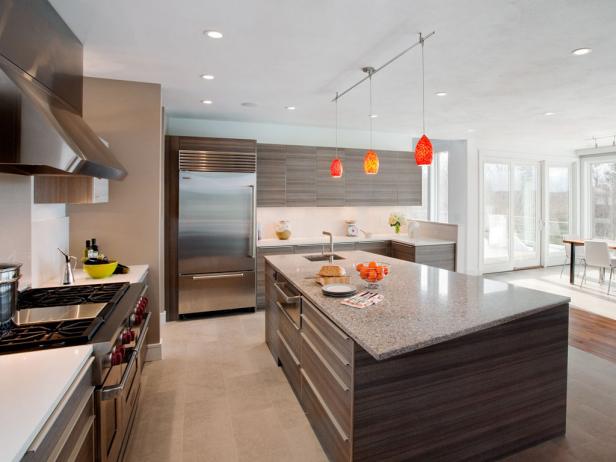 Modern Chef Kitchen With Commercial-Grade Appliances
This chef-style kitchen is laid out to maximize prep space for cooking; visually, the sense of immense space was heightened by using three different types of engineered stone for the backsplash, the countertop and the island topper. The neutral background is broken with a dash of bright orange in the light fixtures.
Your kitchen cabinets are the centerpiece of your space, and the style you choose is a reflection of your personality. So before considering the different kitchen cabinet door styles, you need to know what your overall personal style is.
Some cabinet styles work better for contemporary than others. Same goes for traditional. Transitional styles can bridge them both. Do you want a few fancy accent cabinets or a more streamlined consistent look? Once you can answer these questions you'll be able to focus on the kitchen cabinet door style that is right for you.
Flat-panel cabinet doors have a center panel that is flat, with the outer edges raised. These cabinet doors are preferred for a clean, sleeker, modern look, but they work well with traditional, transitional and contemporary looks as well. Raised-panel cabinet doors have a raised center panel with a surrounding profile or contour. They look really good for traditional or transitional designs. Slab cabinet doors are most often used in contemporary designs, as they are simply a flat slab of wood—smooth with no panels, contours or accents. Accent cabinet doors are more decorative than functional and are not used on all of the cabinets. They can be made of glass doors, louver doors, mullion doors, leaded glass doors and aluminum frames, among other styles. In the right setting, accent cabinet doors can blend in easily with any design style.
Cabinet doors can be made from many different wood species and the design style you want will have to be considered when choosing what material you want your cabinet doors to be made of in order to make sure the style is compatible. A knotted pine or hickory wood is not going to work with a contemporary or modern design, especially if you are going to stain it instead of paint, but it is a beautiful choice for an outdoors-like rustic or country look. This type of wood works really well for a casual, lived-in look, too. Oak is a popular wood choice for a more traditional or transitional cabinet style. Cherry wood ages into a beautiful dark wood to give your kitchen a warm regal classic look. Another consideration for your kitchen cabinet doors is laminate or thermofoil, which come in a larger variety of colors and styles and are more versatile than wood.
More Kitchen Cabinet Door Ideas and Options
Other Kitchen Cabinet Ideas