Modern Design Kitchen Cabinet Doors
Get the info you need on modern kitchen cabinet doors, and prepare to add a sleek and stylish touch to your kitchen cabinets.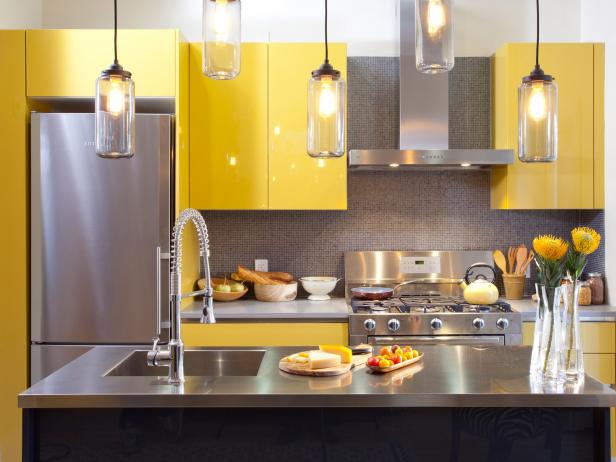 Modern Kitchen With Glossy Yellow Cabinets
Sleek. minimalist yellow cabinets are the star of the modern-style galley kitchen. Stainless steel appliances, counter, range hood and industrial pendant lights complete the look.
If your style tends more towards the contemporary than the traditional, you may want to consider adding modern design kitchen cabinet doors to your cooking space.
Most cabinet styles feature door components that can be updated in a variety of styles, since the cabinet frames generally feature little or no stylistic flourishes—this means you can "face" your cabinets with doors that reflect whichever style appeals to you most.
Modern design is generally agreed to have started in the early 1900s. Since its inception, it's been marked by a preponderance of geometric forms, minimal ornamentation and both angular and curvaceous designs. Modern kitchen cabinet doors generally follow a more angular and unadorned design aesthetic, with minimal adornment and hardware. Many modern kitchen cabinet doors sit flush with the cabinet frames to accentuate their streamlined, straightforward design.
Although wood is used frequently, man-made materials such as metal, plastic, concrete and glass are also very commonly used for modern kitchen cabinet doors. Frosted, leaded or semi-opaque glass is a popular feature of modern kitchen cabinet doors. Replacing old kitchen cabinet doors with modern materials like these is a great way to update the appearance of your kitchen without having to remodel the entire space or tear out the main component of the cabinetry. Facing modern kitchen cabinet doors with veneers of laminate or wood is also a quick and easy DIY option to give your kitchen a quick facelift. Mixed materials are also quite common in modern kitchen design, with many modern kitchen cabinet doors featuring combinations of wood and glass or glass and metal.
In recent years, many homeowners have begun to feature midcentury modern furniture and design in their homes. This design style, which originated in the Nordic countries in the middle of the 20th century, features a preponderance of bold angles and flowing curves. Many modern kitchen cabinet doors can be traced to this movement, featuring both the familiar angular style, and the use of either sturdy wood or artificial materials like laminate to present a markedly modern design.
Color is another important aspect of modern kitchen cabinet doors. Natural wood colors are popular, but many homeowners with modern tastes also tend towards bold, contemporary colors like bold reds and blues and bright oranges, yellows and greens.
Modern kitchen cabinet doors can be a great addition to to any modern or contemporary kitchen design—and a cost-effective one at that. Modern design can work well in just about any home, but a modern kitchen can be particularly appealing to homeowners who want to maximize the space in their kitchen with an up-to-date, efficient and attractive design.
More Kitchen Accessories and Decorating Ideas