Laminate Kitchen Cabinets
Brush up on laminate kitchen cabinet options, and be ready to add a sleek and contemporary design to your kitchen.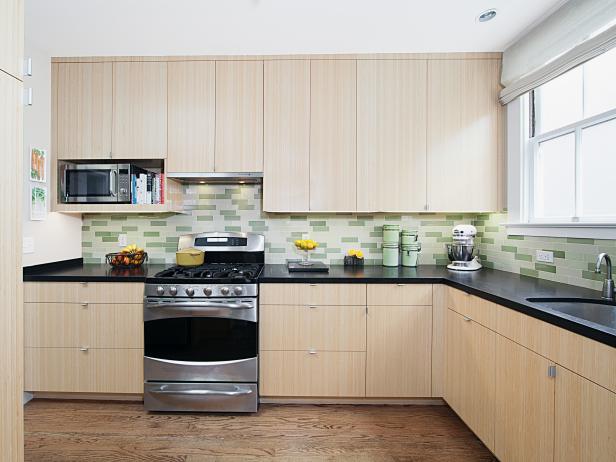 Kitchen With Green Tile Backsplash
This contemporary kitchen has a light and airy feel with the light wood cabinets and light green backsplash. The black countertops provide a nice contrast to the light colors in this space.
If your goal is to create a sleek, contemporary and efficient kitchen design, you may want to consider laminate kitchen cabinets.
Laminate and wood are the two most popular materials used for kitchen cabinets, and they both offer a range of advantages and disadvantages related to price, durability and appearance. In general, laminate kitchen cabinets are chosen for more modern, updated kitchen designs.
As with wood cabinets, laminate kitchen cabinets can be purchased prefabricated, or you can opt for custom or semi-custom designs. Pre-fabrication is the cheapest option, semi-custom is slightly more expensive, and custom laminate cabinets will be the most expensive option.
One of the great advantages of laminate kitchen cabinets is the ease with which they can be cleaned. All you'll need to clean laminate cabinets is a water-based household cleaner and a damp sponge.
In terms of durability, laminate places second to most wood species. If a laminate cabinet is chipped, it can be difficult to repair, sometimes requiring the total replacement of a door or cabinet frame. Also, the glue that holds the layers of laminate material together can become loose over time.
But the slightly less durable nature of laminate cabinets is often overlooked, because of the final factor: cost. Laminate cabinets are generally significantly less expensive than wood cabinets, making them an attractive option for those looking for a contemporary style and operating on a budget.
More Kitchen Cabinet Materials
More Kitchen Cabinet Ideas