Stainless Steel Kitchen Cabinets
Gain insight on stainless steel kitchen cabinets, an alternative material used in modern kitchen design.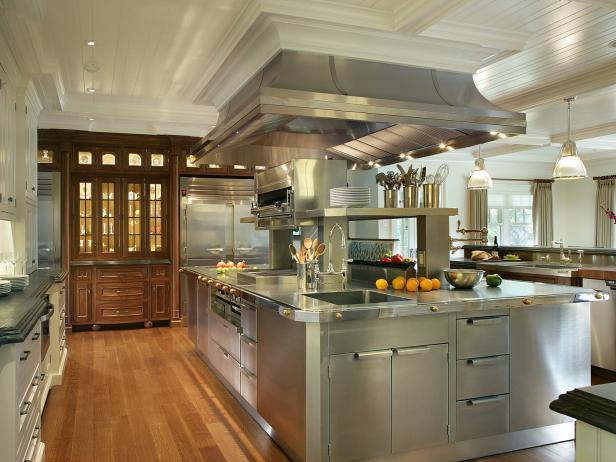 Chef's Kitchen Glass Display
Designer Peter Salerno creates display space for the homeowners' dish and glass collection by incorporating ten mullion doors and ten single glass doors over the freezer, china cabinet and refrigerator.
Stainless steel is a material prominent in most modern kitchens designs. Homeowners seeking an updated kitchen often desire stainless steel appliances and sinks, and stainless steel kitchen cabinets work well with this look.
Historically used in restaurants, laboratories and for medical storage, stainless steel cabinetry has moved beyond its industrial beginnings and is now found in high-end home kitchen designs.
While you can get a very sleek, angular look with stainless steel kitchen cabinets, it does show fingerprints and scratches easily so you want to make sure you are comfortable with a non-perfect surface if your kitchen is used frequently. Fortunately, over-the-counter stainless steel cleaners are readily available so that fingerprints can be easily wiped away.
Besides being easy to clean, stainless steel is a durable and sanitary material—two very appealing characteristics for a frequently used room such as a kitchen. For the earth-friendly homeowner, stainless steel cabinets are considered a green product, meaning they are recyclable, non-toxic and easy to clean without the use of harsh chemicals. Additionally, steel cabinets are a great pick for outdoor kitchens, since they hold up quite well against the elements.
Stainless steel is a more expensive material than wood. One option to achieve the look of stainless steel while avoiding the cost is to install wood or particleboard cabinets covered in metal door and drawer fronts.
Stainless steel kitchens may seem cold and institutional to some. Pairing stainless steel cabinets with warmer materials such as wooden flooring, glass inserts, or even a kitchen island made of a warmer wood can be more appealing to the eye and provide a unique feel to your kitchen design. Copper or bronze hardware or accents can also break up all of the silver tones that stainless steel kitchen cabinets provide. Whether you are seeking a truly sleek modern space or a more transitional look, using steel as an alternative to wood in your kitchen cabinetry can give a breath of fresh air to your home.
Other Kitchen Cabinet Materials
Kitchen Cabinet Inspiration