Cutting Boards: The Trendy Accessory We're All Putting on Display
Don't stash your cutting board away, display that beautiful wood grain against your backsplash or anywhere in your kitchen or dining area.
Every season, there's always one or two items we see our experts sprinkle into their kitchen designs. In the past, we've had chalk boards, milk-glass bottles and vintage signs to name a few. Lately we've noticed that cutting boards are not being tucked away in the pantry, they're out on display for all the world to see.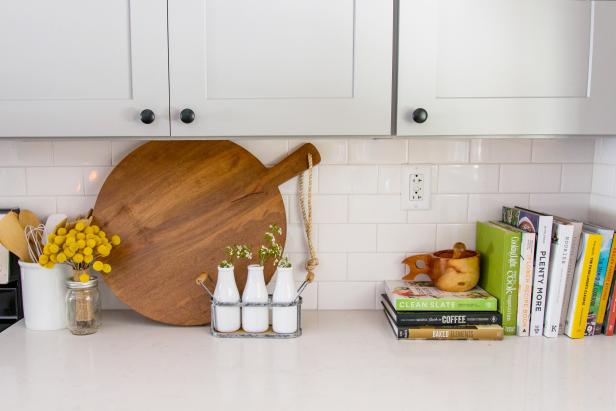 Bright Recipe Books and Wooden Kitchen Utensils Add Color to Neutral Farmhouse Kitchen
To add color to the space, designers used colorful recipe books and kitchen utensils like this pizza paddle. They also added fresh flowers to give the space that little something extra.
When shopping for cutting boards, look for hardwoods like maple, walnut, cherry, teak and bamboo. These are the best choice due to their durability and the pretty patina that will develop over time.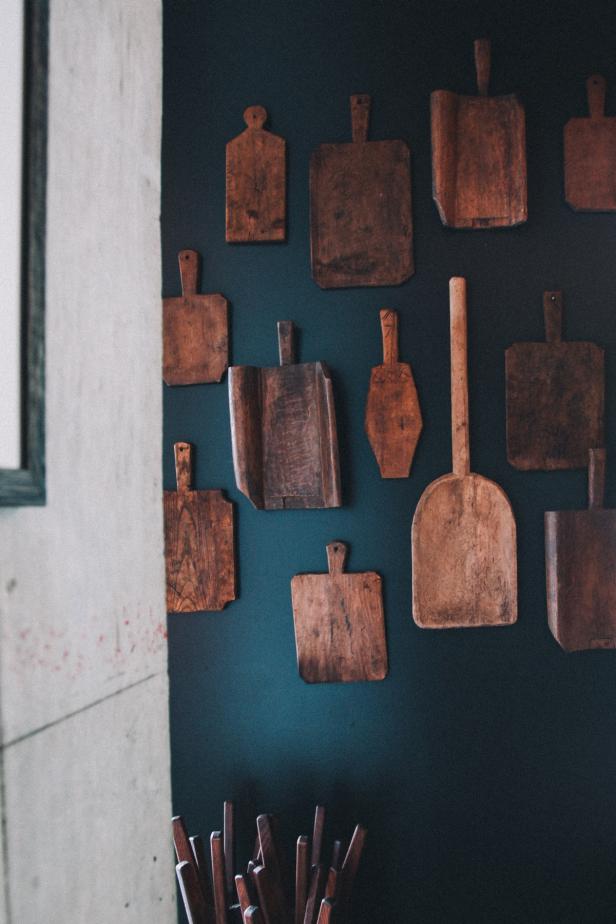 Vintage Cutting Board Display
A jet black wall provides a dramatic backdrop for this rustic display of vintage cutting and serving boards.
If you looking for something new to collect, culinary-wise, cutting boards are a practical choice. Don't limit yourself to just boards, try pizza peels, wooden salad bowls and dough bowls.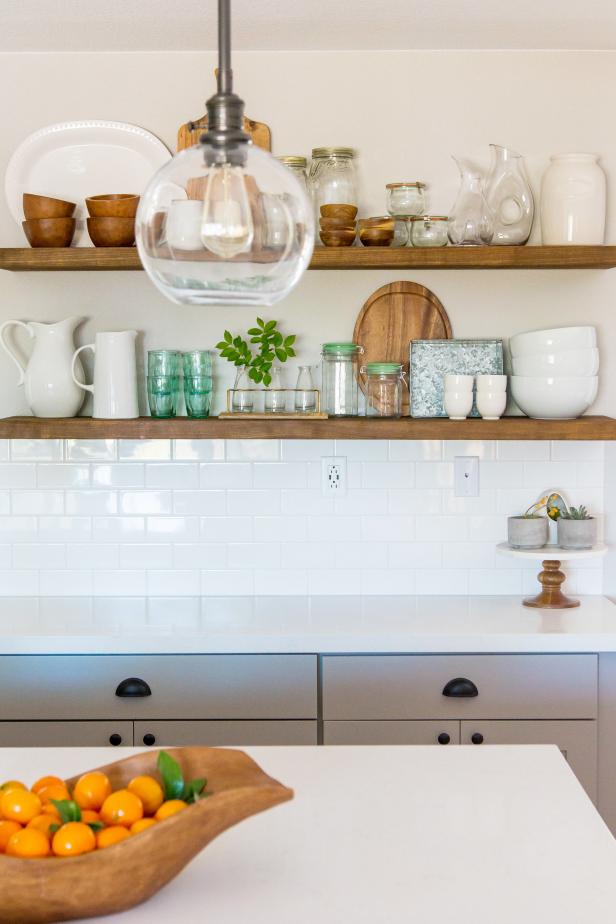 Farmhouse Kitchen with Warm Wood Accents
Natural wood accents, such as these floating shelves and the bread bowl on the kitchen island, help to add warmth to this white farmhouse kitchen.
The popularity of farmhouse style, thanks in part to our own Joanna Gaines and Fixer Upper, may have helped contribute to this new look. And it's a no-brainer to see that natural wood is the perfect accompaniment to a white color palette and vintage dishware.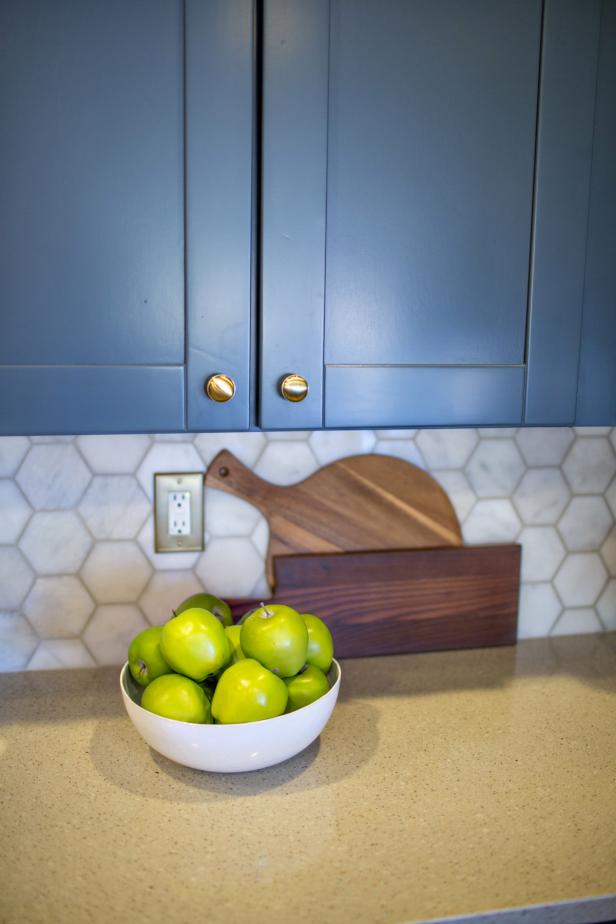 Blue Kitchen Cabinets and Gold Counter
Marble tiles cut into a hexagonal pattern make a pretty backsplash in this kitchen, especially in contrast with the gray-blue cabinets.
Even in contemporary-style kitchens where gray is becoming the new white, cutting boards are still the perfect functional accessory.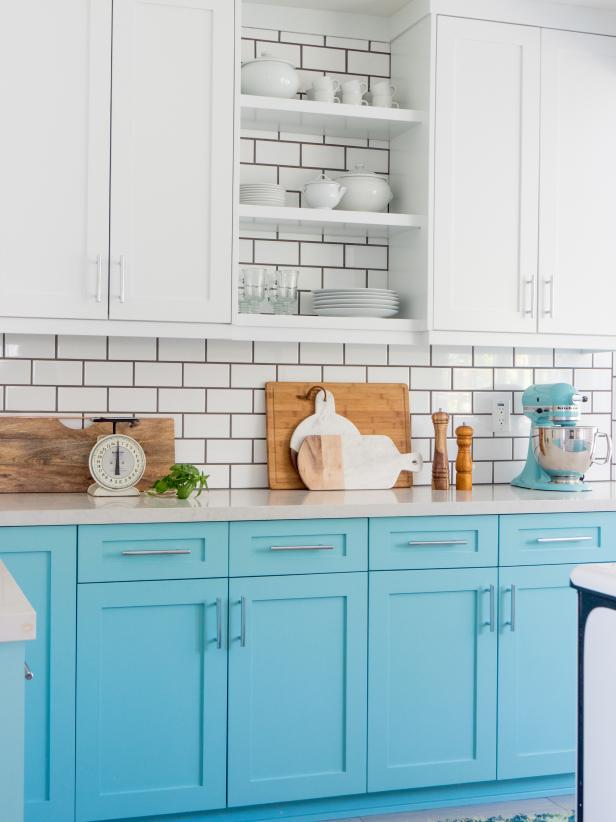 Blue and White Kitchen With Subway Tiles
Subway tiles become a cool graphic statement behind clean, white shelves and cabinets. Avoid cramming shelves full to maintain an open, uncluttered look.
Mixed media – like these wood and marble boards – are a smart choice, not only for design style, but for practicality too. Marble, granite, slate or other natural stone are great for serving cheese. Put your marble board in the fridge for an hour so before serving, it'll help keep the cheese cold throughout your party.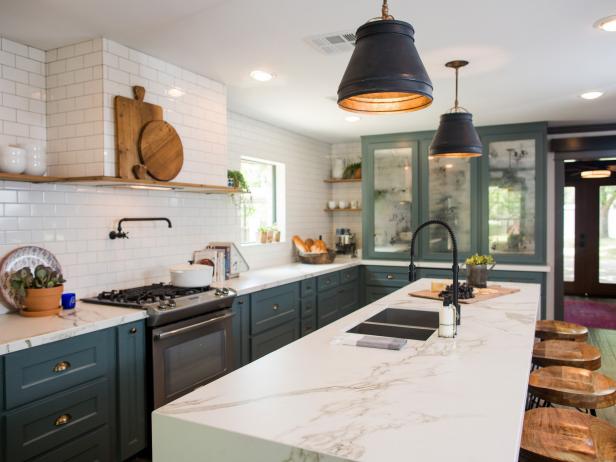 Maximized Kitchen Space with Large Island
After walls were removed, this Fixer Upper kitchen has much more room. To maximize the functionality of this space, Chip and Joanna added a large kitchen island that added more counter and prep space, as well as gave the family a place to sit down for a casual meal. Joanna continued her rustic industrial style in the kitchen, painting the cabinets to match the trim and molding throughout the first floor. She also added industrial pendant lights, an industrial style sink and rustic industrial barstools to complete the look.
Look for a variety of shapes and species if displaying multiple boards. Rectangular bread boards are easy to find and inexpensive, and round boards not only look cool, they're very handy for pizza parties.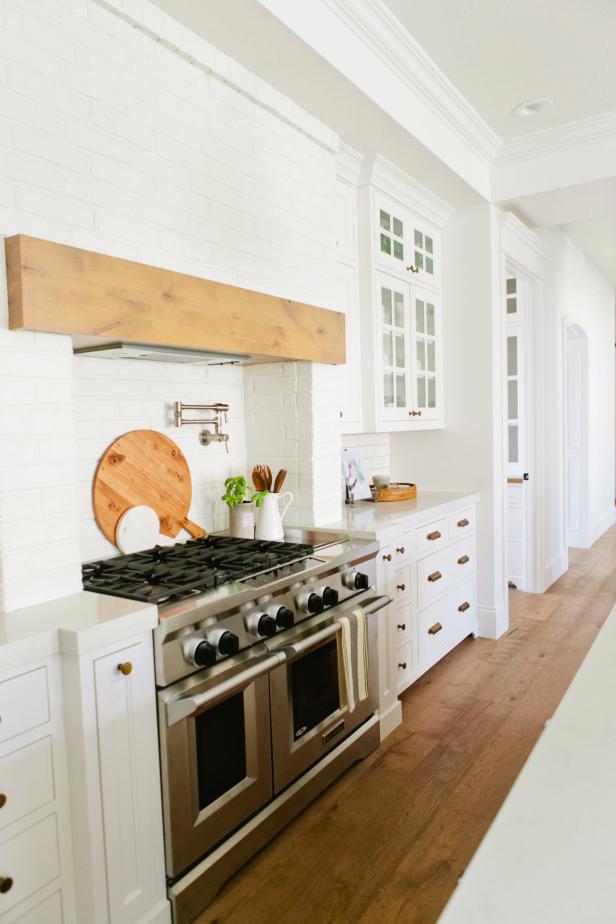 White Kitchen with Stainless Double-Oven Gas Range
A double-oven gas range provides ample room for stovetop cooking. A modern, subway backsplash completes the overall look of the food preparation space.