Kitchen Window Treatments Ideas
The kitchen is the hardest-working room in your home, so you'll need durable kitchen window treatments and window coverings that can stand up to potential heat and moisture while still giving you the style and functionality you need.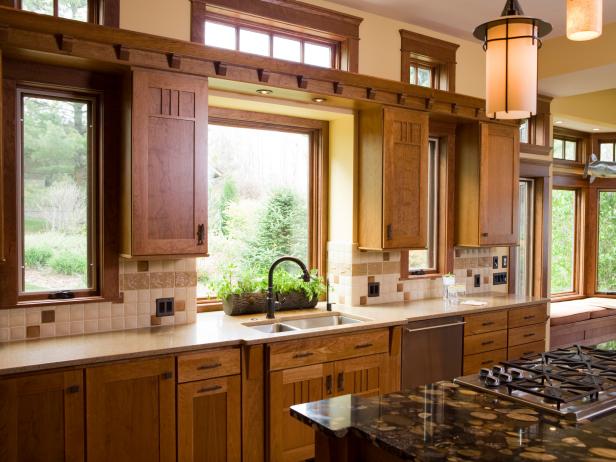 Craftsman Style Kitchen
This craftsman style kitchen has many windows that allow the room to be flooded with natural light. The kitchen is warm and inviting thanks to natural wood tones and neutral colors.
Window treatments don't need to be expensive to look nice. There are many different kinds of kitchen window treatment ideas that can involve a fusion of existing treatments, custom designs, or the creation of unique window decorations through your own DIY project.
The shape and style of window, along with a budget, will help you determine the scope of the project. Following are vital tips to keep in mind when considering window treatment ideas.
Sunlight Exposure: The sun's damaging UVA and UVB rays are notorious. Direct, harsh sunlight can fade most materials; in addition, it can raise interior temperatures, dull finishes, dry wood, and wash out fabrics. To protect your entire kitchen from too much sun, look for window coverings that have a protective quality. Many performance shades, such as cellular and solar, advertise how much of the damaging rays they screen while still allowing some diffused light to come through. For complete control, choose opaque window coverings or treatments lined with a light-prohibiting layer, also known as blackout shades. When closed, the slats of shutters and blinds (wood, vinyl, or metal) block the sun. For added material protection, consider applying an adhesive or static-cling UV film directly to older windowpanes.
Privacy: Have you thought to perform a quick check before starting your project? Turn on the lights in the kitchen one evening and venture outside and see what others can view through your windows. For privacy, look for screening materials that let you see out but allow some daylight to pass while blocking views from the outside; consider Roman shades and roller shades made from translucent or woven materials, or try sheer fabric curtain panels.
Decoration: Shared spaces outside the kitchen work triangle—such as breakfast nooks or when framing a large bay window or French doors—are ideal for floor-length curtain panels that offer opportunity of color and pattern. A swag of patterned fabric draped over a single window can also make a statement. Valances and cornices are like accent marks over windows you want to showcase. For the most personalized effect, choose materials, textures, hues and designs that express your lifestyle.
Other Kitchen Window Treatments