Creative Kitchen Window Treatments
Unique window covering ideas that use everyday materials in unexpected ways will make a tremendous impact on your kitchen.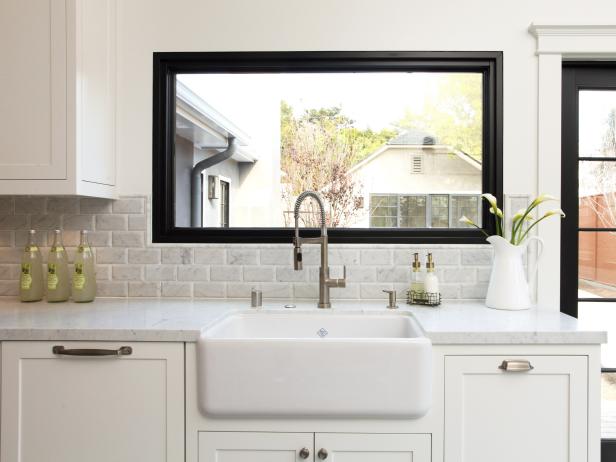 Farmhouse Kitchen With Apron-Front Sink
No farmhouse kitchen is complete without an apron-front sink. This white one flows seamlessly with the white cabinetry and light gray countertops and backsplash.
Arch-Interiors Design Group. Inc.
Ordinary window coverings can work for just about any window style or size. Creative kitchen window treatments can be the best way to express your personal style. Unique window covering ideas that use everyday materials in unexpected ways can make a tremendous impact on your kitchen.
Window treatments do not need to be expensive to look nice. There are many different kinds of options that can involve a fusion of existing treatments, custom ideas, or the creation of your own window decorations through your own DIY project. The shape and style of window, along with a budget, will help you determine the scope of the project.
The material for window coverings makes the difference in how easy it is to maintain your kitchen window treatments. Anything near a stove or sink can absorb odors and soak up spatter. For example, you can launder café curtains and other draperies. You can also wipe down synthetic blinds, shutters, and solar shades with soapy water. But maintenance gets more tedious when you have to manage wood blinds and shutters, which have to be cleaned and conditioned with wood cleaner.
If privacy is a concern, have you thought to perform a quick check before starting your project? Turn on the lights in the kitchen one evening and venture outside and see what others can view through your windows. For privacy, look for screening materials that let you see out but allow some daylight to pass while blocking views from the outside; consider Roman shades and roller shades made from translucent or woven materials, or try sheer fabric curtain panels. Frosted vinyl is also a simple, affordable solution. Frosted vinyl is a good design fix for windows that require both privacy and light.
Where privacy is not an issue, a swag of patterned fabric draped over a single window can also make a statement. Consider no-sew—burlap, bed linens, bathroom curtains, fabric napkins, floor-length drapery panels hung horizontally, beads, just to name a few. This is the opportunity for creativity to shine.
Do you have big or oddly shaped windows? Floor-length curtain panels are ideal and offer opportunity for color and pattern when framing a large bay window or French doors.
Valances and cornices are like accent marks over windows you want to showcase. Asymmetrical applications could be wood or fabric, offering a more modern feeling to the kitchen.
Curtain rods can be a simple secured pipe spanning an entire wall to achieve grandeur and openness. Tree-branches secured over the windows bring nature in and act as a decorative valance or rod.
For the most personalized effect, choose resources that express your lifestyle: materials, texture, colors and design. Creative kitchen window solutions add just the right amount of personalization to finish your custom kitchen window treatments.
Other Kitchen Window Treatments