Historic Kitchen Character
Updating a kitchen while maintaining the overall character of a 100-year-old home was the challenge facing Florida designer Cheryl Kees Clendenon.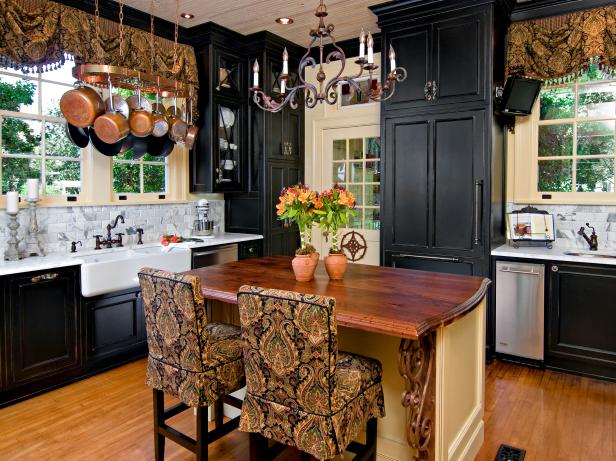 Traditional Kitchen Wide Shot
With plenty of space on all sides, the center island serves as the command center of the kitchen. The kitchen's large custom copper hood is a showstopper that adds presence to the room.
Wanting a larger range and a working island, the owners of a classic house asked designer Cheryl Kees Clendenon of In Detail Interiors of Pensacola, Fla., to rework the layout of their kitchen to create a more attractive, user-friendly space that better fit their lifestyle.
Cheryl shares with us how she managed to bring the kitchen up to date while still keeping with the historic look and feel of the house.
What were the homeowners' design concerns?
This house was 100 years old, so updating fixtures and ensuring the plumbing was in good shape was a concern. I always try to warn homeowners in these situations that you never know what surprises may be in store. I always tell a client we do not know what we will find when we take down these walls.
How did you address obstacles?
The biggest challenge was fitting in everything the owners had on their wish list while leaving enough storage available to maximize the use of the kitchen. The tall ceilings came in handy. There were also a few obstacles in the removal of the island cooktop over to the wall, to create enough space for a "statement" hood. You never know what will be uncovered when reworking things in an old house, but thankfully I planned well and chose my subs carefully so we could avoid any major inconveniences.
Describe any "hidden gems" of the project.
The distressed black walnut island top is a show stopper. We also designed gorgeous corbels for the island to give it a stronger presence in the room. They are longer than normal corbels, but for a little added cost they were completely worth it.