Quartz vs. Corian: Pros and Cons
We're breaking down the good and the bad of quartz and solid-surface countertops. Which will prevail?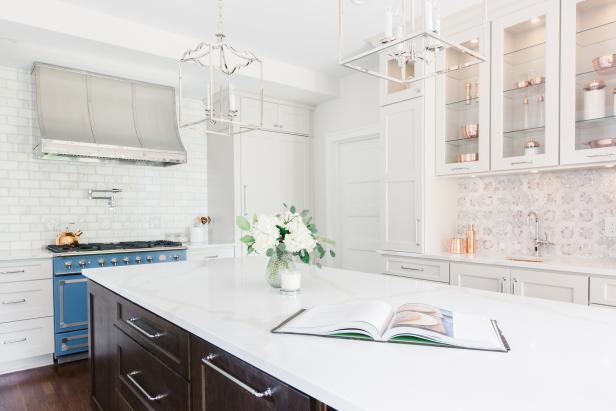 White Transitional Kitchen With Blue Range
Quartz countertops are durable, low maintenance and available in many colors. Read on to find out how quartz compares to solid-surface materials like Corian.
Diana Liang
Quartz countertops are durable, low maintenance and available in many colors. Read on to find out how quartz compares to solid-surface materials like Corian.
If you're building a new home or launching an ambitious remodeling project, one of the biggest decisions lies with kitchen countertops. Arguably the busiest room in the house, it's important to select a surface material to match your personality, lifestyle, daily use demands and design preferences.
Two popular options are solid-surface (widely known as Corian) and quartz, both commercially made but with different internal and visual components. Let's first review a quick geology lesson — quartz is often confused with quartzite; the former being man-made and latter the real, natural stone.
When it comes to the quartz versus Corian discussion, much weight is placed on look, durability and cost. To clarify: Corian is a brand name associated with solid-surface countertop material introduced in 1967. It is essentially mineral dust blended with pigments and bound with a variety of resins. The material was and remains a welcome alternative to plastic laminate countertops that were all the rage in the 1970s. Corian is created by a blend of roughly 33 percent synthetic polymers and 66 percent natural material, resulting in a lower cost.
In contrast, engineered quartz countertops contain about 93 percent of the same crystals found in natural quartzite, but from there a separate process binds the crystals with resins, color dyes and various other materials. Quartz is found in everything from sprawling luxury homes to proudly preserved historical abodes, lending a stately personality to the room in a wide range of colors, shapes and sizes.
Depending entirely on personal choice that is best for your needs, Corian and quartz are both excellent options. But how to decide which is the right choice? Here is a review of each material's good and bad:
Quartz scores high marks in this category.
Quartz has a stately appearance.

Quarts is low maintenance.

Quartz is virtually invulnerable to nastiness like stains, mold and bacteria.

Quartz is extremely durable.

Corian attracts scratches.
This is roughly a tie between the two materials with traditional kitchen use.
Corian surface scorching can be sanded out and repolished.

Quartz has a higher heat resistance for hot skillets.
The bonding adhesive inherent with Corian creates a seam that is all but invisible.

Seams in quartz surfaces are covered but visible.
Style, Cost and Substance
Quartz leads the way if you want the look of stone for your countertops, whereas Corian offers a more contemporary appearance. And Corian gets bonus points for the ability to be formed into curved or flowing shapes. On the other hand, quartz weighs in about two pounds heavier per square foot, which provides a more substantial feel.
When it comes to cost, Corian and quartz countertops are nearly identical, depending on style, color and complexity of design.
Going easy on the environment is important today. Does Corian or quartz fit the bill for an eco-friendly kitchen? Corian scores points for low-cost manufacturing impact but it is made with its fair share of toxic chemicals.
Most quartz countertop material is made here in the US and includes recycled content. Quartz is also a very plentiful resource and, barring a kitchen catastrophe, will last for the life of your home.
Quartz and Corian each offer plenty of advantages and a handful of drawbacks. Your final decision will ultimately make up elements of the above factors and what fits best in your home. The good news is both Corian and quartz offer streamlined, luxurious finishes and a wide range of shapes, sizes and edging. They also provide nearly unlimited color options and the opportunity to get a little more playful with your design.
For families with children, a major selling point is endurance and strength to hold up to high energy and spontaneous creativity. Resins used in the construction of both materials result in a very non-porous and hygienic surface. On top of that, there is little worry of cracks, scratches and stains. What about constantly sealing your new countertops? Fuggedaboutit. No sealing or special cleaning instructions required!
See More: Quartz vs. Corian