Which Countertops Are Heat Resistant?
We've put together a list of six countertop materials that will withstand the elements in your busy kitchen. Which one is best for you?
Whether you're remodeling your existing kitchen or designing a kitchen for a new home, one of the biggest decisions to make revolves around countertops. A kitchen is arguably the busiest room in the house, and its countertops are expected to shoulder a daily defense against hot pans, sharp knives, food spills and much more.
With so many surface material choices available, it's important to narrow down to what best suits your kitchen needs and habits. And the great news is many of today's countertop choices offer significant heat resistance. Let's look at some of the most popular and enduring options.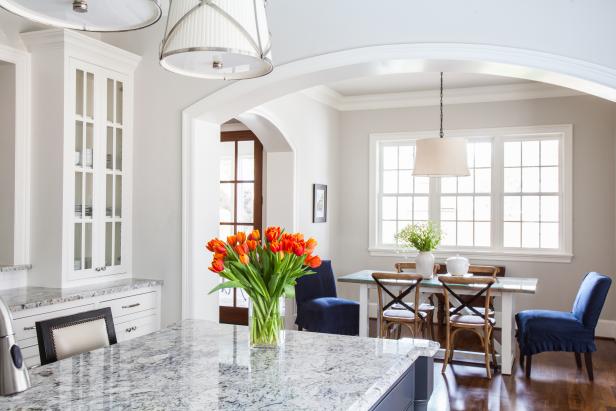 White Open Plan Transitional Kitchen With Tulips
In a white kitchen, it's helpful to incorporate texture as it visually breaks up the stretches of cabinetry and walls. Glass-front cabinet doors and granite countertops do the job nicely in this pretty kitchen.
In the recent past, granite was typically only found in the most expensive homes but today is more widely used and available in local home stores. Granite relies on heat for its formation and is very tolerant of heat.
Excellent heat resistance

No seams

Must be sealed
A popular trend of late, concrete is obviously a very hard and lasting surface material and offers an efficient work area.
Must be professionally installed

Virtually impervious to heat

Hot pots can be placed directly on the surface

Customizable for different colors and designs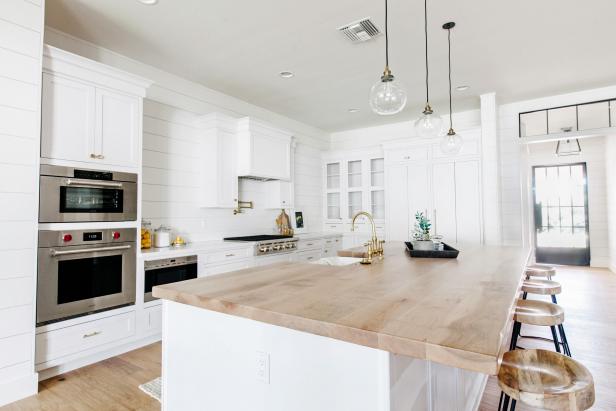 Functional, Open Plan Kitchen with Stainless Steel Appliances
The amenities in this kitchen make the space perfect for the homeowners and their growing family. A large kitchen island adds storage, counter space and additional seating, while state of the art appliances such as an oven, convection oven, microwave and gas stove make meal prep easy.
Wood countertops are available in many varieties and bring instant rustic charm to your kitchen.
Warm look with moderate heat resistance

Very efficient work surface

Hot cookware may leave behind burn marks

Susceptible to cracking or warping
Modern White Laminate Kitchen Cabinetry Separated By a Long Window Backsplash and Stainless Steel Countertop
A long window acts as a bright backsplash separating the upper and lower white laminate cabinets in this modern kitchen. Stainless steel countertop adds a reflective quality perfectly fitting the modern theme. The hardwood floor and vertical grain fir accent wall add warmth to the room.
A go-to choice for contemporary designs for its sleek look and easy care.
Highly heat resistant

Easy to clean

High heat may cause discoloration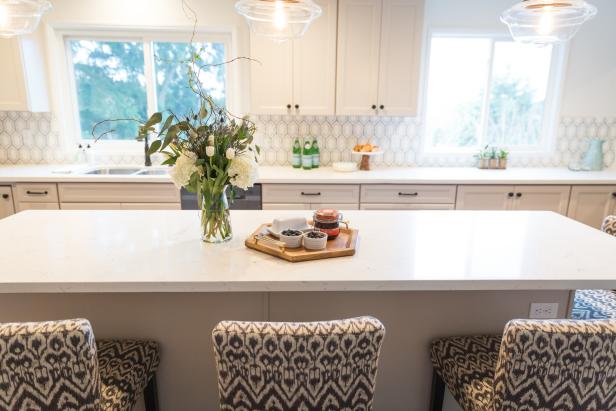 White Kitchen With Quartz Countertops
For durability and a fresh, bright look, quartz countertops were chosen for both the island and perimeter counters.
Shannon Addison Photography
An engineered stone made from quartz crystals and resin, quartz countertops are very durable and easy to maintain.
High heat resistance to hot pots and other cookware

Very hot cookware can cause discoloration

Wide range of colors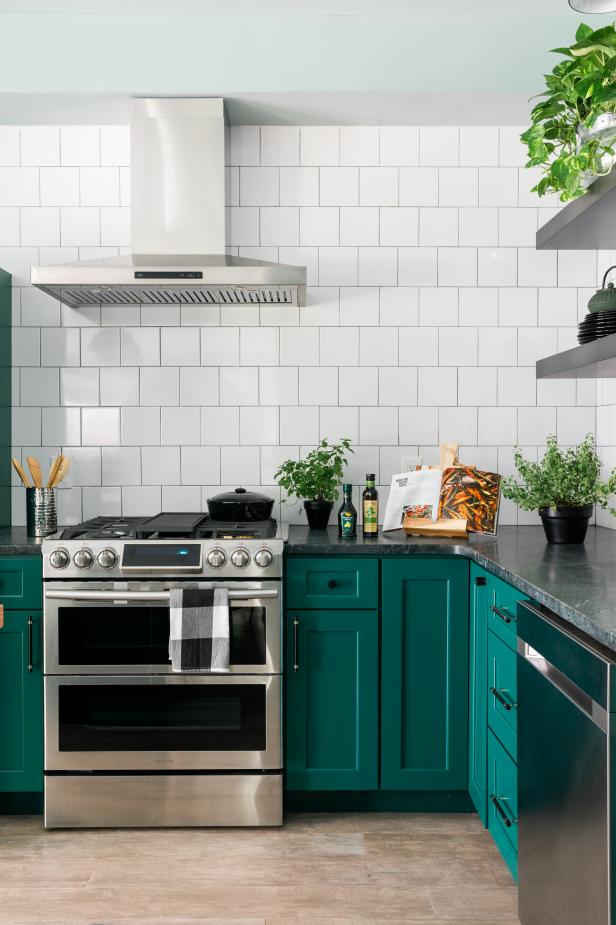 Stainless Steel Details
A sleek gas stove in stainless steel adds subtle shine to the classic design of this calm kitchen. The L-shaped layout of the kitchen maximizes the space and puts essentials easily within reach.
Robert Peterson, Rustic White Photography
Less common than some of the other natural stone options, soapstone combines a rich look with superb heat resistance.
Natural look and versatile

Easily repaired

Susceptible to scratches and cuts
Choosing a Countertop Material
Not every product is perfect for every situation. Weighing your options and seeking the advice of a reputable, professional countertop specialist is the best way to select a material that will provide many years of service and enjoyment.
No matter which countertop material you choose, be sure to maintain it according to the manufacturer's instructions and treat it with care. For example, granite is considered heatproof, but some people suggest it's only heat resistant, so it's wise to err on the side of caution and place hot pots and pans on a trivet. Cracks and burns caused by high heat can drastically reduce the life and original beauty of your counter. As with anything, implementing proper care while avoiding extreme wear and tear will bring another level of confidence and pride in your home's kitchen environment.