Great Color Ideas for Painting Kitchen Cabinets
Longing for a change to your kitchen's look? Nothing makes an impact like paint. Discover the best colors for kitchen cabinets and how to decide which color is best for you.
Bored with your current kitchen and wondering how to spruce it up? Forget a major overhaul. Consider some color ideas for painting kitchen cabinets and see if that does the trick.
Kitchen Cabinet Paint Ideas
See gorgeous designer kitchens where color is highlighted through the cabinetry.
Consider a Dramatic Cabinet Paint Change Carefully
A focal point in the kitchen, cabinets take up a lot of space and demand that you look at them day after day. If they're painted a color you don't particularly love, chances are you're going to get tired of them in no time.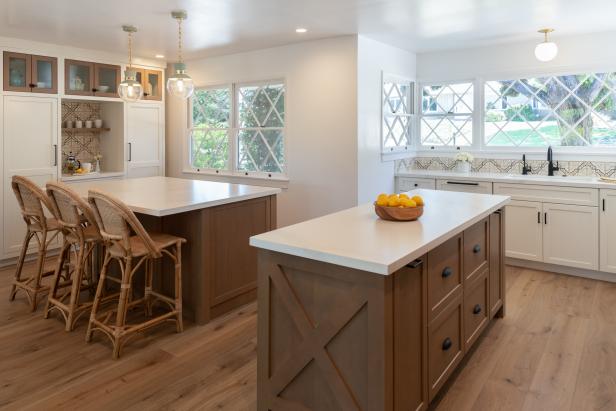 Rustic Kitchen Island With Bright Paneled Windows
This rustic styled kitchen includes a simple brown wooden kitchen island with pristine white colored countertops. The space is shines upon brightly with multiple paneled windows.
Wall Color and Daylight Will Impact the Look
There are lots of colors that work well on kitchen cabinets, but it can be tricky to find the right one. Before selecting an unusual hue, take into account the other items and colors in the room. Look at your walls, counters, backsplash, floor and appliances. If you already have a lot of color in the room, it's best to go with white or neutral cabinets. There are many different shades of white to choose from, but all of them will help your room feel bright and fresh. White cabinets can also brighten up a dark room. Some good neutral colors for kitchen cabinets include light gray, dark gray, or greige (a mix of gray and beige). These neutrals will help ground your space and give you freedom to incorporate more playful colors via accessories and appliances.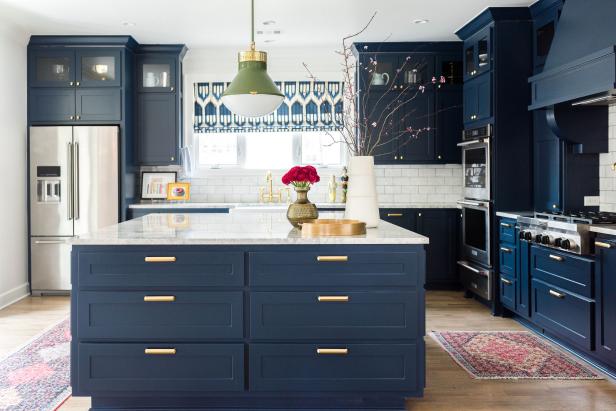 Contemporary Kitchen With Navy Cabinets, Marble Countertops and Opulent Bronze Hardware
This home's bold color story continues in the kitchen, where upper and lower cabinets, a spacious island and a custom range hood feature a crisp coat of navy paint. An olive green vintage-inspired pendant adds a bit of contrast, as does patterned fabric above the window, white subway tile and a pair of intricate rugs.
Don't Be Afraid to Go Bold
If you tend to be more adventurous when it comes to color, your cabinets are a great place to have some fun. Yellow is a common go-to kitchen color; on cabinets you can try a light, buttery yellow or a pastel shade more reminiscent of lemonade. Sky blue is another popular kitchen color for walls and cabinets. It can create an airy, ethereal vibe and looks great with white and stainless steel accents. Mint green or bluish greens can look really nice on kitchen cabinets as well.
From modern desert clay to sophisticated seafoam and everything in between, these top 20 colors will transform your kitchen.
Darker colors such as emerald green, cranberry red, black and navy blue can really make a statement on kitchen cabinets, but they work best in large spaces since they can darken small rooms. If you plan to use them in a tiny kitchen, make sure to balance them out with white walls and lighter accents.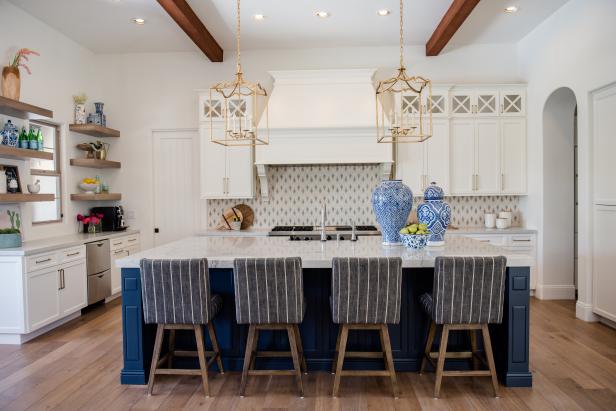 Open-Concept Kitchen With Blue Island
That blue and white color palette continues into the kitchen with the help of a cobalt island. Striped barstools bring some pattern into the space, as well as create an eat-in counter where the family can enjoy breakfast together.
Courtney Lively Photography
Two-Toned Cabinets Are a Great Option
The sky is really the limit when it comes to kitchen cabinet colors. If you're drawn to neutrals and more colorful shades, incorporate both by creating two-toned cabinets. The trick is to put the light color on top and a darker one on the bottom to help ground the space. Try this combination with white or gray cabinets on top and yellow, blue, green, or red cabinets on the bottom.
Get all the details on how to paint kitchen cabinets in this step-by-step guide.