Like a country kitchen style? This look encompasses a wider range of options than you might think.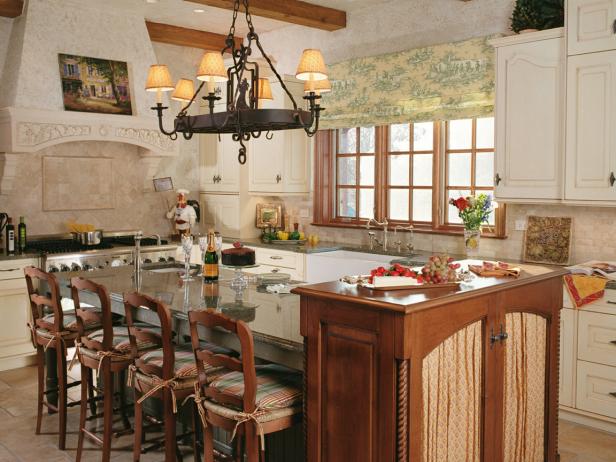 French Country Eat-In Kitchen With Cabinet
The antique furniture-style cabinet at the end of the island lends to the charming Old World feel (Design by Gail Drury).
The antique furniture-style cabinet at the end of the island lends to the charming Old World feel (Design by Gail Drury).
One of the most popular decorating styles for kitchens is a warm, country look. If this is your style, you're in luck. You have a wide range of looks, materials, colors and features from which to choose, and country kitchen chairs can enhance the decor.
It's easy to think of country chairs as being made of heavy oak and stained a golden brown, but do some research and you'll find that "country" decor encompasses a wide range of looks, from French country to Amish to mission to an eclectic mix of styles.
For a traditional country look, the obvious choice for your kitchen chairs is wood. You can leave the natural wood grain showing, or choose chairs stained or painted in a color that complements the rest of your kitchen. The legs, arms and back of the chair may be carved in an intricate pattern, or they may have simple, elegant lines. Some chairs have fabric-covered seats with a slight cushion. Some have seats woven from raffia, fiber rush or similar material.
Kitchen chairs in a mission or Amish style will be simple in design and made of wood. Styles will range from elegant Windsor, bow-back chairs or buckeye chairs to heavier mission and Shaker-style chairs. Some country kitchen chairs can be folded and stored, a convenient option if you have space to entertain large groups. Some styles are available with fabric-covered cushions; consider whether this is a good choice for your kitchen. If you have children, you may want to stay with a wooden seat that can be wiped clean easily after spills.
A chair with a French or English country look will have more intricate details, including turned legs and carved designs in the back of the chair. These chairs are often painted in a soft pastel or have a distressed look that gives a nod to a shabby chic style. However, it's not uncommon to find metal chairs with a French country look. With their curved lines, these chairs look like something you'd find in a garden or cafe.
A metal tub chair in a burnished, unpainted steel adds a rustic touch to a country kitchen, while being durable and easy to clean. To soften the look and add comfort, you can slip chair cushions into the seats and change them out with the seasons or your mood. You can also find kitchen chairs in a mix of wood and metal, for an eclectic look.
More Kitchen Bar Stool and Chair Options
Other Kitchen Furniture Ideas