Whirlpool Tubs: Designs and Options
Before you buy a whirlpool bathtub, take these important considerations into account to be sure it's the right fit for your lifestyle and budget.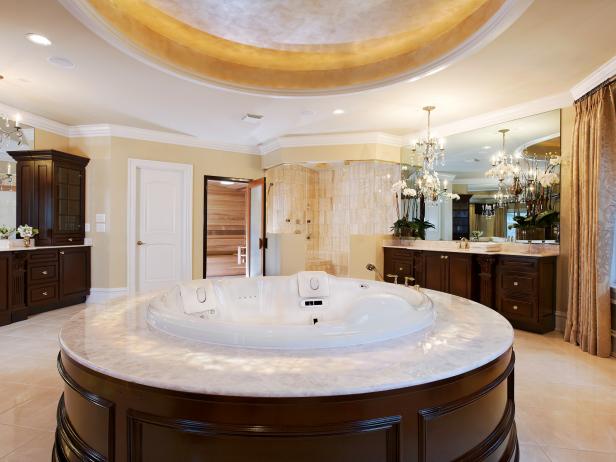 Beige Transitional Primary Bathroom With Dome Ceiling
A circular whirlpool tub with a custom wood and marble base echoes the domed ceiling above it in this elegant primary bathroom. Marble tile floors, dual vanities, a spacious tiled shower and a separate steam room provide the ultimate in luxury.
2009 Alan Goldstein Photography
Whirlpool tub designs and options give your bathroom a "wow" factor, and they're great for providing relaxing, targeted massage to areas that need stress relief. But committing to a whirlpool tub is a big decision, so know the pros and cons of these luxury jetted bathtubs before you take the plunge.
The first issue you want to address is if a whirlpool bath will fit in your bathroom. Whirlpools come in three standard sizes — five feet, five-and-a-half feet, and six feet — but they are designed to be dropped into a deck, so additional space will be required. You may have to reconfigure the layout of your bathroom to accommodate the size of these jetted tubs, and that can get expensive.
Plumbing needs to be taken into consideration, as whirlpool tubs require extra tubing for all those jets. And don't forget about the electrical considerations. Be sure the outlet for the whirlpool can supply the required voltage. If not, an electrician may be needed to do some rewiring. Your contractor can help you figure out these details, too, so don't be afraid to ask.
Be sure the whirlpool tub you choose fits your lifestyle. If you love to soak several times a week, it may be worth it to spend a bit more to get some added features, such as inline heating or aromatherapy options. But if you're only going to use it a few times a month, you may want to go with a less expensive option. Consider an air-jetted tub rather than water jets for a tub that will see less frequent use. The air jets are quieter than the water jets, and can dry out the tub more thoroughly after bathing, helping ensure bacteria doesn't grow in the pipes.
You'll want to be sure the jets have adjustable speeds, so that you can get the level of massage that you want. Ask a salesperson to show you how to adjust the flow rate. Whirlpool bathtubs typically have between 30 and 70 jets, so you can decide if you want to float on gentle bubbles or have a vigorous massage.
Finally, don't be shy — grab your swimsuit and towel and go down to the showroom and try out several whirlpool models before settling on one. You'll spend between $1,500 and $5,000 or more for one of these jetted tubs, so you want to be sure you know exactly what you're getting and that it fits your lifestyle.
Installing a whirlpool tub is a big commitment, both in time and money, but being armed with information and answers will help it be a smooth process.
More Bathtub Styles and Options
Other Bathroom Styles for Your Home