Japanese Soaking Tub Designs
Looking for some Asian influence in your bathroom? Japanese soaking tubs are smaller, deep baths that are becoming popular bath fixtures.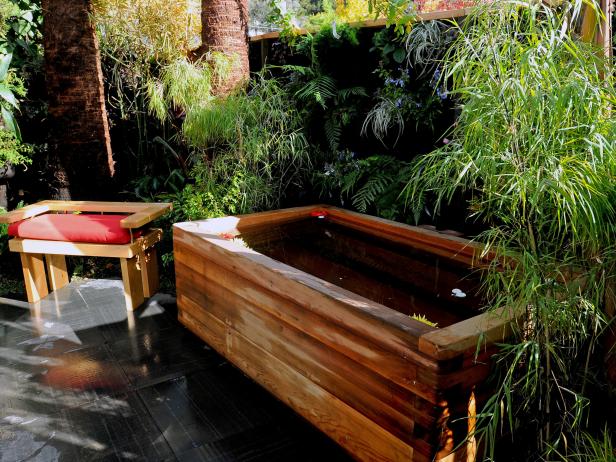 Rustic Wood Outdoor Bathtub
An outdoor wood bathtub is surrounded by bamboo and other green plants to create privacy. A small, sleek wood bench sits next to the tub area and adds a pop of red to the space.
If you're in the market for a soaking tub with unique flair, you need look no further than traditional Japanese soaking tub designs. These distinctive tubs are becoming more popular in modern bathrooms for their unique style, small footprint, and therapeutic qualities.
The Japanese soaking tub—or "ofuro"—isn't a new idea. This type of tub has been used in Japan for centuries as an indoor extension of bathing in the country's plentiful hot springs. The bath has always held significant importance in Japanese culture to cleanse and purify both the body and soul, and this ritual is now catching on in the West.
These Japanese soaking tubs have built-in seats and are much deeper than a regular American-style tub—about 27 inches deep, so that you sit upright and the water comes up to your chin, making it a true deep soaking tub. These tubs traditionally are made of Hinoki wood, while American-made baths of this style are often made of Port Orford Cedar, Alaskan Yellow Cedar, Western Red Cedar or even sustainably-harvested teak. These special woods enhance the experience by adding an aromatherapy element to your bath—Hinoki wood has a lemon ginger scent, while the cedars add a sweet scent. Some users say it even helps with congestion and asthma.
These deep soaking tubs also can be made in a variety of other materials, including acrylic, composite, stainless steel and copper. These tubs can be installed inset, under-mounted, sunken or free-standing. Steps will lead up to the top so that bathers may safely enter the tub.
Because these tubs are deeper, they are not as long as traditional bathtubs. This makes Japanese soaking tubs ideal for smaller spaces. They also will use less water than a conventionally shaped tub of the same dimensions. Faucets can be mounted anywhere, so plumbing does not necessarily have to be relocated for installation. Some manufacturers offer jets for an even more relaxing bath, and some feature inline heaters that constantly heat the water so you can bathe as long as you wish without the water becoming cold.
Many of these tubs have an overflow failsafe built in. But plan to have a drain in the bathroom floor as well. If you'd like to camouflage the drain, river rocks are an attractive option, but you can also tile the floor when you add the drain.
These unique Japanese tubs range in price from about $5,000 to $10,000. Make sure the manufacturer has a guarantee on the tub, and don't be afraid to ask lots of questions.
More Bathtub Styles and Options
Other Bathroom Styles for Your Home