Moderately priced and lightweight, acrylic bathtubs are a beautiful addition to any bathroom and are available in almost any color.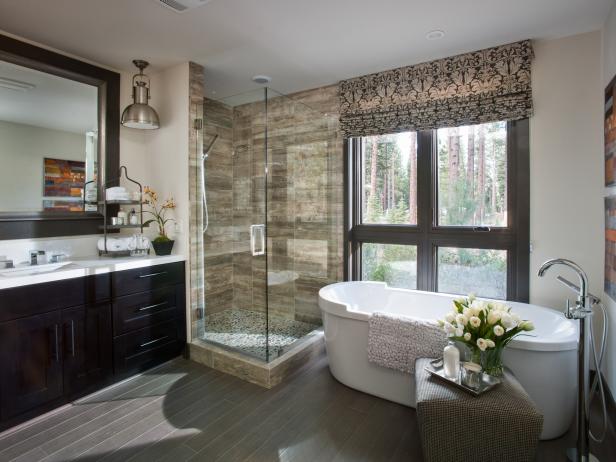 Contemporary Master Bathroom With Floor-to-Ceiling Window
The luxurious master bathroom at HGTV Dream Home 2014 was designed to bring the outdoors in with nature-inspired materials. The centerpiece of the space is the freestanding soaking tub, placed in front of a floor-to-ceiling window for unobstructed, private views.
Eric Perry, 2013, Scripps Networks, LLC. All Rights Reserved
If you're looking to replace your bathtub, you probably know that there are lots of styles to choose from. You may even already have a style in mind. But what you may not have considered yet is the material from which it is constructed—and acrylic bathtub options give you lots to choose from.
You might be surprised that bathtubs come in a variety of materials, but acrylic is the most popular material used to make bathtubs today. That's because acrylic tubs are durable, lightweight, and easy to install. They are also relatively inexpensive and come in such a wide variety of colors that it will be easy to find the perfect shade for your bathroom. Acrylic is a popular choice of material for use in whirlpools, air baths, and combo massage systems.
In acrylic bathtubs, fiberglass is used as a reinforcement material to vacuum-formed acrylic sheets. This is what makes the bathtub so lightweight. Acrylic tubs usually weigh in at 75 pounds or less, compared to cast iron tubs, which are usually in excess of 350 pounds or more. One consideration resulting from their lightweight quality, however, is that to some users, the tub can feel "hollow" when stepping in.
Acrylic bathtubs are more durable than others in the same price range, and will stand up to much use and abuse. Washing kids? Pets? No problem. An added bonus is that it is resistant to cracking and chipping.
Many people find acrylic bathtubs more comfortable for bathing because they are not cold to the touch as a cast iron tub is. Acrylic is a poor heat conductor, so that means the surface will be warmer to sit in or lie against while bathing.
Another feature that is well-liked is that high-quality acrylics have UV protection built right in. This gives the tub a deeper, richer color that won't fade and will last for years. One drawback to acrylic tubs, however, is that they can be more susceptible to staining, especially from hair dyes. And while the smooth, shiny surface of an acrylic bathtub is resistant to scratching, if they are damaged, they are relatively easy to repair. Scratches or stains in your acrylic tub can be sanded using fine sandpaper, and, once buffed, will look brand new again.
For ease of cleaning, acrylic can't be beat. The smooth surface is easily cleaned by wiping with mild household cleaner. Be sure you aren't using abrasive cleansers and scrubbers, however, because they can scratch your acrylic tub's surface.
Acrylic is a good all-around choice for your new bathtub material, and if installed and maintained properly, it's one that you will enjoy worry-free for many years.
More Bathtub Styles and Options
Other Bathroom Styles for Your Home