Cast Iron Bathtub Designs
The classic beauty of a cast iron bathtub will add an elegant touch to your bathroom and will last a lifetime.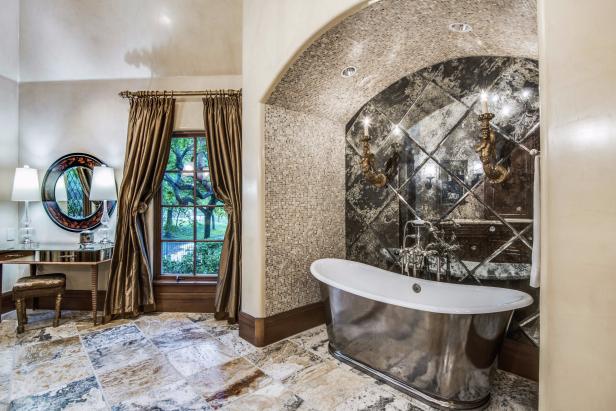 Mediterranean Spa Bathroom With Iron Tub
This cast iron tub by Waterworks was pretty much made for bubbles. The backdrop of onyx and limestone tiles makes the setting even more dramatic!
Ebby Halliday Realtors, a member of Luxury Portfolio International ; Photos by Shoot 2 Sell
A cast-iron bathtub design creates a classically beautiful centerpiece for your bathroom. These porcelain-coated tubs are durable, and the color has a richness that's hard to match in other types of tubs. They're good at retaining heat, but they are also some of the most expensive bathtub options.
Cast iron tubs are made by pouring molten iron into a mold of the desired shape, then coating it with a thick layer of enamel. Because of the materials and process, cast iron tubs are extremely heavy, which can make installation tricky—especially if the tub is going on an upper level of your home. Talk with your contractor to see if your floors will need structural reinforcement to support the tub's weight. The upside to this heavy material is that it's great at retaining the heat of the bath water.
A variety of beautiful design options is available for cast iron bathtubs. Most are usually of the traditional clawfoot variety. Many finishes are available for the feet, including chrome, polished brass, brushed nickel, antique bronze, or simple black or white. If footed tubs aren't your style, try a pedestal cast iron tub. Both lift the tub up off the floor, but a pedestal has a more modern look with no feet visible.
Slipper tubs are an even more elegant type of cast iron tub. These sleek beauties typically have a raised end, making them more comfortable for relaxing and soaking. Some even have double raised ends. For a new twist on this classic, consider a finish such as hammered copper for an ultra-modern look for this type of tub.
Cast iron tubs are one of the most durable bathtub options available, and the finish is resistant to chipping, scratching and denting. Also, unlike acrylic tubs, cast iron tubs resist staining as well, even from most chemicals. Typically these tubs are painted a warm white, but color matching can be done for an additional cost.
To clean a cast iron tub, simply use a small amount of a liquid detergent mixed with 1 gallon of hot water. A solution of baking soda with warm water can also be used to remove soap scum and oil. Some specialty porcelain cleaners are also an option, including ones that are environmentally friendly. The exterior of the tub is coated with oil-based paint; simple soap and water easily cleans the outside. Do not use any type of abrasive cleaners or mineral spirits.
If the tub does end up with a chip, it can be repaired relatively easily. Do-it-yourself kits are available, but manufacturers recommend having a professional do the repair. A special type of filling agent and paint is used to fill in the chipped area and should be done promptly so that rust does not begin to form.
Cast iron bathtubs give you the best of both worlds: beautiful elegance and longevity. Start with a quality tub, and you will have worry-free soaking for years.
More Bathtub Styles and Options
Other Bathroom Styles for Your Home