Buying a Bathtub Without Getting Soaked
Consider all your options — and there are plenty of them — when planning your bathtub purchase.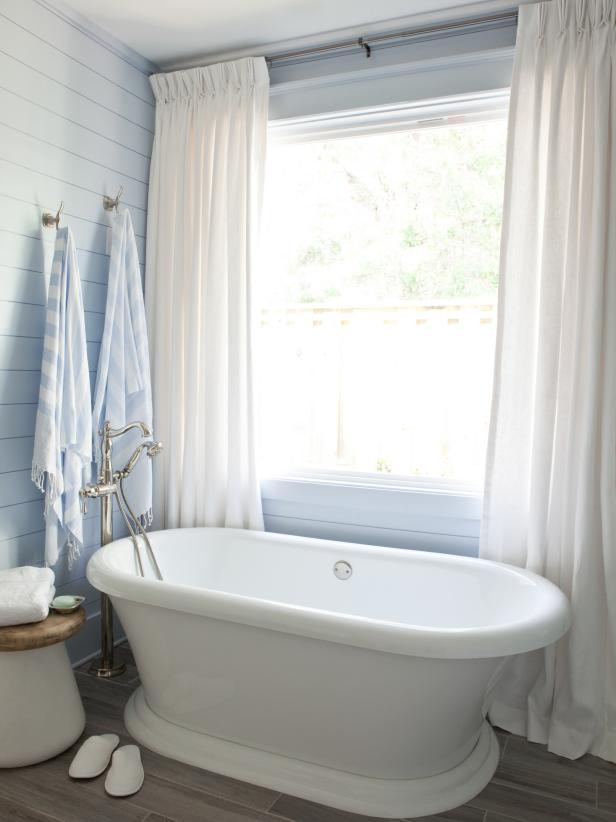 Freestanding Tub
The freestanding roman tub from HGTV Dream Home 2017 offers a tranquil view of the home's garden.
Photographer: Christina Wedge
The freestanding roman tub from HGTV Dream Home 2017 offers a tranquil view of the home's garden.
To avoid taking a bath when you're buying a tub, it's best to know what you're looking for first. This purchase may seem like a no-brainer, but there's more to consider than your color scheme before pulling out your wallet.
First, decide if you really want a bathtub at all. Showers usually get a daily workout, versus a bathtub's occasional use. If a hot soak relieves stress, then keep reading. But if you aren't into baths, consider going without, especially if space is tight. You can put that saved space toward an extra large shower with a bench.
Like real estate, location is the buzz word with bathtubs. If you're doing a remodel, you'll save a lot in plumbing costs by leaving the tub (and other fixtures) in its original location. Once you've decided where to put the tub, its location will dictate the kind of tub you need.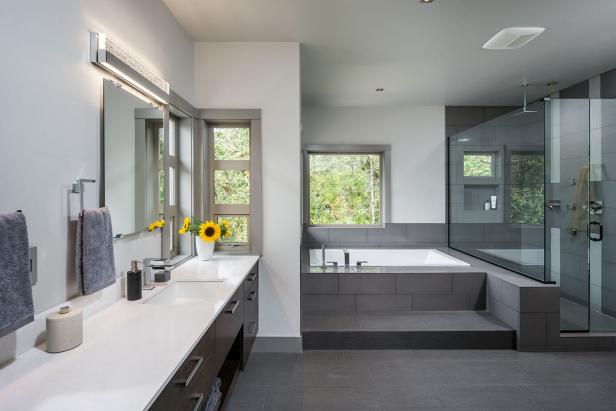 Luxurious, Contemporary Master Bathroom
Gray tile and stainless steel accents set a cool tone for this contemporary master bathroom. A large walk-in shower is enclosed by a glass wall and door and also features small windows to allow for natural light. Rectangular gray tile is used throughout the tub surround, shower and floor for a cohesive, streamlined look.
The three-wall alcove or recessed bathtub is one of the most commonly installed styles. These tubs have walls on three sides. Typically, only one side of the tub is finished, because only one side is visible. If the tub will double as a shower, the walls need to be waterproof.
A corner tub is triangular and also usually has only one of its sides finished because the other two are against walls. The visible wall can be curved.
A drop-in tub is supported on all sides by a frame. It may be up on a platform or — to go in the opposite direction — set below floor level. Many drop-in tubs are made of lightweight acrylic and as such can be deeper and larger than a tub made from heavier material. They also may come with molded seats, for a more comfortable bathing experience.
A freestanding tub stands alone, sometimes on feet as a clawfoot tub and sometimes in a base. It tends to be a focal point of the bathroom, and can make a powerful design statement either for a period tub like Porcher's Epoque cast-iron clawfoot modelor Neo-Metro's modern, double-walled stainless steel soaking tub.
Bathtubs come in all shapes, sizes and all manner of materials, such as metal, porcelain, acrylic, glass, cast iron and even stone or wood. For sheer beauty, it's hard to beat copper, but the Robert Kuo Wavelet copper tub also is double-walled to help retain heat. Go au naturel and bathe in a boulder with a granite bathtub from Stone Forest. An old-fashioned clawfoot or freestanding tub doesn't have to be made of cast iron — Victoria + Albert tubs, such as the Marlborough, are cast from a patented solid surface composite.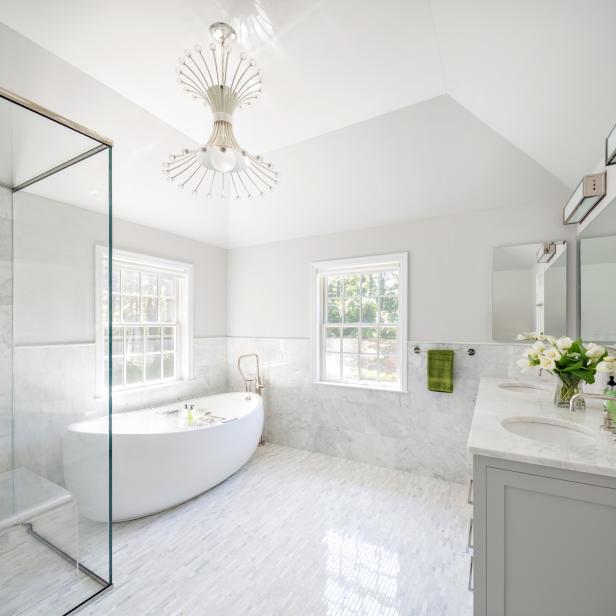 Luxurious Bathroom Wrapped in Marble
This spacious bathroom includes both a soaking tub with jets and a luxurious steam shower. Gorgeous white marble throughout exudes elegance and gives this space a feeling of opulence and serenity.
Decide how big your bathtub should be, big enough for you (and for anyone else who may use it). but not so big that you waste water when you fill it. And do you want to bathe alone or with company? Also, if you're going to be bathing little ones in the tub, consider your back and avoid getting the largest model available.
Speaking of tub users, if there is an elderly person in the household, look for tubs that are ADA compliant. They have nonslip bottoms and grab rails, are larger than usual, are accessible from three sides and sometimes have a door so they can be entered without having to high step into them.
Don't buy your tub without a dry run. See if it fits the curve of your body and your back. Also, make sure that your current hot water heater can fill the unit. Having a 50-gallon tub with a 40-gallon water heater will leave you stranded or at least a little chilly.