Give yourself a spa-level bathing experience with these simple tips for deep-cleaning your bathtub.
Keep in mind: Price and stock could change after publish date, and we may make money from these affiliate links.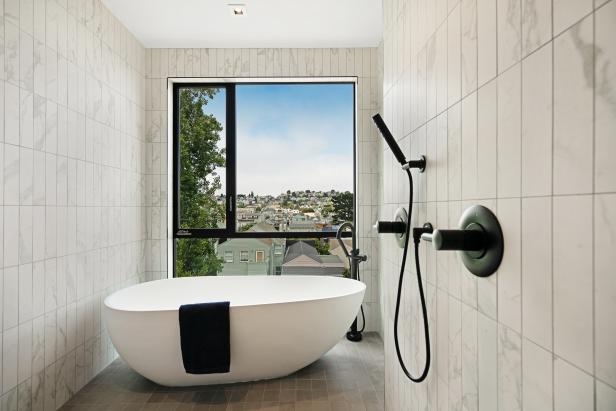 Wet Room With San Francisco View
The best advice for how to clean a bathtub is establishing a cleaning routine. Learn what steps to include in your regular cleaning.
Charles Donaldson
The best advice for how to clean a bathtub is establishing a cleaning routine. Learn what steps to include in your regular cleaning.
Nothing spoils a relaxing bath at the end of a long day more than hard water, soap scum, mold and other signs of bacteria in the tub. Cleanliness is essential if you expect to get, well, clean.
How to Clean a Bathtub: Routine Is Key
Your bathtub cleaning routine should be consistent to be effective, and the effort is well worth it. You may not need to do a deep clean weekly, but at the very least, treat yourself well and give it a good cleaning once a month.
There are plenty of grime-busting and deep-scrubbing cleaning products on the market, but there are lots of eco-friendly homemade cleaners, too. We'll review lots of simple and safe oxygen-based solutions, but keep in mind that if the going gets tough, a touch of bleach goes a long way. (Important cleaning note: Keep white vinegar and bleach-based solutions at a distance; given the opportunity to mix, they produce a deadly chlorine gas.)
microfiber cloths
scrub brush
old toothbrush
spray bottle
hydrogen peroxide
white vinegar
Remove everything from the tub, including bottles sitting around the edges, caddies and children's toys.
Mix a caulk-safe cleaner. Create a simple DIY solution using a mixture of hydrogen peroxide (used in most store-bought mold abatement cleaners) and generic washing soda (not baking soda). Use an old toothbrush to mix the ingredients together to form a paste. If it seems too thick, add another splash of hydrogen peroxide. You want this paste to be workable, not chunky.
Treat mold on caulk. Using the toothbrush, apply it to areas with visible mold and scrub along the edges where mold could easily form. Let it sit for a few minutes. Dip the toothbrush in clean water, then scrub the areas clean.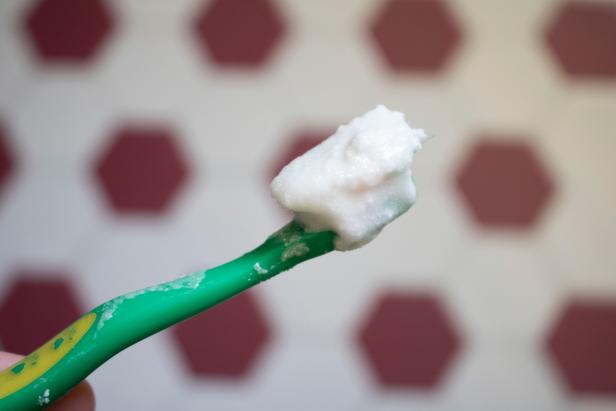 Tips for Deep Cleaning Your Bathroom Shower
Combine washing soda and hydrogen peroxide to create a fierce solution for cleaning caulk and tile grout.
Emily Fazio
Combine washing soda and hydrogen peroxide to create a fierce solution for cleaning caulk and tile grout.
If you have a tiled bathtub shower surround, cleaning water spots and moldy tile grout can require more elbow grease.
Treat the tile surround. Spray the tiled walls with a spray bottle filled 3:1 with white vinegar and water, mixed with a generous squirt of liquid dish soap. This solution will help pretreat hard water spots and soap scum on the tile surface.
Scrub, scrub, scrub. Agitate the cleaner on the tile with a soft-bristled brush.
Rinse the wall clean.
Cleaning the grout with white vinegar and soap is enough if your shower surround is in good condition, but oftentimes black spots or discolorations on the grout itself need more cleaning power. For those instances, use the hydrogen peroxide and washing soda paste again and coat the grout lines.
Mix hydrogen peroxide and washing soda with an old toothbrush to form a paste.
Treat grout mold. Use the toothbrush to scrub areas most affected by mold.
Rinse the area clean.
Scrub around the drain with the toothbrush. Use the old toothbrush with hydrogen peroxide and washing soda yet again to scrub around the tub drain.
Remove hair buildup. Lift and remove any loose hairs that may have gathered around the drain so they don't become a problem in the future.
Turn on the faucet and rinse the area.
Treat underlying bacteria with vinegar. Pour one cup of white vinegar on the area around the drain, allowing it to run down the drainpipe.
If water drains slowly from your bathtub, this is the perfect time to check for clogs.
Snake the bathtub drain. While you have the drain cover removed, lower a drain cleaner stick into the plumbing
Remove hair and buildup. Remove the stick and effectively pull out any hair that's blocking the plumbing.
Treat with chemicals if necessary. If it still drains slowly, the blockage may be deeper in the pipes. A drain-clearing solution like Green Gobbler is eco-friendly and septic-safe.
Just like a showerhead, mineral deposits build up on your faucet over time. Keep the finish of your faucet in mind when you clean it and avoid using any agitating scrub brushes.
Make a cleaning solution. Soak a microfiber cloth in a solution that's roughly 3:1 white vinegar and water.
Wipe down the entire faucet surface, handles and around the spout. Pay special attention to any buildup at the base of the faucet.
Turn on the faucet and rinse clean.
Dry the area with a clean, dry microfiber cloth.
Remove Discolorations in the Tub Basin
A melamine sponge (Magic Eraser) resolves most surface-level bathtub stains. Simply wet the sponge, scrub at the problem areas and rinse clean.
Polish or Wax the Bathtub
Adding this step to your deep-cleaning routine is a real game-changer.
With either product, simply use a dry microfiber cloth to massage the surface until the wax is evenly dispersed.
You won't need to wax the tub after every cleaning, but aim to do it at least twice a year to help repel deposits and stains to keep the finish looking clean and new.
A clean tub experience means having clean accouterments. Before you put those shampoo bottles back, take a moment to clean them and any organizational containers used to contain the supplies.
Remove all items from your caddy.
Wipe down everything. Use a microfiber cloth with the 3:1 white vinegar and water solution to wipe down each bottle, especially the bottoms of each bottle and around any pumps or nozzles.
Spray and scrub the plastic and metal areas on your caddy or organizer. Use a gentle scrub brush or the old toothbrush to get into the crevices.
Rinse clean.
Dry all items before they are reorganized in your clean tub.