Pedestal tub designs are the modern offspring of the freestanding clawfoot tub, and you can find them in a variety of beautiful shapes, finishes and sizes.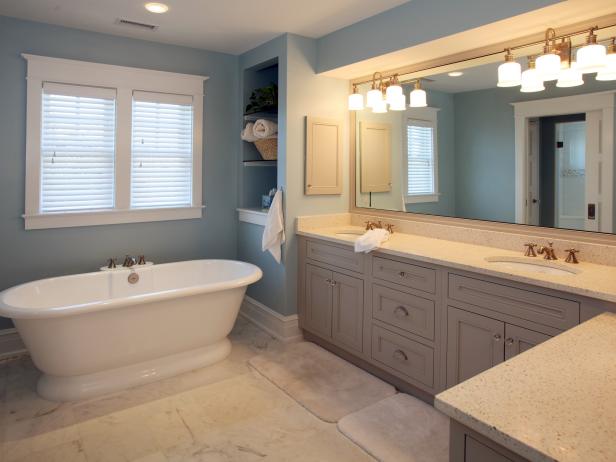 Blue Coastal-Inspired Bathroom With Pedestal Tub
Soothing blue walls appear to recede, making this coastal-style bath appear larger. Built-in shelving takes advantage of an awkward corner next to the tub while a long double vanity provides ample counter space.
Pedestal-style bathtubs are freestanding tubs that are an outgrowth of the classic clawfoot tub design. However, instead of feet, pedestal tub designs use a plinth or pedestal to raise the bathtub from the floor. These are a modern take on a traditional soaker tub, and the selection of designs is varied.
These beautiful tubs can be the focal centerpiece of your modern bathroom. Designed to sit away from a wall, these tubs require no surround or deck. They can be tucked into an alcove or shown off in the middle of your bathroom. The only consideration aside from space is the plumbing, which you can discuss with your contractor or bathroom designer.
Traditionally, soaker tubs have been made of durable, long-lasting cast iron coated in porcelain, and you still can buy them in that material. However, it is quite heavy, and different materials that are not as cumbersome now can be used. Acrylic tubs are much lighter, making them easier to install, especially on a home's upper levels. Solid surface tubs made of engineered stone and resin also are available. Copper tubs are a striking look, but be aware that those do cost more than other materials, and they take a commitment to maintain properly.
Today's modern pedestal tubs designs typically have sleek, clean lines for a subtle, elegant look. The shapes range from oval to rectangular to almost a bowl shape. Many manufacturers offer packages that include the faucets, the most unique of which is the telephone faucet, in various finishes such as chrome or nickel. Shower attachments also can be ordered if you also need the tub to serve that function.
The more traditional looking tubs will usually have an elegant rolled-top edge. The design can be double-ended, where both ends are rounded, or it can be a slipper style, where one end is raised and sloped for reclining comfort. You can even choose a double slipper tub style, in which both ends are raised. Most of these tubs are finished in a soft white, but you can order a specific color finish if that fits your style. Black or red with silver finishings, for instance, would be bold and unexpected.
Depending on the hardware you would like, you can order these pedestal tubs with or without the holes already drilled for the faucets. Pedestal tubs range from about 60 to 70 inches long, so they can fit into different sized bathrooms. They start at about $1,000 and can go up to $3,000 or more, depending on size, style and finishes. Many manufacturers offer free shipping as well.
A freestanding pedestal bathtubs may be the perfect addition to your bath to combine traditional feel with a modern look.
More Bathtub Styles and Options
Other Bathroom Styles for Your Home