Southwestern Bathroom Design and Decor
Get ideas and inspiration for Southwestern bathroom design and decor, and prepare to add a sunny and welcoming bathroom design to your home.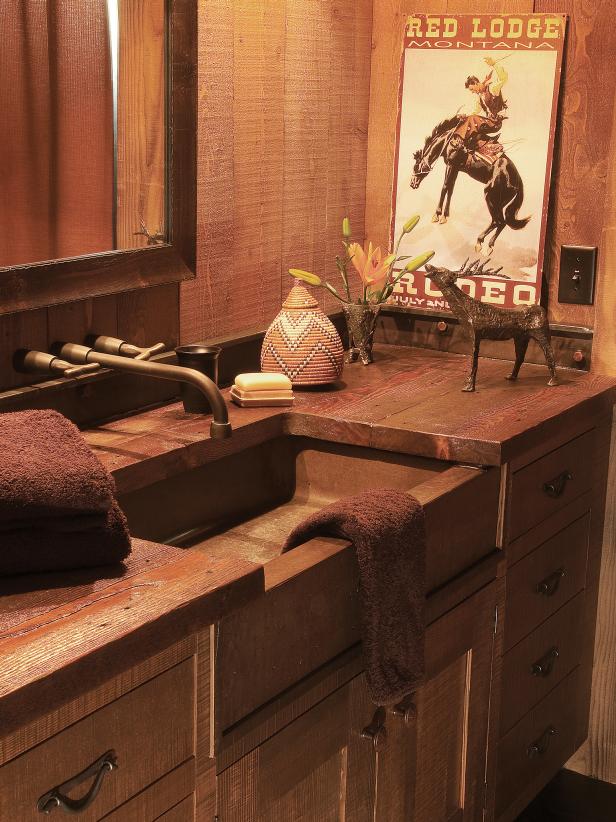 recycled bathroom and vanity
The bathroom sink offers custom cabinetry made from recycled materials and a hammered copper sink. Western artifacts complement the setting.
Photo Credit: Ralph Kylloe, 2013 Gibbs Smith, Rustic Elegance, Ralph Kylloe
Southwestern bathroom design and decor reflects a relaxed, elegant style tied to the centuries-old mix of cultures and natural phenomena that make the American southwest unique. Southwestern style is greatly influenced by the Mexican themes as well as the Spanish colonial roots of the southwestern region.
If you're planning a new bathroom or an update to an existing one, Southwestern design and decor could be a great choice for creating a space that's bright and lively yet relaxed and welcoming.
Color is a hugely important factor in Southwestern design and decor. Many of the color schemes featured in this design style are directly connected to those occurring naturally in the American southwest and surrounding areas. Bright yellows, dusty oranges and rusty reds, cactus greens and neutral desert or earth tones often combine with bold turquoise and blue accents, capturing the vibrant, sun-soaked environment of the Southwest.
Furniture in Southwestern bathroom design often follows the same pattern as color schemes — natural woods are emphasized, with certain types preferred. Knotty pine is widely known for its distinctive, natural appearance; it features prominent knotting in its natural state, making it a great choice for a rustic style. For chairs and benches in Southwestern bathrooms, knotty pine can be left completely natural or lightly stained to protect the surface but preserve the natural color and appearance of the knots. This wood type is often combined with wrought iron hardware, often in dark bronze or black, for a distinctive "Southwestern colonial" look. For chairs and benches, some homeowners opt to include leather seat cushions or chair backs, sometimes featuring distressed areas or wear to further emphasize a casual, lived-in and weathered feel.
Accessories and other decor in Southwestern bathrooms often capture the bright and lively style of the region, as well. Wall art can take the form of desertscapes or typical flora and fauna from the region. Tapestries and other substantial woven fabrics are often featured as wall art as well; in bold colors and striped patterns, these can add great visual interest, especially to a smaller space. Iron or other sturdy metal accents for candleholders, light fixtures and accessories like soap dishes can contribute to the Spanish colonial look, as well.
Last, but certainly not least, tile can be an extremely important feature of a Southwestern bathroom design. Terracotta tile, in particular, is a signature type that's almost universal in the Southwest — it can be seen anywhere from rooftops to kitchens, bathrooms and just about anywhere in homes, since it has a well-earned reputation for staying cool underfoot even in the hottest temperatures. Floors, shower stalls, sink countertops and backsplashes may all feature terracotta tile in Southwestern-style bathrooms. Additionally, some homeowners opt to feature painted tile in their Southwestern bathroom designs, often on walls or countertops. This unique style of tile often features natural elements and intricate designs hand-painted onto the surface of the tile for a bold and visually interesting addition to the bathroom space.
Other Bathroom Design Styles and Ideas
More Bathroom Styles for Your Home