Easy-breezy and laidback, coastal style can give even a landlocked home the beach house feeling of vacay, every day.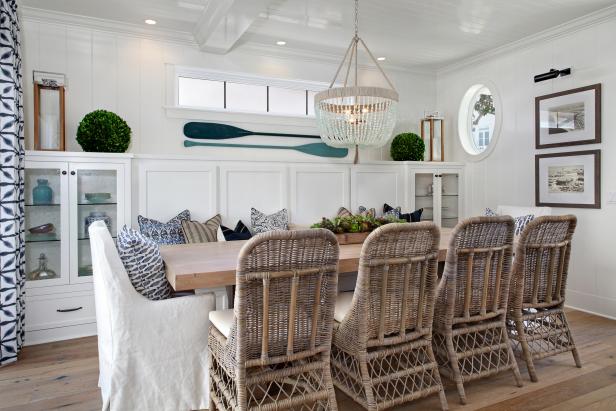 White Coastal Dining Room With Oars
This dining room punctuates its crisp white base with blue and white patterns, tabletop topiaries and blue oars on the wall. A round window recalls the porthole of a ship, a fun nod to the home's coastal design and beach town location.
Eternally popular, coastal style sets most of us dreaming of seaside getaways but, by following our pointers below, it's easy to bring the beachy-chic look home. Just pair watery hues with natural textures, like rope, driftwood or wicker, and mix in a few nautical touches like anchors, oars or shells. Whether you live by the sea or miles from the nearest body of water, incorporating just a few beachy decor touches can give any space a cool, coastal vibe.
Comfortable, relaxed and ready for lounging, coastal style invites you to unwind, kick back and put your feet up so furnishings that wear well are a must. For upholstery, consider performance fabrics, like Sunbrella or Crypton, or slipcovers, which can be easily washed, and durable, woven rattan which can stand up to kids, pets ... and sandy feet.
Or, Coastal Style Can Feel a Bit Formal
High-gloss navy paneling + a bamboo mirror + woven accents and pops of coral = a high-style and colorful coastal look in this dining room. To keep the room from feeling too fussy, designer Kevin Isbell substituted a playful rattan sphere for a standard chandelier and lined the table's center with scavenged seashells.
Coastal Style Includes Shades of Sand + Sea
Watery hues of green and blue pair perfectly with the bleached and natural oak finishes in this cozy dining nook. Pale wood tones, like driftwood, sun-faded teak or even white-washed wood, are a perfect fit for coastal style's weathered look.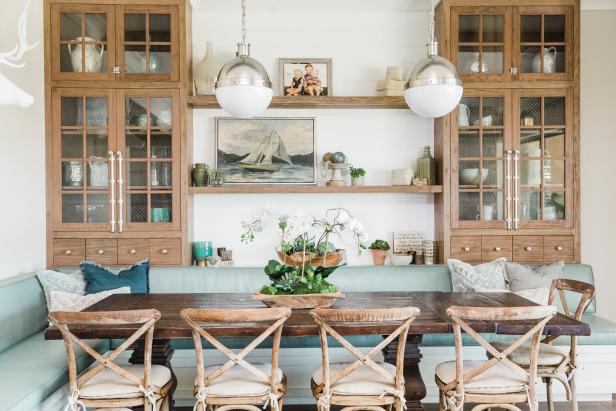 Coastal Dining Area With Blue Banquette
This dining area feels friendly for big groups and small with a large banquette that wraps around the table. Glass-front cabinets are airy-looking storage.
Or, Coastal Style Can Include Tropical Tones
Bright coral wallpaper in a bamboo trellis pattern gives this petite powder room major tropical style points. To keep with the theme, designer Gen Sohr included a mirror (from Ballard Designs) whose ruffled frame is reminiscent of sun-bleached sea coral or a clamshell.
"Coastal style emphasizes lighter tones in shades of blue, green, beige and white to communicate a relaxed feel. [It also] embraces casual furnishings slipcovered in neutral layers to create a cozy interior while welcoming sisal rugs, sea glass details and gauzy linen drapery."
Chair of the ASID National Board, designer Kerrie Kelly
Coastal Style Can Be a Bit Nautical
Nautical nods like brass ship's bells, captain's wheels, colorful signal flags or boat oars are a common (and fun!) feature of coastal style and when hung on the wall, they're a great stand-in for standard art.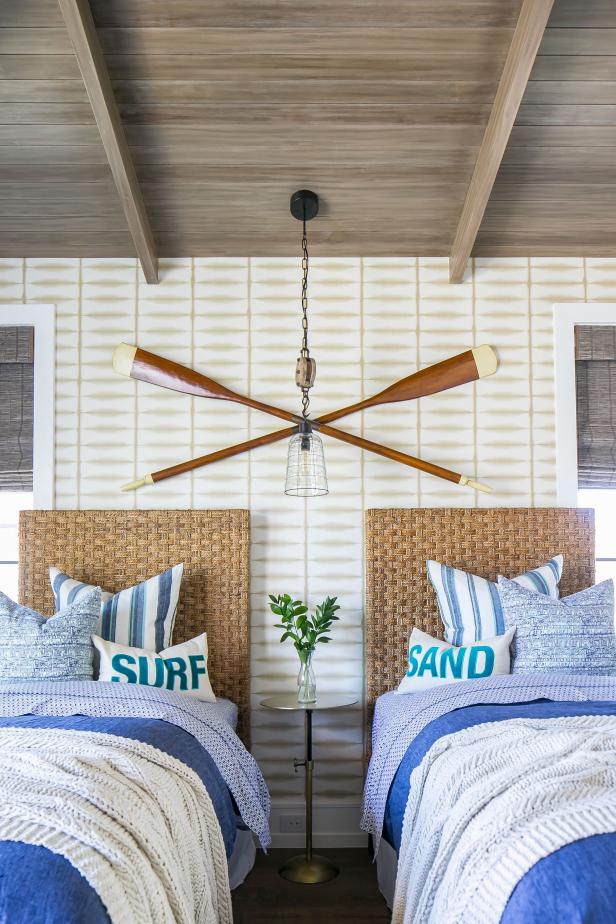 Coastal Bedroom With Oars
An X made of oars is a fun visual focal point in this Cape Cod-meets-the-West Indies bedroom. Rattan headboards and the wallpaper's graphic print add to the yummy layers of texture.
Coastal Style Is Easy to Source on the Cheap
As this beachy vignette proves, coastal finds are easy to find at flea markets, yard sales and secondhand shops and lend themselves to a perfectly collected-over-time look. Take a tour of this budget beachy home featured in HGTV Magazine.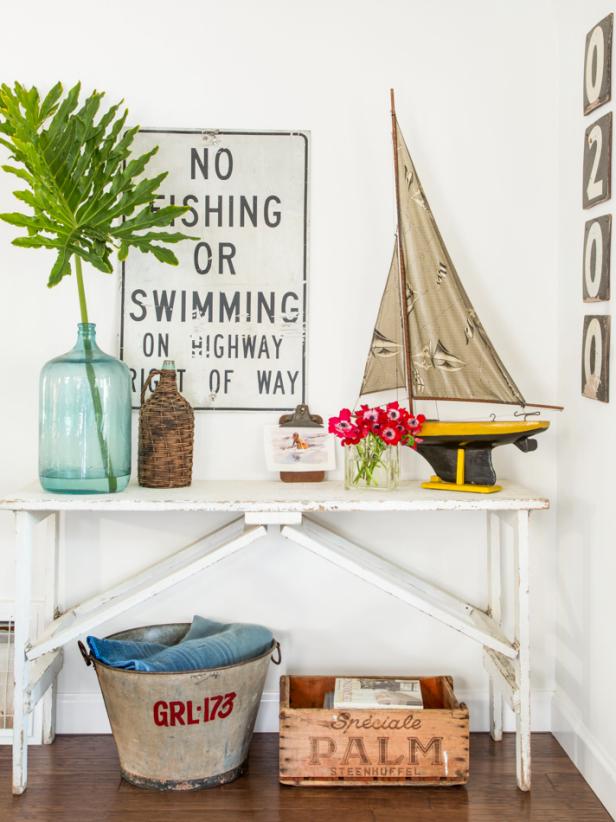 Dining Room Filled With Eccentric Accessories
HGTV Magazine takes you inside a home that takes the phrase "finders keepers" to a whole new level. Folding table: The second Linda caught a glimpse of this slim folding-leg table at a Texas flea market, she was convinced it would be perfect as a console in her dining room. Sign: Linda felt this metal notice was a sign in more ways than one: "When no one bought it from our stall, I knew it was meant to come home with me." Model boat: Nautical finds, such as a handcrafted pond boat snagged at an antiques show in Idaho, reference the cottage's coastal location. Tub and crate: With closet space at a premium, a galvanized laundry tub and a wood crate were put to work holding blankets, books, and magazines.
Lisa Romerein; Styled by Liz Strong
Coastal Style Honors Mother Nature
Take a stroll along the shore to gather found, natural elements, like seashells, driftwood and beach glass, for the easiest (and cheapest!) way to give any space a coastal vibe.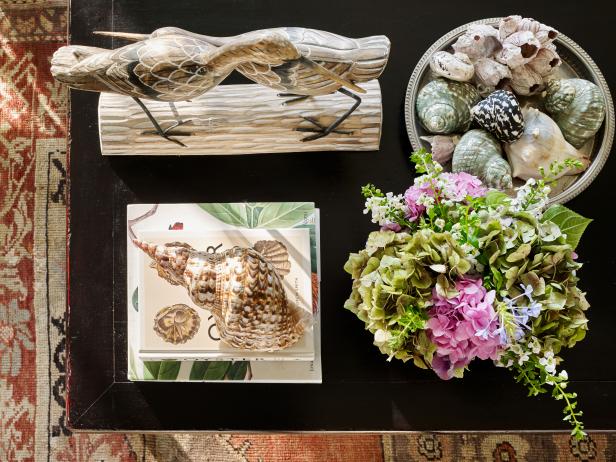 Coastal Coffee Table with Shells, Flowers and Books
A tabletop tableau references Sea Island's five miles of private beach with volumes of lavish collections and a bowl of the whorled wonders themselves. Vivid hydrangaeas, in turn, evoke traditional cottage style.
Get crafting to turn those seaside souvenirs into DIY beachy decor.
More Design Styles to Consider
Coastal not quite your style? From Boho to Industrial; check out our other favorite design styles — and use our pro pointers to nail the look in your home.
20+ Looks to Love