Follow the directions below to complete this DIY cloth napkin project from HGTV Magazine.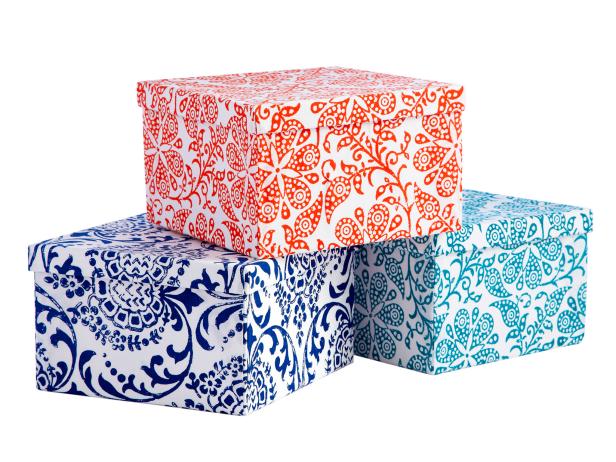 Napkin-Covered Boxes
Napkins: Medallion Block Print 20" x 20" napkins in blue, and Floral Block Print 20" x 20" napkins in orange and teal, $10 for each set of 4, all worldmarket.com; Boxes: Stockholm 8 1/4"W x 8 1/4"D x 5"H photo storage boxes, $10 each, containerstore.com
cloth napkins
photo storage boxes
repositionable adhesive spray
Remove the lid and set it aside, then remove the metal label holder and discard it.
Place a napkin facedown. Spray the outside of the box, including its bottom, with repositionable adhesive, then center the bottom on the napkin.
Fold the napkin up over the box's sides. At the corners, tuck the fabric under itself to create crisp seams. Tack down the seams with crafts glue.
Trim excess fabric, leaving about an inch to fold over the box's top. Glue the fabric inside the box.
crafting by Madeline Jacobs