Follow the directions below to complete this DIY cloth napkin project from HGTV Magazine.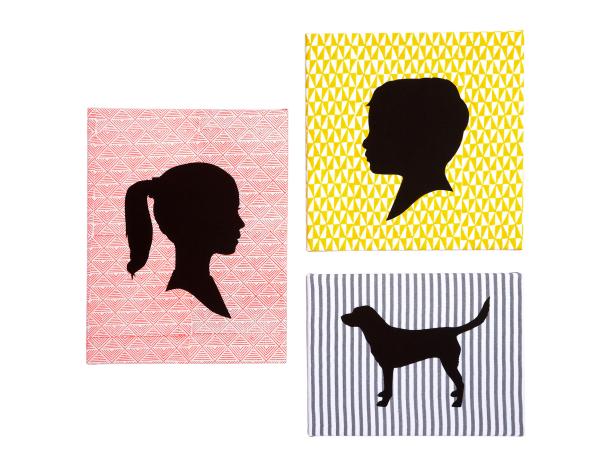 Silhouette Napkin Art
Vie Block Print and Leti Block Print 22" x 22" napkins, $5 each, and Liam Grey Stripe 22" x 22" napkin, $10, all crateandbarrel.com; Black fabric: Springs Creative Natural Charm cotton broadcloth in black, $3.50 per yard, onlinefabricstore.net
black cotton fabric
cloth napkins
art canvas
paper-backed fusible webbing
iron
photo (profile view)
printer and standard printing paper
tape
scissors
staple gun
Cut a piece of black cotton fabric the same size as your canvas. Iron a piece of paper-backed fusible webbing, like Wonder-Under ($3 per yard, joann.com), on it—it will turn the fabric into an iron-on appliqué. Set it aside.
Take a profile photo, size it on your computer to fit nicely on the canvas, and print it onto paper.
Tape the printout to the fabric and cut out the image to create a silhouette.
Remove the backing from the fusible webbing and iron the silhouette onto the center of a napkin, following the package instructions.
Wrap the napkin around the canvas; secure it to the back with a staple gun.
crafting by Madeline Jacobs