Can You Paint Ceramic Floor Tile?
It's all about the tile prep, so follow these tips to success floor painting.
Let's cut to the chase – the answer's yes – you can paint ceramic tiles, but be aware that in high-traffic or moisture-prone areas, it's likely that the paint will wear away or bubble with time. It's just the nature of the material since paint will always sit atop the ceramic tile surface. That said, it's possible to paint your ceramic floor tiles, but to do so properly requires diligent prep work and the use of the correct types of products. You wouldn't want your paint to wear prematurely or peel without reason, so follow these steps and work carefully for the best results if you're ready to refresh the look of your ceramic tile floors.
Take a closer look at the steps involved and then get to work. It's a nice way to revamp ceramic flooring that you're truly tired of, and after muscling through the right prep work, won't be disappointed with the end result.
Start by giving the tiles a thorough wash-down using grime-busting trisodium phosphate cleaner (TSP). TSP is sold as a powder that dilutes into water and is a very strong cleaning agent capable of busting through not only dirt, but grease, soot and oils on the surface of your ceramic tiles. It's so strong that you'll need to be certain that you have proper skin protection including shoes, pants, long sleeves and heavy-duty gloves, as well as excellent ventilation.
Combine a half-cup with a gallon of water – you can go more or less concentrated, but be aware that this concentration is very strong (much stronger than any all-purpose cleaner in your cabinet).
Arm yourself with a scrub brush and a variety of dry rags. Wearing gloves and shoes, wet the brush and scrub at the floor to disintegrate stains visible and undetectable. If you're using a mop, frequently rinse and re-saturate the mop head. Wet and scrub, and then wipe away excess moisture using the dry rag. Repeat until all tile and grout have been thoroughly cleaned.
Allow the cleaned, towel-dried floors to air dry completely in the ventilated space.
Use an orbital palm sander with fine-grit sandpaper to help eliminate extra finishes on the tile, especially if the surface of the tile is glossy.
Use a clean, damp cloth to collect and lift extra dust left over from the agitation. Removing all of the dust will be important before you begin to prime the floors.
Priming the tiles is one of the most critical and often overlooked steps. Be sure to use a high-adhesion primer to create an ideal environment for the paint itself. High-adhesion primer will chemically bond to the tile itself while still creating a surface on which you can reliably paint. It will help to prevent peeling and flaking of the paint over time. In short, it's just better and worth the few extra bucks.
Use a roller to apply the primer to the surface of the tiles and distribute it evenly to prevent buildup in different areas. If it's applied unevenly, you'll be able to tell once it's painted. Allow the primer to dry completely according to the manufacturer's guidelines.
Painting the tiles feels like the easy part once you've muscled through the cleaning routine. Latex, acrylic latex and enamel paints will all perform well on the ceramic tile if you have used a quality high-adhesion primer to prepare the surface. Apply two to three even coats, as needed, until you achieve full coverage.
If your intentions are to paint a stenciled design onto the floor, it's best if you start with a solid painted surface that coats and seals all existing tiles and grout. Once it's dry, you can stencil a pattern on top of that layer.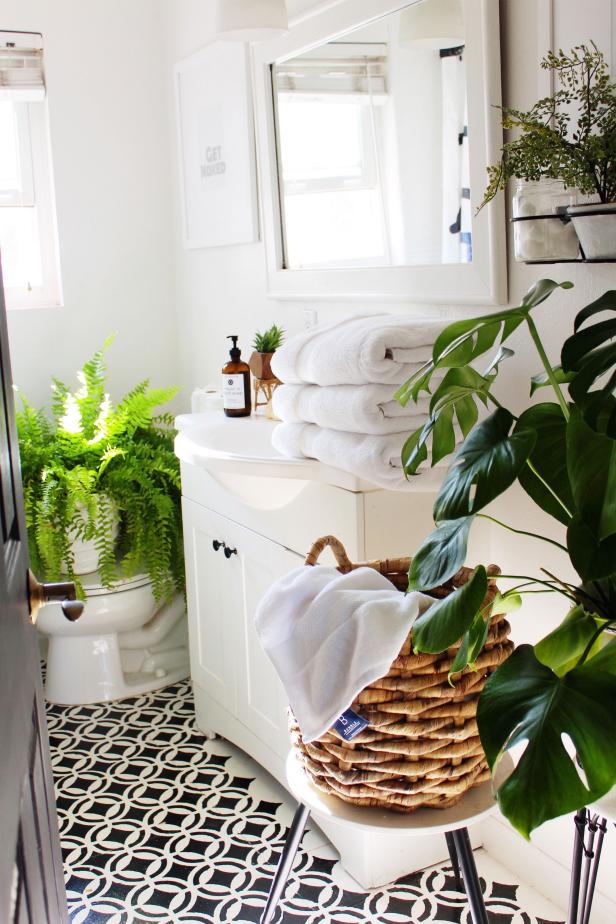 DIY Powder Room
With its focus on functionality and hardwearing materials, the bathroom can be one of the hardest spaces in the home for DIY design. Still, Tamara found a way to put her own stamp on this room over time. "I worked on our house myself over the last few years," she remembers. "I DIYed open shelves in the bathroom. I also continued my painting venture in the shower, and stenciled the bathroom floors." The result is a beautiful, spa-type feel from the floor up, accented by lots of bright, leafy green plants.
More Painting Tips and Tricks