Tile Flooring in the Kitchen
Tile comes in many styles and can stand up to the heaviest use your family can dish out.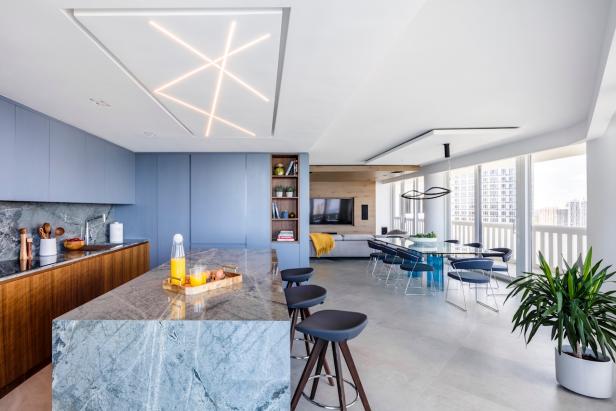 Modern Condo Open Concept Kitchen And Dining Room With Blue Cabinets and Marble Island
This modern, open concept condo kitchen has blue cabinets, marble island countertops, contemporary dining stools and chairs, and modern ceiling lights.
Tile floors are a natural choice for kitchens. Tile is hard, durable, water-resistant and shrugs off stains. Tile can withstand heavy foot traffic, water, spills and doesn't absorb odors or bacteria. It can stand up to pets and children and it can go with any style decor.
And tile can be arranged in a multitude of patterns. Plus, it's beautiful—your kitchen flooring ideas will blossom when you look through the huge array of styles, shapes and colors available.
Kitchen floor tile comes in three types: porcelain, ceramic and stone. Prices of each type run the gamut, from $2 to $100 per square foot.
The hardness that makes tile so desirable as a kitchen floor surface can also be a drawback. Serious cooks will want to wear comfortable shoes or put down floor mats or area rugs, because standing on tile for long periods of time can be tough on legs and backs. Its surface is cold to the touch of bare feet. And dropped dishes, mugs, and glasses can break on impact.
The Lowdown: Tiles are manufactured pieces of durable material, such as ceramic, stone, metal or glass.
Tough Enough? This ultra-hard surface won't be damaged by pets or kids, and it withstands stains from spilled food. But it requires proper sealing to withstand water.
How to Clean: Wipe up spills immediately to avoid staining grout. Sweep, dust or vacuum regularly, and occasionally wipe the surface with a damp mop or cloth. Avoid abrasives such as steel wool and scouring pads. Reseal stone floors as necessary.
Types of Kitchen Tile Flooring
Ceramic and porcelain tile are similar. Both are made from clay mixtures fired at high temperatures to produce a hard, durable tile. Both come either glazed or unglazed. Beyond that, there are important differences.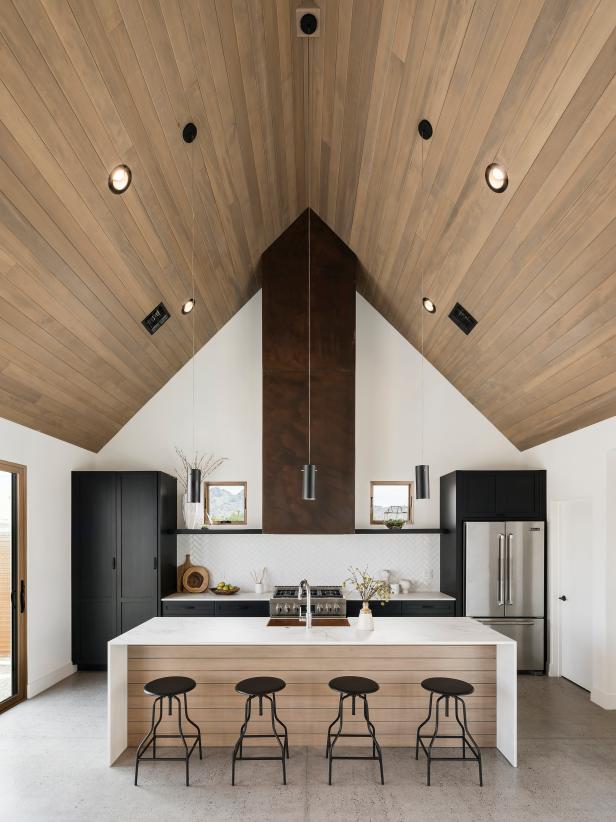 Neutral Contemporary Open Kitchen With Steel Hood
This open plan kitchen features white handmade Fireclay ceramic tile in a herringbone pattern.
Roehner + Ryan
This open plan kitchen features white handmade Fireclay ceramic tile in a herringbone pattern.
Regular ceramic floor tile is sometimes called "non-porcelain" to clearly differentiate it from porcelain. Made from clays, t's softer than its porcelain cousin and glazed to create a hard wear surface in virtually any color. Because it's softer, it's easier to cut and install. Although it's more porous than porcelain, the glazing creates a surface that's impervious to kitchen spills and splashes. It's easy to install but slightly more prone to damage than porcelain.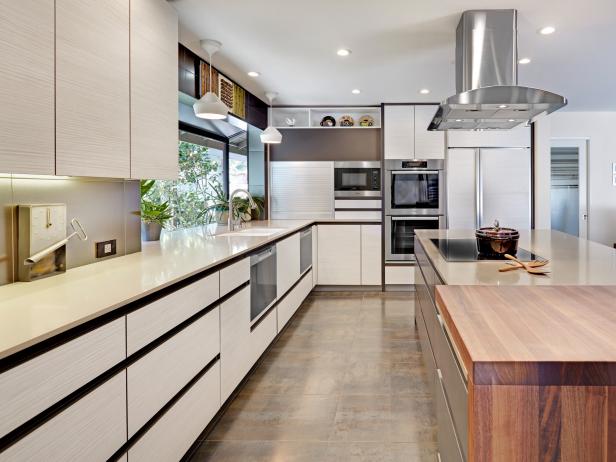 Frameless Kitchen Cabinets With Light-Colored Quartz
The contrast between the slate-finished porcelain floor tiles and white frameless cabinets creates a clean look in this contemporary kitchen. The gleam of the kitchen flooring makes this space feel posh and polished.
Nar Bustamante, PhotographerLink 2014 All Rights Reserved
The contrast between the slate-finished porcelain floor tiles and white frameless cabinets creates a clean look in this contemporary kitchen. The gleam of the kitchen flooring makes this space feel posh and polished.
Porcelain floor tile has sand added to the clay mixture and is made with heat and pressure to produce a tile that's harder, denser and less porous than regular ceramic tile. It's a good choice for high-traffic areas, kitchens and bathrooms. It's tough enough to be used outdoors in any climate.
Glazed porcelain tile has a glass-like coating applied during firing to produce colored surface. Unglazed porcelain has color added to the clay mixture so the color and pattern is carried all the way through the tile. Any wear or scratches won't show on unglazed porcelain.
Porcelain can be difficult to install and requires special tools, making installation a less DIY-friendly project.
Made from sands and minerals, it's harder and more dense than ceramic tile and water resistant. But it's harder to install.
Stone floor tiles are made from natural stone including slate, granite, limestone, travertine and marble. Most stone tiles are porous and need to be refinished with a quality stone sealer every two to three years.
Stone can be polished or honed. Polished stone surfaces are slippery when wet, but the polishing lets the full beauty of the stone show through. Honed stone tiles provide more traction but have a less vibrant look.
Stone is beautiful and durable, but requires sealing and is the most expensive.
The most popular tiles are large format styles that minimize grout lines and make a small kitchen appear larger. Squares are the most popular shape, but rectangles, hexagons and octagons can make a statement. You can incorporate one or more styles to create a variety of patterns, from checkerboard to basketweave, and add accents for visual interest.
Additional Considerations When Choosing Tile Flooring
Here are some considerations when choosing tile for your kitchen floor:
Durability. The Porcelain Enamel Institute (PEI) has established a rating system to designate tile durability. Choose tile rated Class 3 (moderate traffic) or Class 4 (moderate to heavy traffic) for kitchen floors.
Water resistance. Some types of tile absorb water like a sponge not the best option for the kitchen. For moisture-prone kitchens, stick with unglazed tiles with a maximum absorption rate of 0.5% and glazed tiles with a maximum rate of 3%.
Texture. Textured floors make a floor less slippery and mask dirt, but they can be tougher to clean. If you're worried about slipping, consider adding mats in areas of concern, such as in front of the sink.
Underlayment. Tile must be installed on a subfloor that is smooth, flat, rigid and clean. Depending on the existing subfloor, a cement tile backer board may be required beneath the tile.
Drawbacks of Kitchen Tile Flooring
Tile is a hard, unforgiving surface. Dropped glasses and dishes won't survive, and long hours of food prep may bring about fatigue. Tile reflects sound, so tile flooring can contribute to a noisy environment. Area rugs and anti-fatigue mats are good remedies.
Tile requires maintenance, too. Although ceramic tile itself is durable, the grout between tiles can get dingy with age. Use a grout sealer on a regular basis to keep your floors looking new.
Tiles surfaces can be slippery when wet. If you're concerned about traction, look for tiles that are certified to be slip-resistant by the Americans with Disabilities Act. You should be able to spot the ADA certification on packing boxes and product literature.
Break away from traditional flooring materials and consider floor ideas like carpet tiles or rubber.