Can I Cover Asbestos Floor Tiles With Concrete?
Learn more about how concrete can help to mitigate risk if you're faced with asbestos flooring in the home.
Asbestos mitigation and containment is no simple matter. If your home was built between roughly 1920-1980, there's good chance asbestos is present in some form. The uses for the material are much more limited today than they were decades ago. Owners of older homes may find it as an ingredient in various applications from shingles to joint compound to insulation. It was also commonly used in floor tiles and their adhesives, and that's why there's an emphasis on safety when it comes to remodeling an old home, and particularly when replacing an old floor.
One of the most important things to note is that if asbestos isn't damaged, it is not a hazard; it does not need to be removed. Asbestos doesn't simply jump off a product and into the air, nor is it a material that leaches into its surroundings. Furthermore, floor tiles often contain it as a low percentage ingredient (~2%-10%), making it a lower risk than other applications. None of that is to say you should feel completely at ease mitigating an issue yourself – always check with a pro if you have any doubt – but for the aforementioned reasons, you might want to consider leaving the flooring in place, and explore how you can cover asbestos tiles with concrete in your home. Do your research, follow a specific installation process and rest easy.
If the tiles in question are crumbling, torn, drilled, sawn or sanded, you'll definitely want to consult with a professional who can help gauge risk and offer recommendations for reducing asbestos exposure. The EPA is among the best resources available to help educate on risks and abatement techniques. If your tiles are in perfect condition, it's true that they could be removed, but doing so also opens up the possibility of exposing common underlayments and adhesives that also contain asbestos and may be more brittle (such as black mastic).
Let's look a little closer at the process involved with covering asbestos floor tiles with concrete:
Using concrete to encapsulate asbestos tiles starts by having a clean, well-washed floor surface. Don't be afraid to wet mop and scrub at the tiles, because a clean tile will render better adhesion and a more successful seal. Remove baseboards as part of your prep too, so that you can fully clean your tile.
When the floor is completely dry, use a concrete-bonding acrylic primer to coat and seal the tiles from wall edge to wall edge.
Ordinary concrete isn't necessarily the right product for skim coating over a vinyl tile floor, but there are various self-leveling specialty concrete formulas that can be mixed on demand and applied over the tiles on the floor. Look for products that can be applied over cutback adhesive or VCT (Vinyl Composition Tile).
Be diligent about following the concrete manufacturer's guidelines to guarantee success. The self-leveling concrete can be applied to various thicknesses and will dry as a smooth topcoat over the primed tiles. Once cured, the underlying tiles will be fully encapsulated and not at risk of crumbling with age. There is no danger for asbestos exposure now, unless the floor is drilled or cut into. Go right ahead and live in the space as you would have before.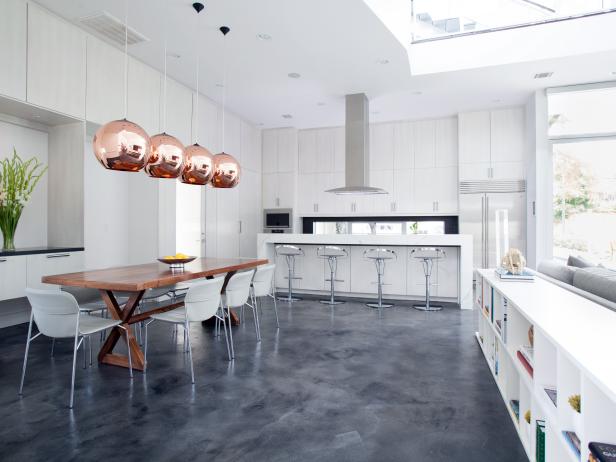 Kitchen With Modern Finishes
A refinished concrete floor and whitewashed cabinets add to the cool charm of this airy kitchen.
If a polished concrete floor isn't the finish you're going for, now you've set yourself up with a smooth landing pad for other flooring product options, such as a floating floor or new self-adhesive tiles.