Paint Hardwood Floors With a Pattern
Breathe new life into old hardwood floors with a fresh coat of paint in an eye-catching pattern.
L-square
pencil
tape measure
painter's tape
porch and deck paint
orbital sander with extension cord
medium-grit sanding pads
floor sealant
sealer pad
wet/dry vacuum
bucket
warm water
sponge
paint pan
paint roller
roller pad
extender pole
paint brush
detail brush
drop cloth
box or floor fan
Lightly sand surface of wood floors with orbital sander and medium-grit sanding pads. Use wet/dry vacuum to remove all sanding dust from area. Wipe surface with a sponge dipped in warm water.
Pour base color porch and deck paint into paint pan. Add extender pole to roller handle, and paint an even coat over entire floor. Allow proper dry time before re-entering space to apply a second, final base coat.
Once pattern is decided, use tape measure to determine length and width. Mark pattern onto floor using an L-square and pencil. Differentiate base color areas from accent color areas by placing painter's tape along outside edges of penciled pattern.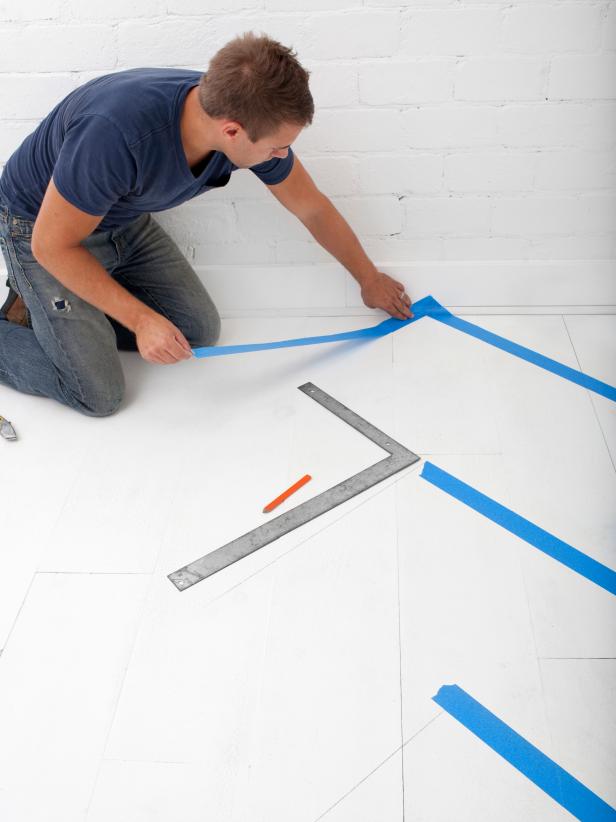 Skipping Prep Work
"Do it the right way, right away," says Carey. "You shouldn't avoid your prep work. You want to take the time to do it right and right from the beginning." Contractor Jim Collins says, "It's a horrible, tedious process, and nobody likes it, but it saves so much time later on down the way. And that's what you're trying to do: save yourself money and time."
Protect floor with drop cloth before pouring accent paint color into paint pan. Add extender pole to roller handle then paint inside areas marked off with painter's tape. Allow proper dry time before painting a second, final accent color coat.
Slowly remove painter's tape from floor to assure no tearing or ripping occurs. If tearing or ripping does occur, touch up areas using a one-inch paint brush or a detail brush. Allow proper drying time before re-entering space.
Pour floor sealant into paint pan. Dip sealer pad into pan, and apply sealer with controlled, even strokes. Open windows and run box or floor fan to properly ventilate area and speed up drying time. Allow proper dry time before re-entering room.