Make a Gilded Menorah From an Animal Figurine
Transform a plastic animal figurine into a fun, whimsical menorah just in time for Hanukkah.
Crafting your own menorah, the nine-branched candelabrum lit during the Jewish holiday of Hanukkah, might seem like a daunting task — until now. All that's needed to get the job done is a toy animal figurine, air-dry clay, gold spray paint and a handful of hex nuts from the hardware store. Colorful menorah candles are added for an eye-catching, festive addition. This simple Hanukkah craft will have you marveling at your very own menorah in no time.
We're sorry, there seems to be an issue playing this video. Please refresh the page or try again in a moment. If you continue to have issues, please contact us here.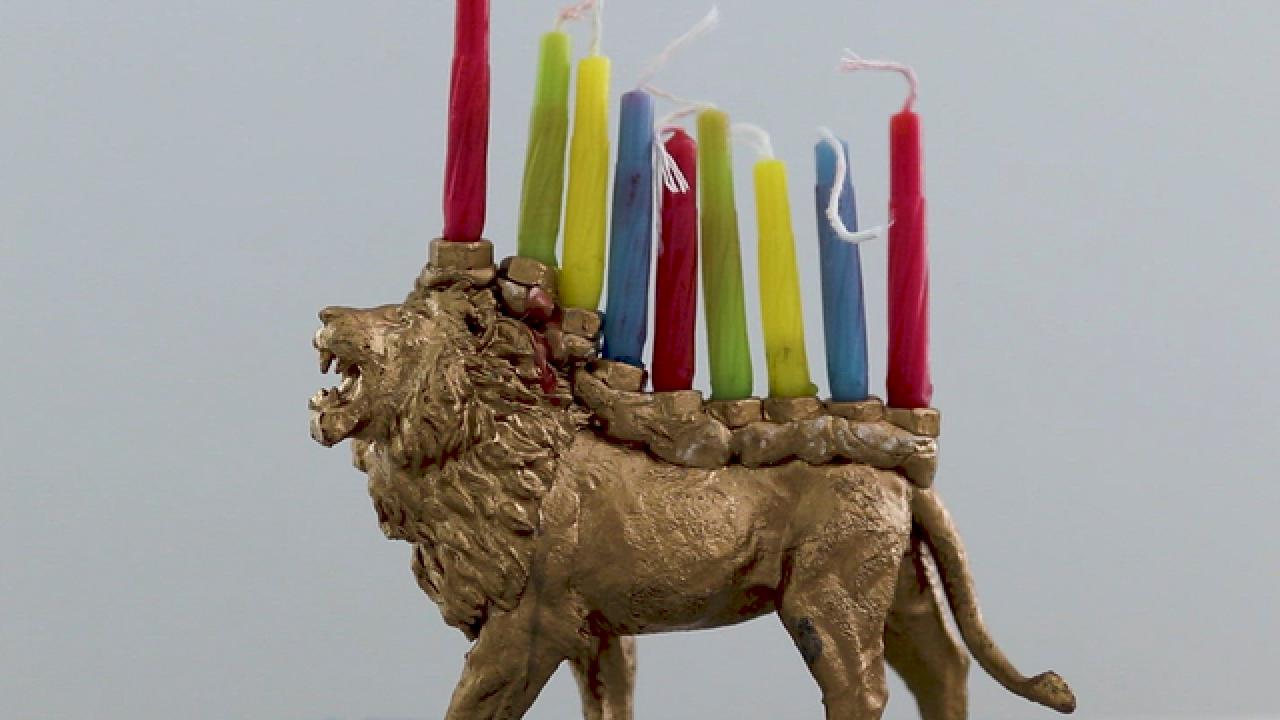 large toy animal figurine
menorah candles
hex nuts
2 ounce package of air-dry clay
gold metallic spray paint
Select an Animal Figurine
First, eyeball your figurines to make sure they'll be able to hold all of the candles. You'll want to select one that can accommodate nine hex nuts, each of which should be able to hold a single candle sturdily and safely.
Break off small, hex-nut-sized mounds of clay (Image 1). Starting at the head of the animal, press each mound onto the respective area of the animal's "back" where you'd like a hex nut to go (Images 2). The idea here is to use the clay to level the bumpy surface of the animal so that the candles can stand perfectly upright in one line, or as close to a straight line as possible. Place a hex nut on top of the mound of clay and press gently to affix (Image 3). Repeat eight more times (Image 4), being careful not to pull too much clay into the center of the hex nuts. Let dry according to the clay's package directions.
Once the air-dry clay has firmed, you're ready to paint the figurine. On a well-ventilated, well-covered work surface, spray paint the entire body of the animal gold along with the hex nuts and clay mounds. Make sure to cover all sides. Wait until the menorah is fully dry and no longer tacky to the touch before continuing.
Carefully place the candles into each hex nut, and you're ready to use the menorah as you normally would.
More DIY Hanukkah Ideas to Try
Delight recipients with a gift box that's filled with presents and releases a butterfly.
Sweeten up the Hanukkah season with a candy board that'll satisfy all sweet tooths.
Layer on the love this Hanukkah season with a shareable cookie mix jar.