T-Shirt Turned Cozy Cat Hideout
Glamping with your kitty has never been so easy. Your feline friend will absolutely love this tiny t-shirt tent.
We're sorry, there seems to be an issue playing this video. Please refresh the page or try again in a moment. If you continue to have issues, please contact us here.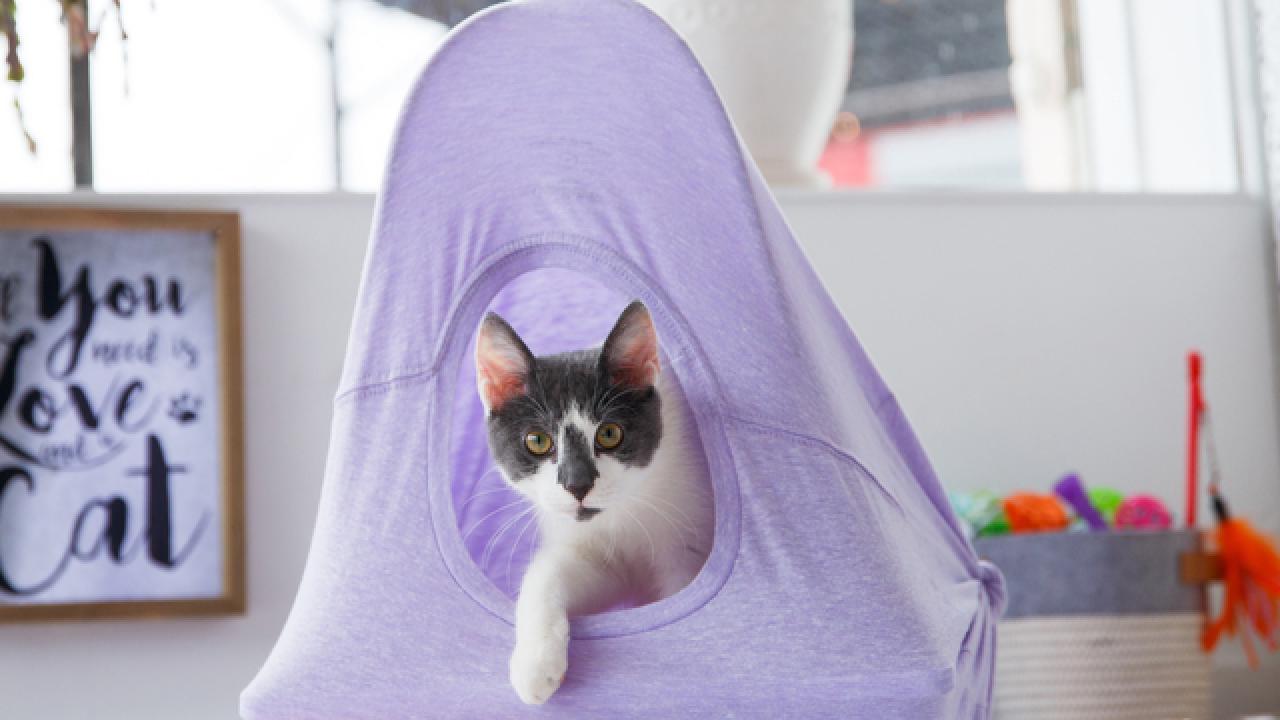 Whether you yourself are a cat lover, or you just happen to adore a cat lover, this is the perfect DIY for you. Using just a few simple items, you can create an adorable tent that your feline friend is certain to enjoy for a lifetime.
plastic bin
drill + drill bit
(2) bamboo hoops
floral wire
foam piece
pillowcase
XL t-shirt
To create the base for the cat tent, you'll want to find a shallow plastic box. Square works best. Lay the box upside down, and drill a small hole in each of the four corners. To fashion stay-put tent poles, loop a bamboo garden hoop across the base of the tent, fitting the ends into opposite corners of the box. Repeat with the other bamboo hoop. To ensure that the bamboo structure stays in place, attach the hoops together with floral wire. You may need a friend to help with this step to ensure that the hoops are bound together as tightly as possible. For extra security, consider using a strong glue in each of the box holes before adding the bamboo hoops.
Next, create a plush box lining so your cat can lounge in style. Cut a foam piece to the dimensions of the box. To create a patterned poof, cover the cut foam piece in a playful pillowcase or any fabric you have on hand. Cats love to be surrounded by the smell of their owner, so one of your own pillowcases is even better than new! Fold any excess cloth around the foam piece. and set the cushion down into the box. Finally, tuck any excess fabric down along the sides of the cushion and the box.
The final step in creating the tent of your cat's dreams is to create the tent cover. Use an XL t-shirt to cover the entire base and bamboo structure. Pull the shirt over the top and the base of the tent so that the neck opening is stretched across the front of the tent with both sides of the t-shirt bottom at the back or the tent. Gather the excess fabric at the base of the t-shirt in addition to the excess fabric around the sleeve and create a knot on both sides of the tent base. Tuck the loose knot ends in and around the knot itself to create a sleek knotted look. And that's it! You now have the purr-fect, cozy spot for kitty to snooze the day away.